In his book, "No Easy Day," Matt Bissonnette, a member of the Navy SEAL Team Six operators who conducted the raid that ultimately led to Osama bin Laden's death, wrote about bin Laden's final moments inside a private residential compound in Pakistan on May 2, 2011.
"In his death throes, he was still twitching and convulsing," Bissonnette wrote under the pseudonym of "Mark Owen," adding, "Another assaulter and I trained our lasers on his chest and fired several rounds. The bullets tore into him, slamming his body into the floor until he was motionless."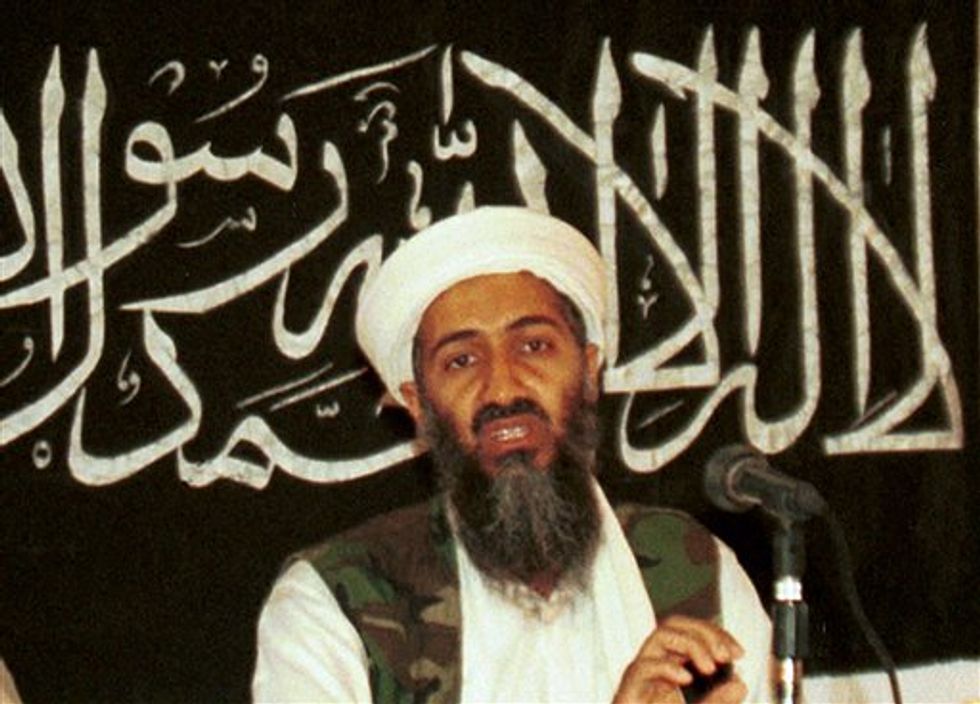 AP Photo/Mazhar Ali Khan
In an article posted on the Business Insider, author Jack Murphy, an Army Special Operations veteran, theorized that the U.S. has never released photos of bin Laden's body because it was riddled with bullet holes. Murphy analyzed Bissonnette's description, calling it "perhaps the most measured and polite description that one could give of how operator after operator took turns dumping magazines' worth of ammunition into bin Laden's body, two confidential sources within the community have told us. When all was said and done, UBL had over a hundred bullets in him, by the most conservative estimate."
In the article, Murphy wondered if this method was "illegal" and discussed his theories for why bin Laden's body was buried at sea without any photographic evidence or DNA being released to the public:
Under the Laws of Land Warfare, a soldier is fully authorized to put a few insurance rounds into his target after he goes down. Provided the enemy is not surrendering, it is morally, legally, and ethically appropriate to shoot the body a few times to ensure that he is really dead and no longer a threat. What happened on the bin Laden raid, however, is beyond excessive. The level of excess shown was not about making sure that bin Laden was no longer a threat. The excess was pure self-indulgence.
Murphy continued, saying, "You may not care whether bin Laden got some extra holes punched in him — few of us do, but what should concern you is a trend within certain special-operations units to engage in this type of self-indulgent, and ultimately criminal, behavior. Gone unchecked, these actions get worse over time."
But Murphy took his theories one step further.
"Now you know the real reason that the Obama administration has not released pictures of Osama Bin Laden's corpse. To do so would show the world a body filled with a ridiculous number of gunshot wounds," Murphy wrote. "The picture itself would most likely cause an international scandal, and investigations would be conducted that could uncover other operations, activities that many will do anything to keep buried."
—
Follow Kathryn Blackhurst (@kablackhurst) on Twitter