Katrina Pierson, spokeswoman for presumptive Republican nominee Donald Trump, criticized former Massachusetts Gov. Mitt Romney during an interview Friday on CNN for being "pro-adoption."
In a list of attributes, Pierson characterized Romney, the party's 2012 nominee for president, as not conservative enough in order to defend her boss from similar criticisms from some Republicans and conservatives.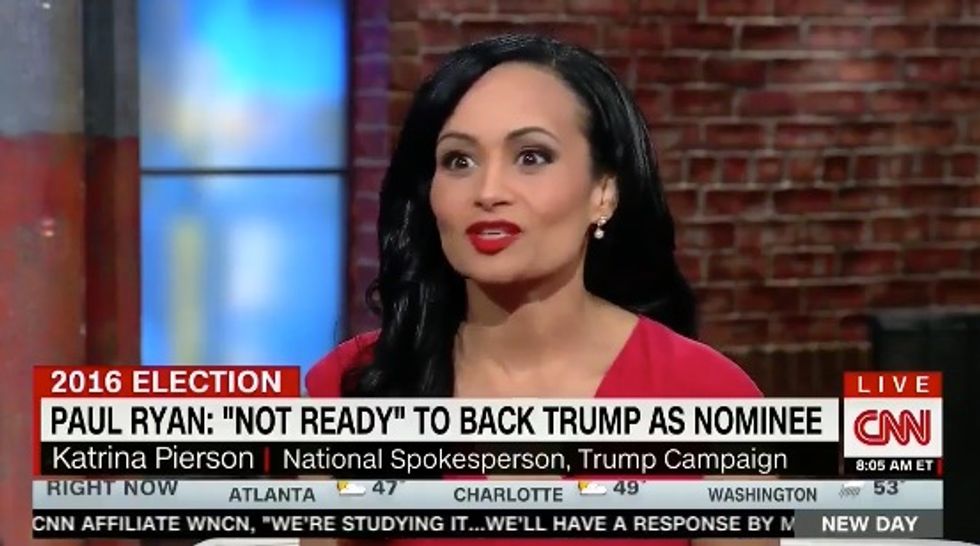 Image source: CNN
Pierson claimed that Romney "was pro-abortion, pro-gay marriage, pro-adoption, gave us Obamacare and we were told to hold our noses and vote for the sake of the party."
"These same people are now telling us that because their guy didn't win, they want to hurt the party," Pierson continued.
A Trump campaign spokeswoman did not immediately return TheBlaze's request for comment.
Romney has an adopted grandchild. The 2012 Republican nominee has so far declined to support Trump as the nominee in 2016.
Watch below:
One of Katrina Pierson's criticisms of Mitt Romney is that he is "pro adoption" pic.twitter.com/z8b9uafaBA

— Joe Perticone (@JoePerticone) May 6, 2016
—
Follow Kate Scanlon (@kgscanlon) on Twitter