Donald Trump boasted on Friday night about how Fox News Channel host Megyn Kelly phoned him last month to request a meeting with him at Trump Tower.
Trump, speaking to a large crowd in Oregon, said he had "a lot of respect" for what Kelly did.
"She called me. She said I'd like to see you," Trump told the audience. "Now, if I was wrong, she wouldn't have done that. And I respect her for doing it."
— Scroll down for video —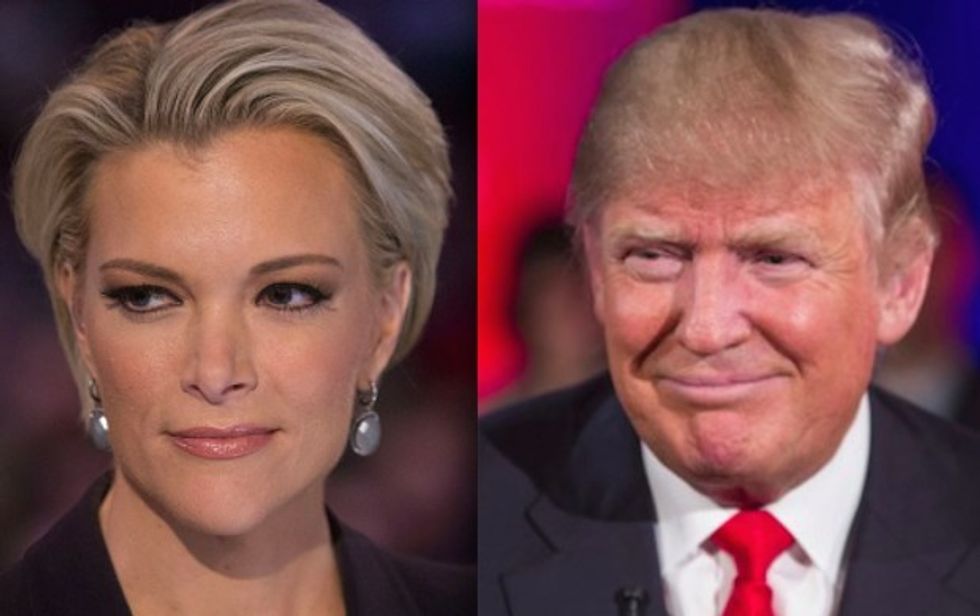 Image Source: Getty Images / TheBlaze
"She called me. She said I'd like to see you. She came to Trump Tower. I didn't go to Fox. And we didn't meet on neutral territory," the billionaire continued. "Megyn called me, I really do, I have a lot of respect for her. She called me, we sat down, we talked. Everything is fine. I mean, everything is fine."
Trump seized upon the opportunity to claim the media had misinterpreted a remark he made last summer on CNN. The comment Trump made in August suggested that Kelly pressed him at the first GOP debate because she was menstruating. Trump has repeatedly insisted otherwise, and he did so before the Eugene crowd.
"I said nothing wrong! Because I never finished my statement. Remember I said, 'Like blood coming out of her eyes. Blood coming out of her wherever.' I was talking her ears or her nose," Trump claimed. "Everyone was talking, 'Oh, that's terrible what he said.' I didn't say anything!"
Trump, who spent months after the debate ranting about Kelly online, claimed he "never even finished" because he didn't care about the Fox host.
"You know why I didn't finish the sentence? Because I love what I am doing so much. And I didn't want to waste any more time," he said. "Who cares?"
"So when I didn't finish the sentence, they all figured coming from some place else," he added.  "And because they have all dirty minds — I never even thought of about it. I was thinking of ears or nose. But that's it."
The presumptive Republican nominee said, nonetheless, that he and Kelly were no longer feuding.
"Megyn came up and we had a great talk and that was it. And I'll do her show. In fact, I've done her show. And I loved it," he said. "Except I didn't like the way I looked. It was the worst I ever looked on television. Maybe she set me up! Maybe she set me — it's the worst I've ever looked on television. To me, the look is important. You know? The look is important."
—
Follow the author of this story on Twitter and Facebook: