Ted Cruz reportedly wanted Marco Rubio as his running mate as the campaign believed the ticket would be strong enough to defeat Donald Trump for the GOP nomination.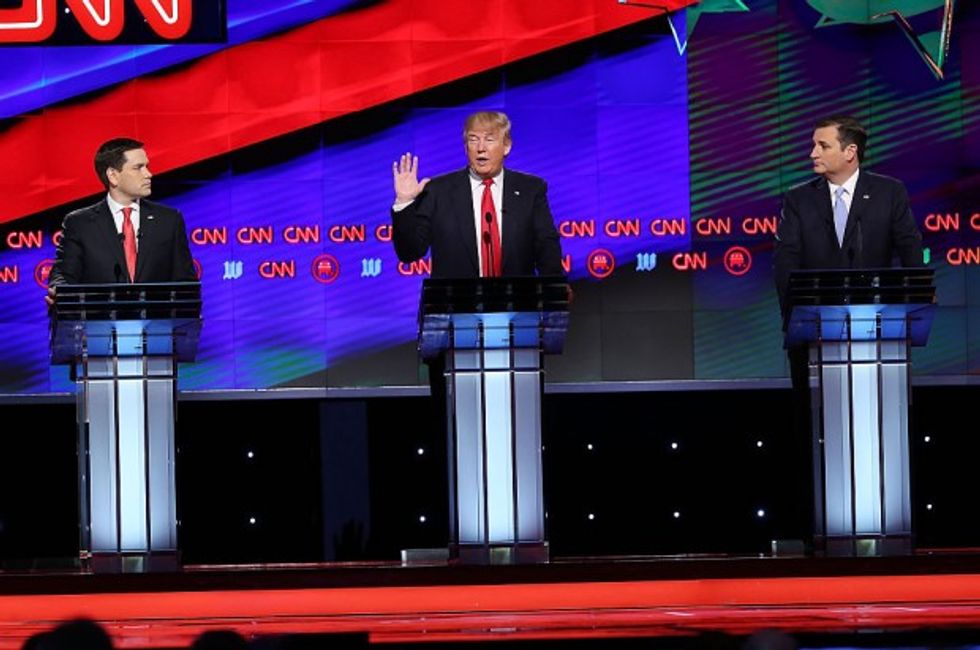 Republican presidential candidates, Sen. Marco Rubio (R-FL), Donald Trump, Sen. Ted Cruz (R-TX), and Ohio Gov. John Kasich debate during the CNN, Salem Media Group, The Washington Times Republican Presidential Primary Debate on the campus of the University of Miami on March 10, 2016 in Coral Gables, Florida. The candidates continue to campaign before the March 15th Florida primary.
The Cruz campaign poll tested a Cruz-Rubio ticket in several states, including Arizona, Illinois and Wisconsin, CNN reported. Campaign sources told the network that the poll results showed a "blowout" for Cruz and Rubio.
However, Rubio reportedly failed to show any interest in being Cruz's vice president and the plan never got off the ground.
CNN's Jake Tapper reported a "source familiar with Marco Rubio's thinking" said a concrete offer was never made to the Florida senator, but there were also other "misgivings" about the prospect.
"He thought that two senators from Washington D.C. teaming up to go after Trump would only feed into Trump's 'outsider' narrative and…that he thought that the nominee really should be able to pick who he thinks is going to be a running mate that will help him win in November and not be stuck with someone he picked in the midst of a heated campaign battle in the primaries."
Cruz ultimately tapped Carly Fiorina as his running mate, but it wasn't enough. Trump is now the presumptive GOP nominee after dominating the primary.
Former Cruz spokeswoman Amanda Carpenter said Cruz and Rubio really missed an "opportunity" by not teaming up to defeat Trump.
Watch more from CNN:
---