© 2023 Blaze Media LLC. All rights reserved.
UAB Running Back Gregory Bryant Declared Brain Dead One Day After He's Found Shot in Car
Tragic.
WEST PALM BEACH, Fla. (AP) -- UAB running back Gregory Bryant was declared brain dead Sunday, a day after he was found shot in a car on Interstate 95 in South Florida.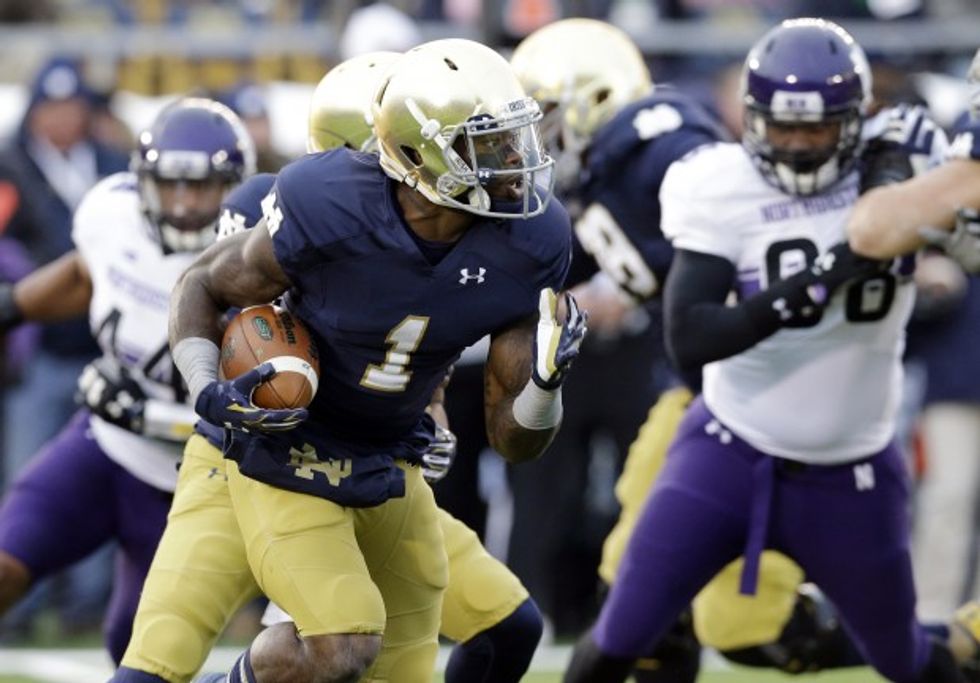 In this Nov. 15, 2014, file photo, Notre Dame running back Greg Bryant (1) runs with the ball against Northwestern during the first half of an NCAA college football game in South Bend, Ind. UAB coach Bill Clark said Saturday, May 7, 2016, that Bryant is "still fighting for his life" after he was shot in South Florida. UAB had issued statements earlier in the day before from Clark, President Ray Watt and athletic director Mark Ingram saying that Bryant had died. Bryant, a former Notre Dame player, was the biggest name in UAB's first recruiting class since restarting the football program. (AP Photo/Nam Y. Huh, File)
West Palm Beach Police spokeswoman Lori Colombino said Bryant was declared brain dead at 1 p.m. Sunday. Her statement added the investigation into the shooting of 21-year-old recruit of the University of Alabama at Birmingham is now classified as a homicide.
Detectives are seeking witnesses to the shooting, Colombino said. A passenger in the car, 25-year-old Maurice Grover, was hospitalized with minor injuries.
Bryant started his career at Notre Dame and spent last season attending ASA College, where he played in just one game.
He was the biggest name in UAB's first recruiting class since the school restarted its program.
He spent last season living out of a hotel room in Miami with friends while attending classes at ASA College, playing in only one game. Bryant left Notre Dame after one season when he was ruled academically ineligible for the 2015 season.
Because UAB won't play again until the 2017 season, Bryant was allowed to enroll in January 2016 instead of possibly having to wait an extra year to get eligible elsewhere. He could become eligible to compete after spending an academic year at UAB.
"Coach Clark, he really did me a favor, because I was living in hotels in Miami," Bryant told The Associated Press before national signing day in February. "He said I could come in as soon as the semester was over. Any other school I would have had to wait another semester and probably be enrolled by December. I just bought into what coach Clark was saying and I got in with a 2.0" GPA.
Want to leave a tip?
We answer to you. Help keep our content free of advertisers and big tech censorship by leaving a tip today.
more stories
Sign up for the Blaze newsletter
By signing up, you agree to our
Privacy Policy
and
Terms of Use
, and agree to receive content that may sometimes include advertisements. You may opt out at any time.