© 2023 Blaze Media LLC. All rights reserved.
North Carolina to Take Federal Government to Court Over State's LGBT 'Bathroom Bill
Monday's lawsuit shattered Gov. McCrory's hope of having an open dialogue about public health, safety and morals.
UPDATE 3:45 p.m. ET Monday: WASHINGTON (AP) - U.S. Justice Department sues North Carolina over law restricting use of public restrooms by transgender people.
Speaking about the North Carolina legislation Monday afternoon, U.S. Attorney General Loretta Lynch said the Tar Heel State "created state sponsored discrimination against transgender individuals."
Lynch said the state is encroaching on "the most private of functions," a "right" she says is "taken for granted" by most Americans.
"Instead of replying to our offer, or providing a certification, this morning, the state of North Carolina, and its governor, chose to respond by suing the Department of Justice," Lynch said at a press conference. "As a result of their decisions, we are now moving forward."
Lynch went on to announce that the Justice Department is calling for a state-wide ban on the enforcement of the legislation and filing a federal civil rights lawsuit against North Carolina, Gov. Pat McCrory (R), the North Carolina Department of Public Safety and the University of North Carolina.
She described the "bathroom bill" is "impermissibly discriminatory."
AG Lynch on NC's 'bathroom law': "They created state sponsored discrimination against transgender individuals." https://t.co/ok5AbMyhvr

— ABC News (@ABC) May 9, 2016
—
North Carolina filed lawsuit against the federal government Monday, standing by the state's transgender bathroom law, according to the Associated Press. The decision comes after the Justice Department announced last week that the controversial House Bill 2 violates federal civil rights laws.
The Department informed Gov. Pat McCrory (R-N.C.) and other state officials Wednesday that they would have until Monday to "confirm [sic] that the State will not comply with or implement HB2."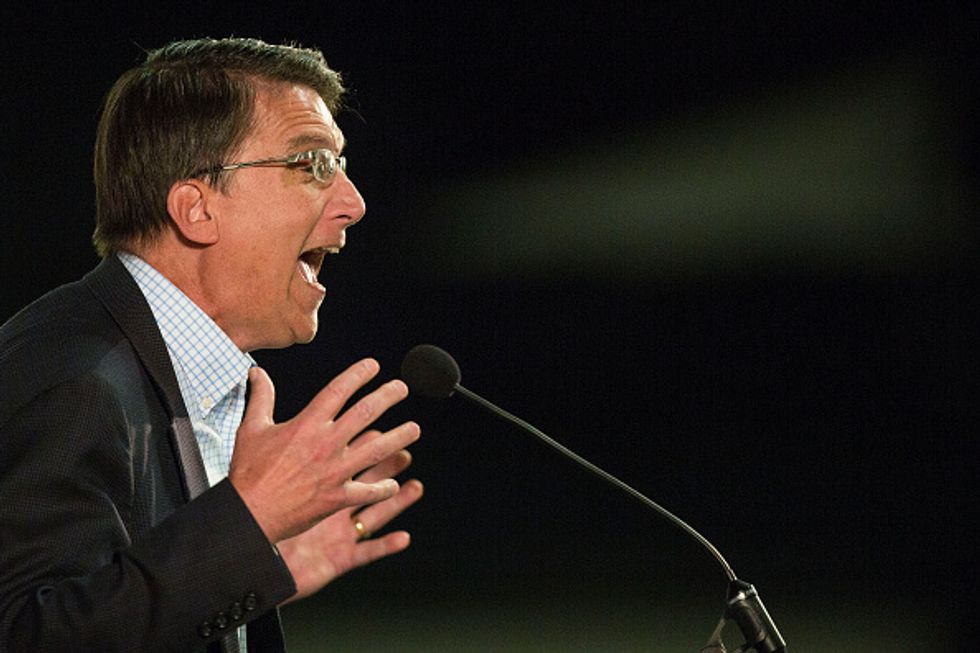 North Carolina Gov. Pat McCrory (Photo by Al Drago/CQ Roll Call)
State House Speaker Tim Moore (R) told reporters Thursday that North Carolina would not be "bullied" by the Justice Department into meeting a Monday deadline to change the new law, which took effect in March.
McCrory told Fox's Chris Wallace Sunday morning that the bill, which requires that transgender individuals use the bathrooms and changing facilities that correspond to their biological sex, "…is no longer just a North Carolina issue," but a nationwide affair.
The North Carolina governor called the Monday deadline "unrealistic." He also shared his view that the move to demand that all states allow transgender individuals to enter the bathrooms and changing facilities of their choice is a clear example of political overreach.
"So now the federal government is gonna tell almost every private sector company in the United State who can and who cannot come into their bathrooms, their restrooms, their shower facilities," McCrory said Sunday.
In the suit, McCrory claimed the Justice Department engaged in a "radical reinterpretation" of the law, according to the New York Times.
"The department contends that North Carolina's common sense privacy policy constitutes a pattern or practice of discriminating against transgender employees in the terms and conditions of their employment because it does not give employees an unfettered right to use the bathroom or changing facility of their choice based on gender identity," the lawsuit, which was filed in a Federal District Court in North Carolina, stated. "The department's position is a baseless and blatant overreach."
McCrory accused the Justice Department of making "an attempt to unilaterally rewrite long-established federal civil rights laws in a manner that is wholly inconsistent with the intent of Congress and disregards decades of statutory interpretation by the courts."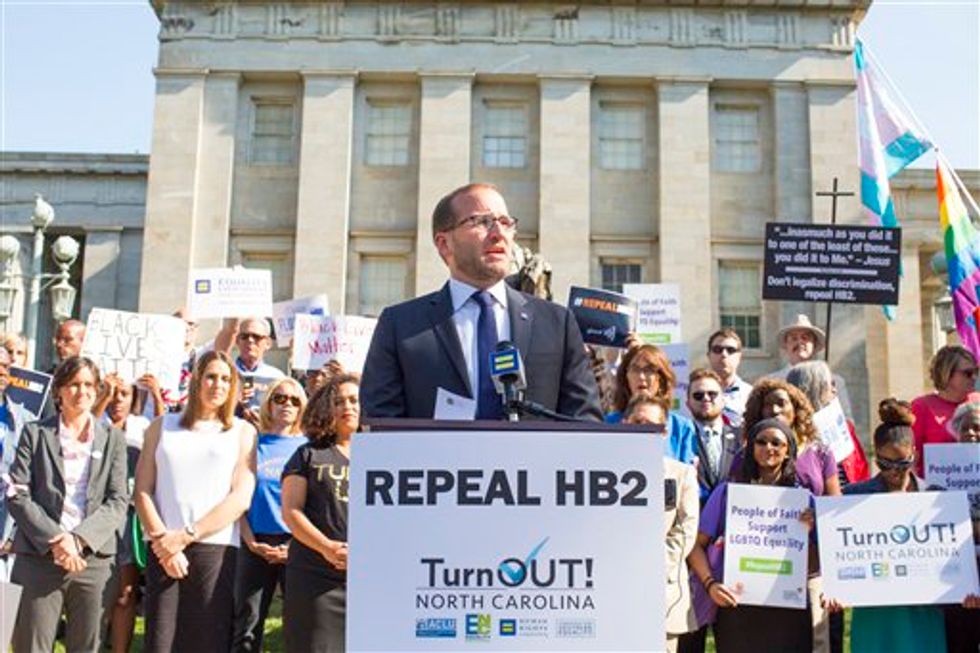 Chad Griffin, president of Human Rights Campaign, speaks at a press conference during TurnOUT! NC, a joint project to mobilize LGBT and pro-equality North Carolinians to deliver tens of thousands of signatures calling for the repeal of House Bill 2 to the office of Gov. Pat McCrory Monday, April 25, 2016 at the old state capitol building in Raleigh, NC. (Jason E. Miczek/AP Images for Human Rights Campaign)
Since the bill was signed into law, North Carolina has garnered severe backlash from many organizations and companies threatening to remove their businesses from the state in protest, as well as musicians and entertainers who cancelled concerts in protest. In light of all of this, McCrory stated last month that the issue demanded discussion and debate — not bullying.
"We have to have more dialogue — not threats," McCrory told Chuck Todd on NBC's "Meet the Press."
"The Human Rights Council. My gosh, they're more powerful than the [National Rifle Association]," he continued. "And they have millions of dollars … . But they are putting on a lot of pressure, instead of having good dialogue."
Monday's lawsuit shattered McCrory's hope of having an open dialogue about public health, safety and morals.
Want to leave a tip?
We answer to you. Help keep our content free of advertisers and big tech censorship by leaving a tip today.
more stories
Sign up for the Blaze newsletter
By signing up, you agree to our
Privacy Policy
and
Terms of Use
, and agree to receive content that may sometimes include advertisements. You may opt out at any time.