Amid allegations that Facebook news curators suppressed conservative news, comedian Steven Crowder, an outspoken conservative, has filed a legal motion against the social media giant requesting information.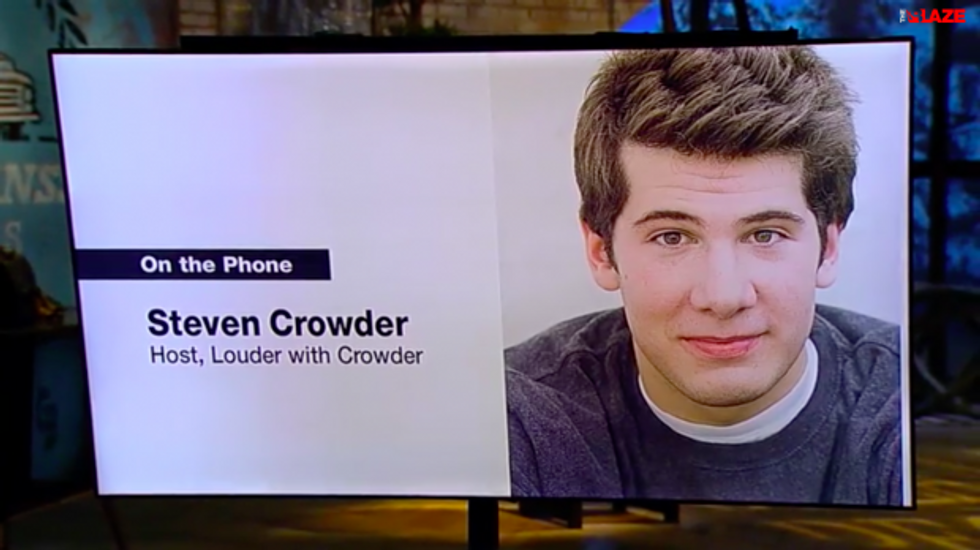 Image source: TheBlaze TV
Crowder's Dallas-based attorney, Bill Richmond, said in a Tuesday statement that his office has filed a petition for "pre-suit discovery" in Dallas County, Texas, "seeking discovery from Facebook regarding the actions of its News Feed curators as well as its billing department." The action, he said, is a step toward discovering "what, if any, legal action is necessary to address the assertions that he has been targeted by Facebook for suppression due to his conservative political commentary."
Richmond said the Gizmodo story on Facebook's alleged censorship of conservative news "coincides with, and potentially provides and explanation for, Facebook's mismanagement of payments made to Facebook by Mr. Crowder and its woefully biased and unprofessional treatment of his accounts during an ongoing billing dispute."
"Facebook has chosen to avoid any transparency in the ongoing removal of certain political posts by Mr. Crowder, ignoring all requests for explanation of purported policy violations," the statement added. "These issues have been ignored by Facebook and its Legal Department despite repeated attempts to resolve the issue on his behalf. Facebook's ongoing refusal to take action regarding their clear-cut, inexcusable financial errors has necessitated that preliminary legal steps be taken."
Crowder confirmed the legal action in an interview with TheBlaze, calling his treatment by Facebook "unreal."
"There is a lot more going on behind the scenes that I can even talk about right now, but this is an issue about transparency and its treatment of business clients where money is exchanged," he said.
The comedian insisted that the legal motion is not a "lawsuit" and doesn't have anything to do with "censorship," which he said Facebook has a "right" to practice as a business.
In his statement, Richmond also emphasized Facebook "has every right to curate any content they so desire on their platform," but is not permitted to use "bullying methods of operation in tandem with both the long-standing evidence of misconduct and the allegations newly brought to light."
Read the full statement here: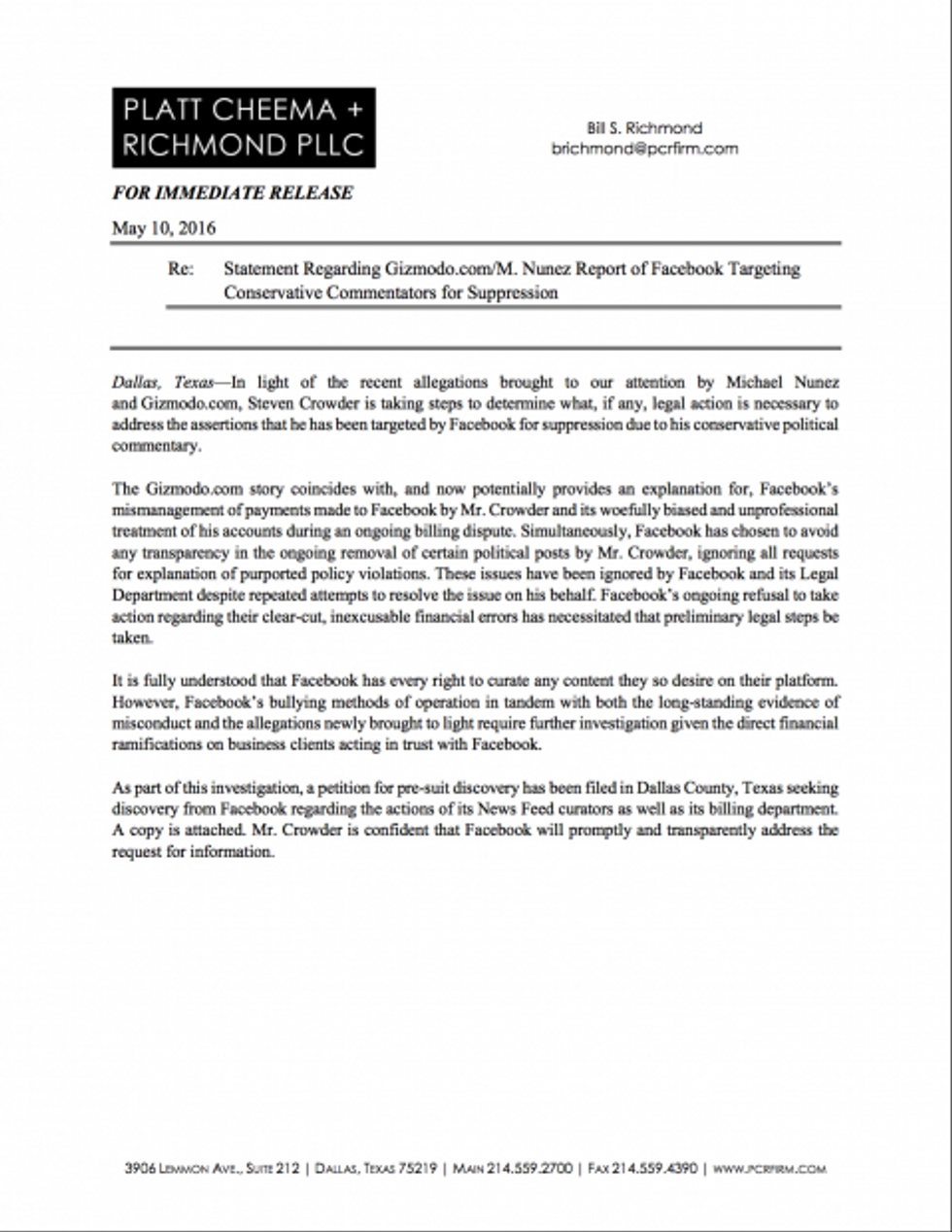 Image source: louderwithcrowder.com
Crowder said the Gizmodo story published on Monday was merely one of the events that led him to "speed up" his legal timeline.
Multiple former Facebook curators reportedly told the website that stories important to conservative audiences were routinely exclusive from the influential "trending" feed. Some of the big story topics allegedly suppressed included Chris Kyle, the legendary Navy SEAL killed in 2013, the Drudge Report, controversial former IRS official Lois Lerner and, yes, comedian Steven Crowder.
"I believe it had a chilling effect on conservative news," the former Facebook news curator said.
Another Gizmodo report published last week cited sources claiming that Facebook's news curation team intentionally avoids selecting stories to promote from certain news outlets, including World Star Hip Hop, Breitbart and TheBlaze.
Sources told Gizmodo that Facebook's curators also have the power to "deactivate" (or blacklist) a trending topic, which they do regularly.
Facebook has claimed there is no evidence to support the former employees' assertions.
Read the entire legal motion filed by Crowder and his legal team here.
---