Presumptive Republican presidential nominee Donald Trump told Fox News' Bill O'Reilly Tuesday that as president he would appoint "pro-life" justices to the Supreme Court but declined to say whether those appointees would be willing to overturn Roe v. Wade.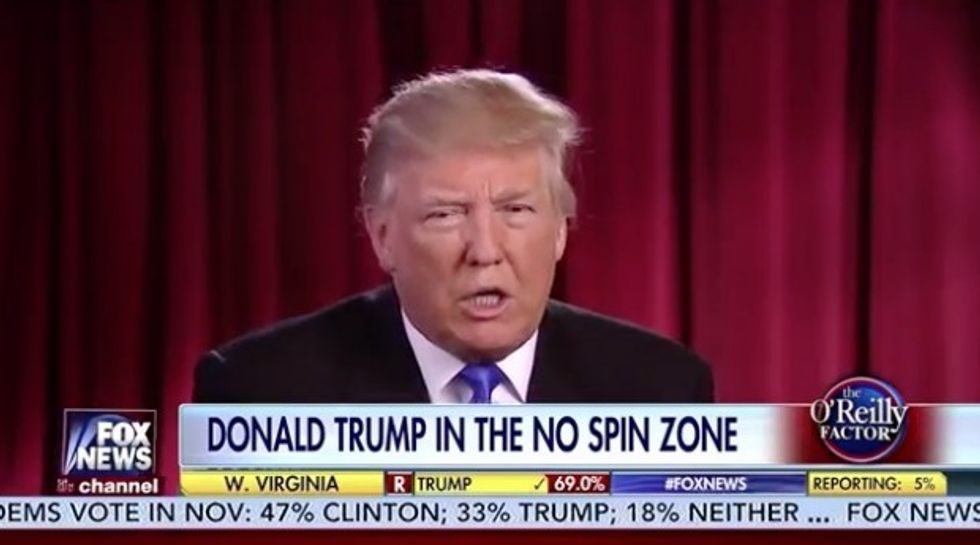 Image source: YouTube
"The O'Reilly Factor" host told Trump, "I have a question from a viewer. 'Donald Trump says he is pro-life. Please ask him to name one specific thing he would do to protect the sanctity of human life.'"
Trump replied, "Well, I think that what we're doing — and I think it's a very important element in what I've done — I have become pro-life."
"I was in a meek fashion pro-choice, but I have become pro-life," Trump added. "And the reason is I have seen — in my case one specific situation — but numerous situations that have made me to go that way. I will protect it, and the biggest way you can protect it is through the Supreme Court and putting people on the court. And actually the biggest way you can protect it, I guess, is by electing me president."
O'Reilly asked Trump if he would appoint a justice who would overturn Roe v. Wade, the Supreme Court decision that legalized abortion.
"Look, I'm going to put conservative judges on," Trump said.
"I think one of the biggest things happening in terms of this election are, you know, it could be as many as five judges will be appointed over the next four and a half years," Trump continued. "So we're talking about five judges. And I think probably the most important thing that — one of the most important things, other than the security itself of the country — is going to be the appointment of four to five Supreme Court justices, and I will be doing that."
O'Reilly again pressed Trump on whether or not his appointees would be willing to overturn Roe v. Wade.
"Well, they will be pro-life, and we will see about overturning," Trump said, adding, "But I will appoint judges that will be pro-life, yes."
Trump's claim that he is pro-life is an admitted reversal from his previously held position on the issue of abortion.
During a 1999 interview on NBC's "Meet the Press," Trump said that he is "pro-choice in every respect" and that as president he would not work to implement a ban on partial-birth abortion.
During his presidential campaign, Trump has faced scrutiny from pro-life activists about the sincerity of his claim that he is now pro-life.
In March, Trump ignited a controversy when he told MSNBC's Chris Matthews that "there has to be some form of punishment" for women who have abortions, a position not commonly held among pro-life activists. Pro-life groups were quick to condemn Trump's remarks, and he later walked them back.
Trump also faced criticism from pro-life activists for defending taxpayer funding for Planned Parenthood, the nation's largest abortion provider.
—
Follow Kate Scanlon (@kgscanlon) on Twitter