As many lawmakers grapple with the decision of whether or not to attend the summer's Republican convention, South Carolina Rep. Mick Mulvaney has decided to sit this year out — but he says that it's not because of the presumptive nominee.
"There's so many really, really good grassroots people back in South Carolina," Mulvaney told TheBlaze in an interview Tuesday evening. "I went down the list, and I know almost all of the delegates, and look, if they really want to go and they're going to do a great job representing South Carolina — they don't need me to do it — and I'm not going to kick any of them off the list."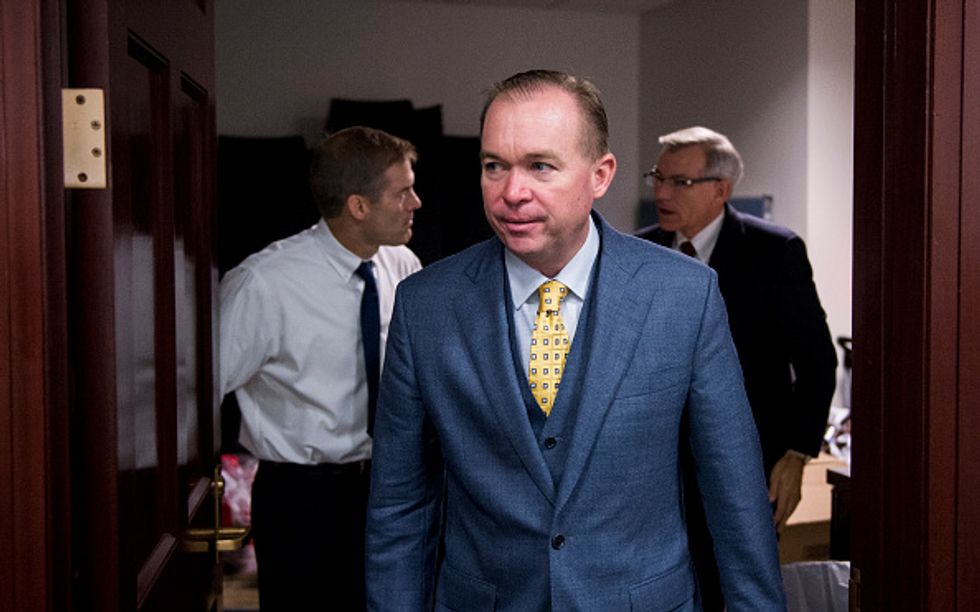 Rep. Mick Mulvaney (R-S.C.) leaves the House Republican Conference meeting in the basement of the U.S. Capitol. (Getty Images/Bill Clark)
"I'm happy to let the grassroots people go," he added. "I'm happy to have them represent the party and the state of South Carolina and at the same time get stuff done at home."
The Republican lawmaker also said that he attended the 2012 convention in Tampa and "it just wasn't that much fun."
"I remember leaving Tampa thinking, 'OK, I've done that once, I can check it off the list,' but my time is much better spent working at home so I get a good, solid extra week in the district to meet with people, to go visit folks and do what we do back home," Mulvaney said.
While other lawmakers are sitting out to focus on tight re-election campaigns or avoid drama with presumptive GOP nominee Donald Trump, Mulvaney was quick to point out that he is "supporting" the Manhattan businessman.
"I've said ever since Rand Paul dropped out of the race that I wasn't going to pick anyone else to endorse, but I was happy to support whoever won, and I'm happy to support Trump," Mulvaney said. "I don't think he's nearly as far off the reservation as other people think he is." 
As the Republican Party continues to split over the bombastic candidate, Mulvaney added that he's "looking forward to talking policy" with Trump in the coming months.
Paul, the libertarian-leaning Kentucky senator Mulvaney initially supported for president, has said that he will support Trump as the nominee as well. Paul also faces a tough re-election battle this year.
In lieu of the convention, Mulvaney will have more time to focus on a variety of local projects in the Palmetto State, specifically the many nuclear power stations under construction in his district, which has more than anywhere else in the country put together. The congressman will also be working on nuclear tax credits.
Trump soundly won South Carolina's primary in February and swept the state's 50 delegates.
—
Follow Kaitlyn Schallhorn (@K_Schallhorn) on Twitter