A young woman allegedly described her despair to fellow Internet users on the Periscope livestream application and then broadcast her suicide by jumping in front of a train in suburban Paris Tuesday, French officials told the New York Times.
"This person allegedly sent an SMS to one of her close relations, several minutes before her death, to announce her intentions," Eric Lallement, the local prosecutor, said in a statement. "Furthermore, she allegedly made statements to Internet users, via the Periscope application, to explain her act."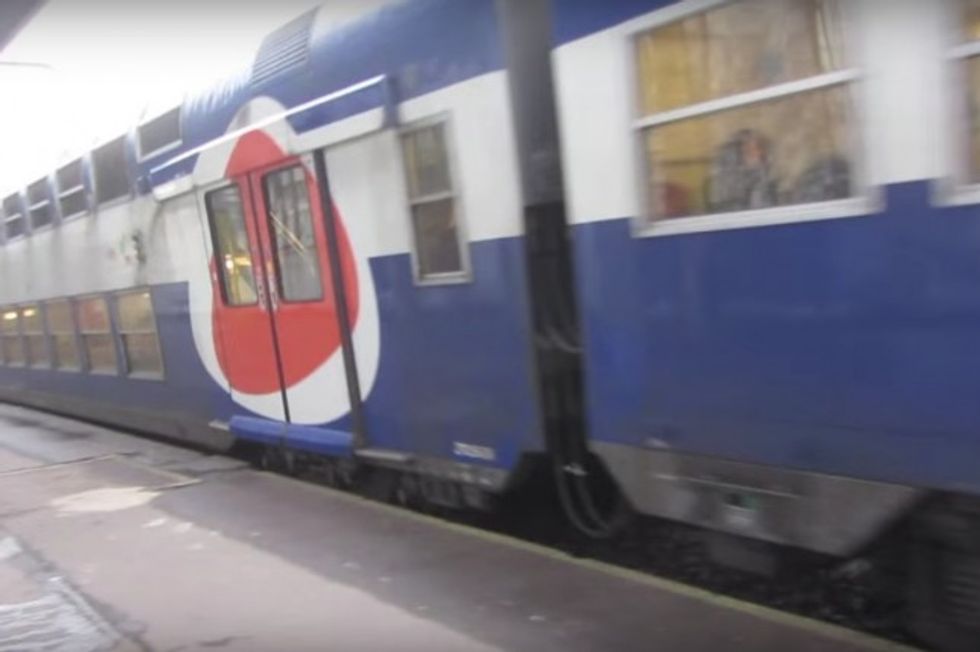 French regional train (Image source: YouTube)
The woman's name hasn't been released, the Times reported, but she was born in 1997. Lallement added that investigators were examining her cell phone and what she broadcasted on Periscope.
While the video is no longer on Periscope, the Times said purported excerpts were widely circulated on YouTube with the suicide blacked out.
In the alleged clip excerpt, the woman appeared to be sitting in a room and said, "The video I am doing right now is not made to create the buzz but rather to make people react, to open the minds, and that's it," the Times reported.
According to a Google translation from Metro News, she also mentioned an "ex" who had been making her life difficult and that there's "nothing that makes me want to get up in the morning."
She identified herself as a retirement home employee and a resident of Arpajon, a town not far from Egly, where the suicide occurred, the Times said.
Internet users watching the woman's Periscope livestream apparently didn't take her despair seriously, the Times reported, reacting with comments such as, "We're waiting," "Always a pleasure to see you," "Give us a hint" and "I think it's fun."
At one point the screen goes dark and there is no noise. Then a voice of an apparent emergency worker is heard saying, "I am under the train with the victim; I need to move the victim," the Times reported.
The train is visible just before the clip ended, the paper said.
French officials didn't confirm to the Times that the woman in the video excerpt is the woman who committed suicide.
It apparently was the latest incident involving live broadcasting of violent acts.
In April, an 18-year-old Ohio woman was accused of recording the alleged rape of her 17-year-old friend on Periscope. Marina Lonina pleaded not guilty to several charges and said she was trying to help her friend by recording the act as evidence.
But Franklin County Prosecutor Ron O'Brien said Lonina's claims aren't believable based on her behavior as those watching live "liked" the 10-minute video.
"She got, I guess, taken up with all the 'likes' that her livestream was getting and therefore continued to do it, and did nothing to aid the victim," O'Brien said.
[sharequote align="center"]"We now live in a dictatorship of real-time."[/sharequote]
Thomas Husson, a Paris-based technology analyst, told the Times it isn't surprising that Internet apps such as Periscope are now being used to livestream brutal violence and tragedies.
"It's both the good and bad part of these technologies: They allow people to enter other people's private lives," he told the Times, adding that incidents such as the woman's suicide "would be very difficult to prevent."
"We now live in a dictatorship of real-time," Husson told the paper.
He also told the Times that regulators have been attempting to get a hold on new social media tools such as Periscope and Snapchat, primarily over fears regarding groups such as the Islamic State using them for their own ends.
"These companies will inevitably have to comply with new rules," Husson told the paper. "But that's a political question. At the end of the day, it's about potential new regulation over how people can use these technologies."
The Associated Press contributed to this story.