Conservatives across the country are slamming the Obama administration telling public schools to either let transgender students use the restroom of their preference or risk losing federal funding.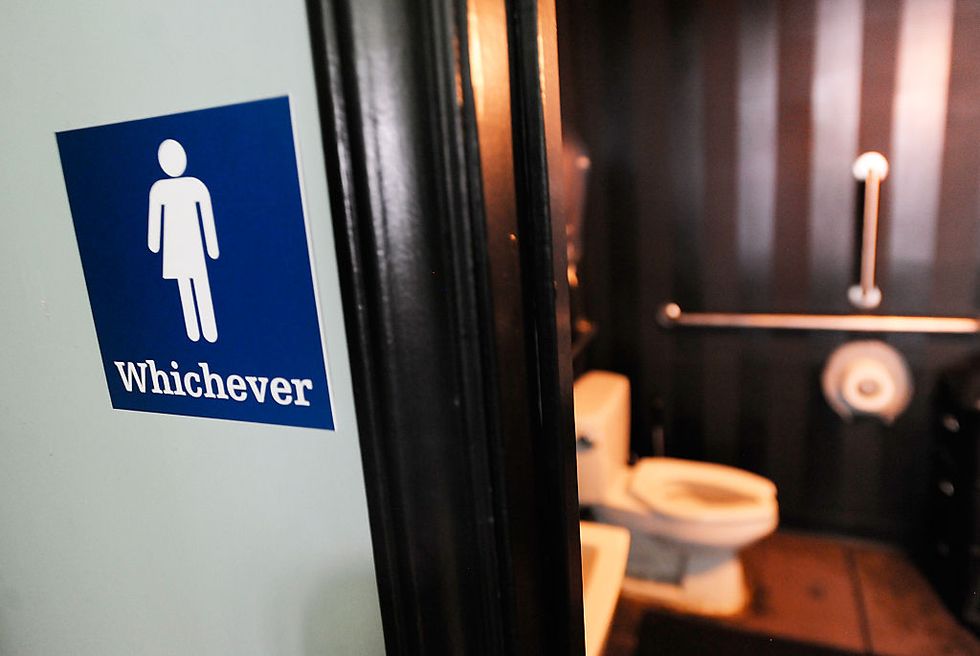 A gender-neutral sign is posted outside a bathrooms at Oval Park Grill on May 11 in Durham, North Carolina. (Sara D. Davis/Getty Images)
Speaking at the Texas Republican Convention on Friday, Lone Star State Lt. Gov. Dan Patrick was one of the latest politicians to weigh in on the controversy.
"This will be the the end of public education if this prevails. People will pull their kids out. Homeschooling will explode. Private schooling will increase. School choice will pass," Patrick told reporters in Dallas.
"He [Obama] says he is going to withhold funding if schools do not follow the policy," Patrick said. "Well, in Texas, he can keep his 30 pieces of silver. We will not be blackmailed by the president of the United States."
In the nation's capital, conservative members of Congress issued similar statements.
"This attempt to bully our local schools into submission to the Obama Administration's agenda is shameful and a gross abuse of the federal government's power," Rep. Diane Black (R-Tenn.) said. "It has nothing to do with compassion for minority student populations and everything to do with political opportunism for the next election."
Black went on to say that the Obama administration is "now directly responsible for endangering our students" and urged school officials in her home state to "continue following their consciences." Black said that states should be able to make such decisions for themselves "without fear of reprisal from a heavy-handed federal government."
Rep. Steve King (R-Iowa), who heads the House Task Force on Executive Overreach, also said Friday that his committee would likely hold a congressional hearing in which the president's "decree" would be examined.
"It's an extreme executive overreach, and I don't know how we stop it, but we need to address it," King said, according to the Washington Examiner.
"To tell every school in America you're going to lose your federal funding if you don't let anybody that wants to go into any bathroom they want to ... that is outrageous," King added.
–
Follow the author of this story on Twitter and Facebook: