Sen. Ted Cruz (R-Texas) said he was not interested in serving as a justice on the Supreme Court Friday, telling a radio host that he had opportunities in the past "to go to the bench," but that it was "not a desire of my heart."
The comments came during an interview with WBAP-AM host Chris Salcedo.
"Everybody mentions your name, a lot of people do, and the Supreme Court," Salcedo told Cruz. "Frankly, all the times I've interviewed you, I've never asked if you have any aspirations or felt called if asked to serve on the Supreme Court."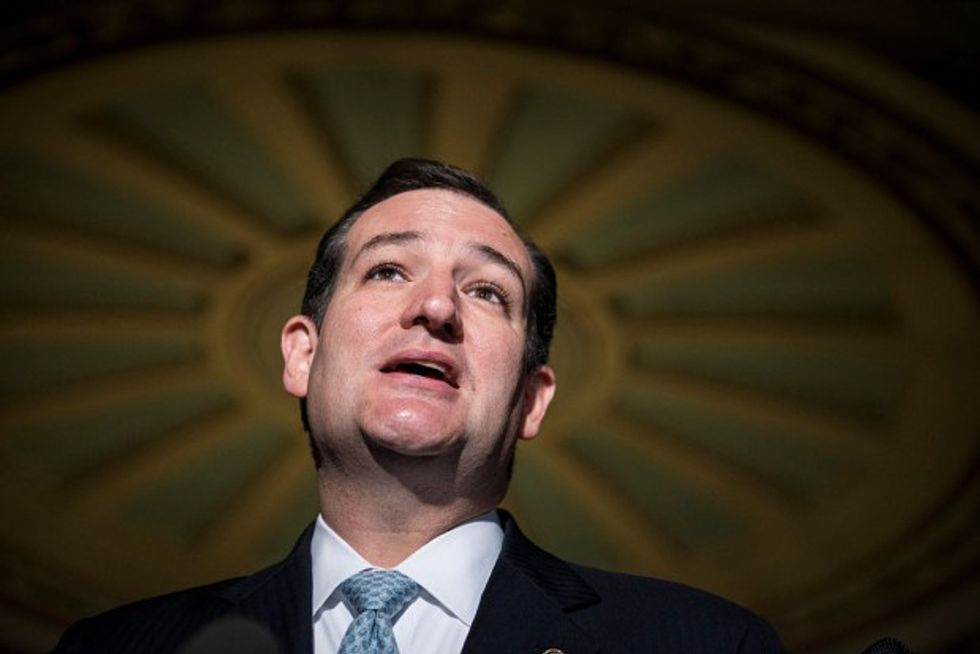 Senator Ted Cruz speaks to reporters on Capitol Hill October 16, 2013 in Washington, DC. (BRENDAN SMIALOWSKI/AFP/Getty Images)
The host asked, "I mean, I know you have the sharp intelligence to handle the job. But is it even something you even consider?"
"You know, Chris, I'll tell you. That is not a desire of my heart," Cruz replied.
"I have had several opportunities in the past to go to the bench, and I certainly deeply respect the job the justices do," the Texas senator added. "But I think our country is in crisis. And I think we need a strong conservative president who will appoint not just one, but two, three, four, five Supreme Court justices who are principled constitutionalists."
Cruz said he was "committed to the fight of ensuring" strong constitutionalists get placed on the court, but argued there are many other things he'd like to influence.
"I believe that I can do a great more good fighting across the political spectrum because we also need leadership to repeal every word of Obamacare, to pass a flat-tax and abolish the IRS, to protect religious liberty and stop the federal government form violating our First Amendment rights and to stand with our friends and allies, especially the nation of Israel," he said.
Cruz's name has been floated as a possible pick to replace the late Antonin Scalia. Donald Trump, the presumptive Republican nominee, said he would "think about" placing Cruz on the court earlier this year if he were to be elected president.
—
Follow the author of this story on Twitter and Facebook: