Former Republican presidential candidate Ben Carson — who's now on presumptive GOP presidential nominee Donald Trump's vice presidential search committee — said during a recent interview he had no interest being part of a Trump administration.
But after Carson was told during the interview that a recent poll ranked him at the top of a list of most-liked vice presidential candidates, the Washington Post said the former neurosurgeon replied, "Who else was on the list?"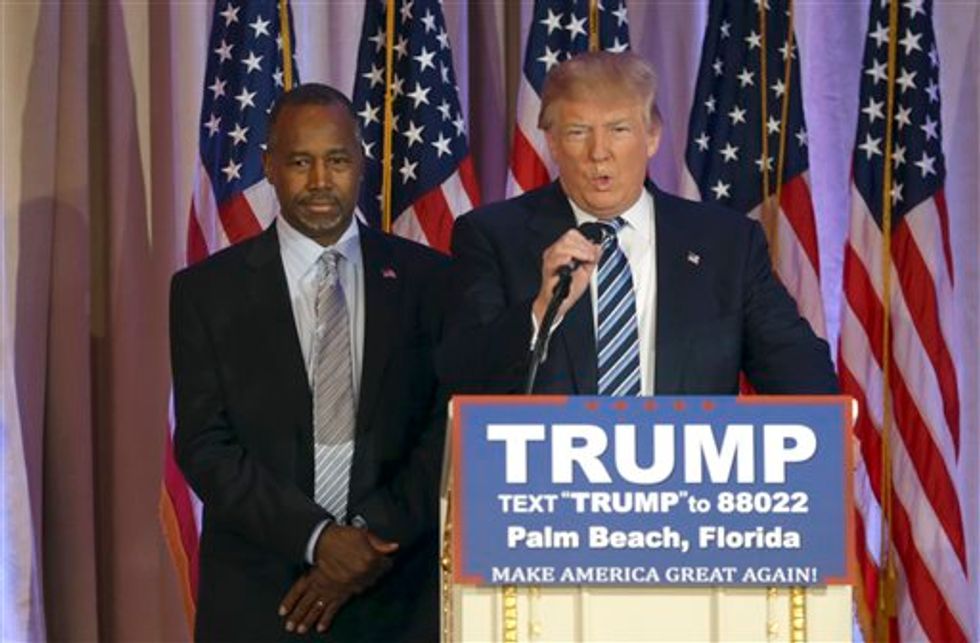 Former Republican presidential candidate Ben Carson listens before announcing he will endorse Republican presidential candidate Donald Trump in Palm Beach, Florida, March 11. (AP Photo/Lynne Sladky)
The answer? John Kasich, Marco Rubio, Ted Cruz, Sarah Palin, and Chris Christie, the paper reported.
"Those are all people on our list," Carson replied, according to the Post.
Carson's wife Candy, who the paper said was with him during the interview, interjected, "Well, not you."
Trump said last week he narrowed his list of potential running mates to "five or six people," all with deep political resumes.
However, after the Post published Sunday's story containing what appeared to be Carson's vice presidential shortlist leak, the paper added an update saying Carson called to clarify his comments: "When it comes to who could be the vice president and you name a list of people," he told the Post. "I'm going to say yes to everybody, everybody could potentially be considered, doesn't mean they are on the shortlist."
(H/T: Mediaite)