Ohio Gov. John Kasich, who suspended his campaign for the Republican nomination earlier this month, shut down any chance of a third party run, said no to being presumptive GOP nominee Donald Trump's running mate and voiced uncertainty about supporting the billionaire businessman.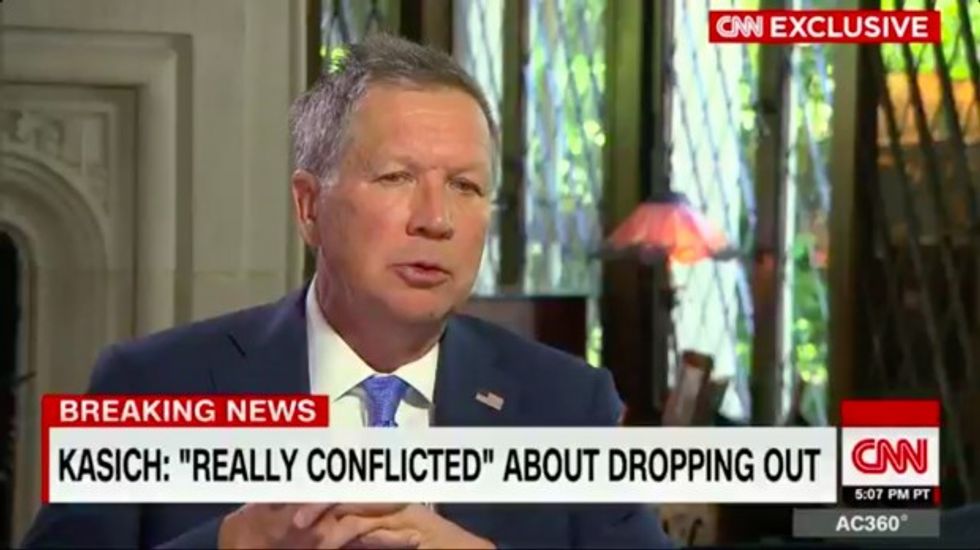 Image source: CNN/Twitter
Speaking to CNN host Anderson Copper Monday, Kasich said launching an independent presidential bid "doesn't feel right" because he "gave it his best," adding that doing so is "not constructive." In addition, he said he's "not inclined" to be Trump's running mate because it would "be very hard" for him.
But that doesn't mean the Ohio governor isn't frustrated with the way things unfolded on the trail to the nomination, specifically the fact that the Republican National Committee seemed to endorse Trump before the race was over.
"Indiana happened and you had the chairman of the Republican Party [Reince Priebus] endorse Trump, which I thought was completely inappropriate," Kasich told Cooper. "He just wanted to get this thing over. I'm not happy about it."
And as for his intentions when it comes to the party's presumptive nominee, Kasich is still on the fence.
"I don't know," he said of endorsing Trump. "[H]e's too negative, so I'm not decided."
"I don't like when he's attacking, putting people down," Kasich continued. "You know, learn to take it a little bit. ... I'm for uniting, and I have to see him move to uniting. If he doesn't, I'm undecided here at this point, so we'll see what happens."
Kasich added that his main reason for not endorsing Trump is because his wife and kids would ask him why, "and that matters to me."
Kasich did tell Cooper he plans to campaign for down ballot races in the House and Senate, adding that if he was president alongside House Speaker Paul Ryan, they could have "changed everything."
John Kasich tells @andersoncooper he's "undecided" about whether he would endorse Trump https://t.co/YZ32bCBsdM https://t.co/p1Fx7bkHwy

— Anderson Cooper 360° (@AC360) May 17, 2016
—
Follow the author of this story on Twitter: