Voters in the so-called "liberty movement" needn't abandon the Republican Party just yet, a popular libertarian-leaning congressman has advised.
Self-proclaimed constitutional conservative Rep. Thomas Massie (R-Ky.) spent some time this blustery winter in Iowa as he stumped for fellow Kentuckian Sen. Rand Paul during Paul's quest to secure the Republican presidential nomination. Much to the disappointment of his ardent libertarian and conservative following, the senator suspended his campaign in February, and Manhattan businessman Donald Trump has become the party's presumptive nominee.
But according to Massie, now is not the time for his fellow small-government advocates in the GOP to jump ship.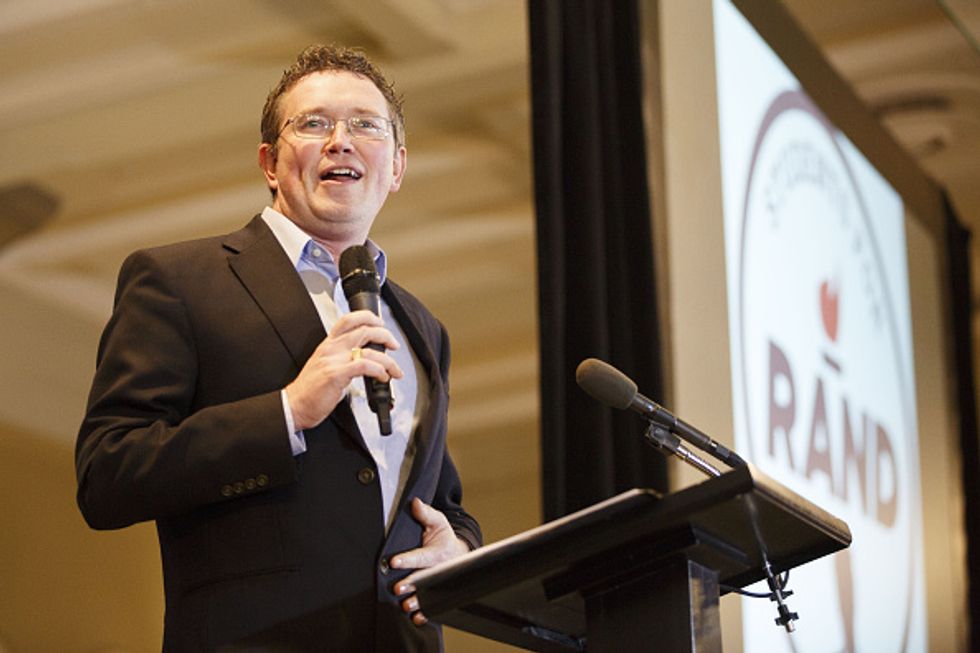 Rep. Thomas Massie,(R-Ky.) speaks during a campaign event for Kentucky Sen. Rand Paul, a Republican presidential candidate, at the University of Iowa. (Getty Images/Patrick Fallon)
"The advice I give people is: don't check out of the Republican Party," Massie said in an interview with TheBlaze. "For the most part, the members of the liberty movement who decided to apply themselves in political office or through political activism have done it through the Republican Party."
"So I say, 'OK our guy did not win the presidential nomination, but there are a lot of congressional seats and a lot of Senate seats that you can get involved in,'" Massie continued.
And Massie's advice isn't empty: He recounted his time working on conservative Indiana state Sen. Jim Banks' May congressional primary — a primary that Banks won by only 2.8 percentage points.
"So my involvement there may have been consequential. Of course, everybody who helped can say that when he wins by a slim margin, but that's what I encourage people to do," Massie said.
He added that while he spent time in Iowa for Paul's presidential campaign he met several elected officials serving in roles such as that of city council who were in the "liberty movement." These elected officials, Massie said, are effective in their own way as they serve their towns.
Citing an essay he read about the "dogcatcher strategy," Massie stressed the importance of activists working on races other than just a presidential campaign because "everybody watches a presidential race like they watch the Super Bowl, but a lot of people forget about these other races."
"There are 3,000 counties in the United States, and they've all got elected officials in there," Massie said. "Regardless of who wins the presidential race, if you don't have your type of people in every office all the way down to dogcatcher, then your people at the top are not going to be successful."
"I ran for county executive seat and won, and that's where I started out. So that's what I tell people: get involved in those local races," he said.
But while Massie encourages disgruntled conservatives to stay and work with the GOP, several third-parties have experienced increased interest.
"We're getting tons of emails from people inquiring into the party who are fed up with the GOP or just say, 'This is the last straw, I'm coming to the Libertarian Party,'" Carla Howell, political director of the Libertarian National Committee, told TheBlaze earlier this month. "We're just seeing a surge in interest that I've never seen before."
A spokeswoman for the Constitutional Party echoed Howell's comments in a separate interview with TheBlaze.
"We have had thousands of website visitors each day and hundreds of new social media followers each week," Karen Murray, national communications director for the Constitution Party, told TheBlaze last week. "We are answering questions about ballot access, about our platform, and about our candidates."
—
Follow Kaitlyn Schallhorn (@K_Schallhorn) on Twitter