A former model who once dated Donald Trump refuted claims made about their relationship in a New York Times article during an interview on Fox News' "Fox and Friends" Monday.
Rowanne Brewer Lane called the article "upsetting."
"The New York Times told us several times that they would make sure that my story that I was telling came across," Brewer Lane said. "They promised several times that they would do it accurately. They told me several times -- and my manager several times -- that it would not be a hit piece and that my story would come across the way that I was telling it and honestly, and it absolutely was not."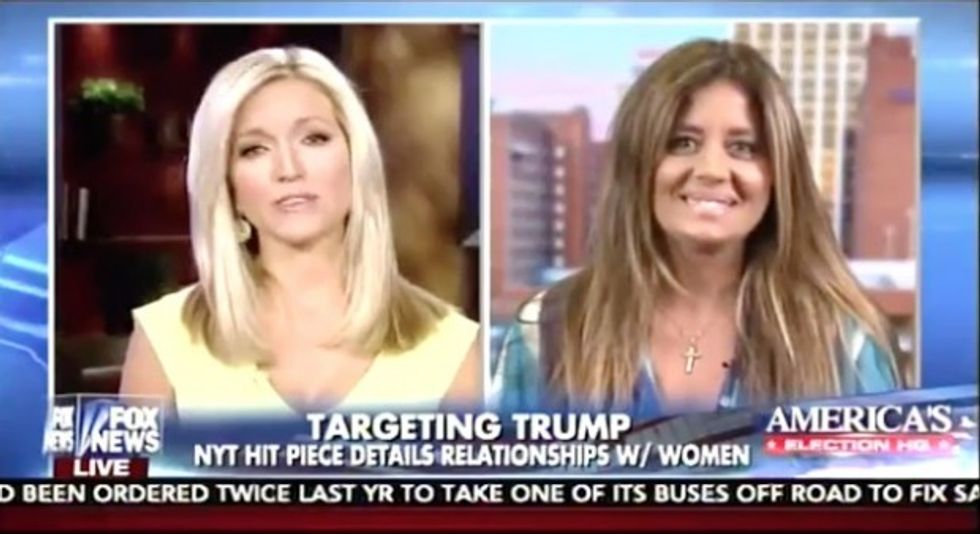 Image source: YouTube
Brewer Lane said the publication "spun" her remarks "to where it appeared negative."
"I did not have a negative experience with Donald Trump, and I don't appreciate them making it look like that I was saying that it was a negative experience because it was not," Brewer Lane said.
According to the Times article, "Donald J. Trump had barely met Rowanne Brewer Lane when he asked her to change out of her clothes."
The Times quoted Brewer Lane as saying that she met Trump at a pool party and that he "seemed a little smitten with me."
"He just started talking to me and nobody else," Brewer Lane said according to the article. "He suddenly took me by the hand, and he started to show me around the mansion. He asked me if I had a swimsuit with me. I said no. I hadn't intended to swim. He took me into a room and opened drawers and asked me to put on a swimsuit."
Brewer Lane said on "Fox and Friends" that she attended the party but hadn't brought a swimsuit because she "had not really planned on swimming," and Trump offered her one.
"He asked me if I wanted one. I said OK, sure," Brewer Lane said, adding that she didn't feel "like it was a demeaning situation."
"That's what I told the Times, and they spun it completely differently," she said. "I don't know how many other girls feel like they were misquoted, but I know that for a fact I was, and I don't want that out there."
Co-host Ainsley Earhardt asked Brewer Lane if Trump has ever mistreated women.
"Not that I've ever seen," Brewer Lane replied. "Absolutely without a doubt, no."
According to the Times, more than 50 interviews "conducted over the course of six weeks" reveal "unwelcome romantic advances, unending commentary on the female form, a shrewd reliance on ambitious women, and unsettling workplace conduct" displayed by Trump.
Trump denied the report on Twitter.
Why doesn't the failing @nytimes write the real story on the Clintons and women? The media is TOTALLY dishonest!

— Donald J. Trump (@Donald J. Trump) 1463311934.0
Everyone is laughing at the @nytimes for the lame hit piece they did on me and women.I gave them many names of women I helped-refused to use

— Donald J. Trump (@Donald J. Trump) 1463310797.0
That was an amazing interview on @foxandfriends - I hope the rest of the media picks it up to show how totally dishonest the @nytimes is!

— Donald J. Trump (@Donald J. Trump) 1463396458.0
Watch Brewer Lane's interview below: