Presumptive Republican nominee Donald Trump railed against the New York Times on Twitter Monday, claiming the outlet fabricated Sunday's front-page story detailing Trump's alleged history of mistreating women. Assistant news editor at the Times, Theodore Kim, said the article was "our most read story of the year" based on internal metrics.
Trump asserted on Twitter that the "failing" newspaper published a "false, malicious and libelous story" that was "totally dishonest." In the aftermath of the story, a top Trump executive told CNN that a lawsuit against the media giant was a "distinct possibility."
Since the Times story went viral, several women have spoken out about their interactions with the GOP's presumptive nominee.
Appearing on Fox News' "Fox and Friends" earlier Monday, former model Rowanne Brewer Lane called the article, which cited her as a prominent source, "upsetting."
When co-host Ainsley Earhardt asked her if Trump has ever mistreated women, Brewer Lane said, "Absolutely without a doubt, no."
Two female executives who worked closely with Trump at separate times appeared on Fox's "The Kelly File" Monday night to share their experiences with the billionaire businessman.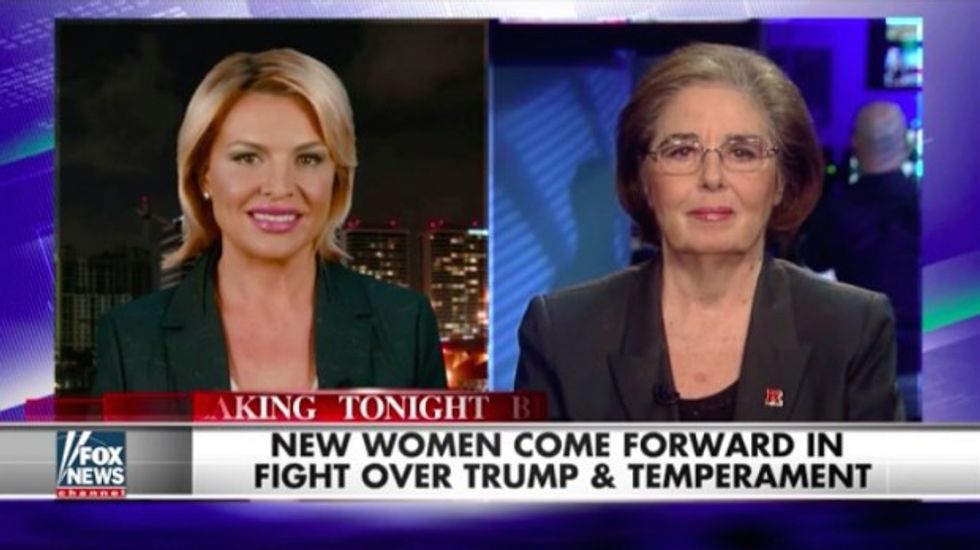 Image source: Fox News
Barbara Res who worked for Trump between 1978 and 1996 as the vice president in charge of construction of Trump Tower, told host Megyn Kelly Monday that when she began working for Trump, the real estate mogul didn't seem sexist, but Trump's behavior evolved over the decade.
"Slowly but surely, he started saying more things that surprised me, up to this day," Res, who is cited in the Times article, said. She added later that Trump once made a comment about women's bodies to an architect in 1991.
Senada Adzem, a former vice president at Trump International in the mid '00s, told Kelly that she experienced a different side of the businessman, describing Trump as "extraordinarily professional."
"He was very tough but he was fair," Adzem said Monday, explaining that her former boss only cared about successful results, regardless of his employees' gender.
Watch: