Who is responsible for revitalizing the American economy — President Bill Clinton or Ronald Reagan?
That was the question that undergirded the tense debate that broke out Tuesday between Fox News hosts Eric Bolling and Juan Williams.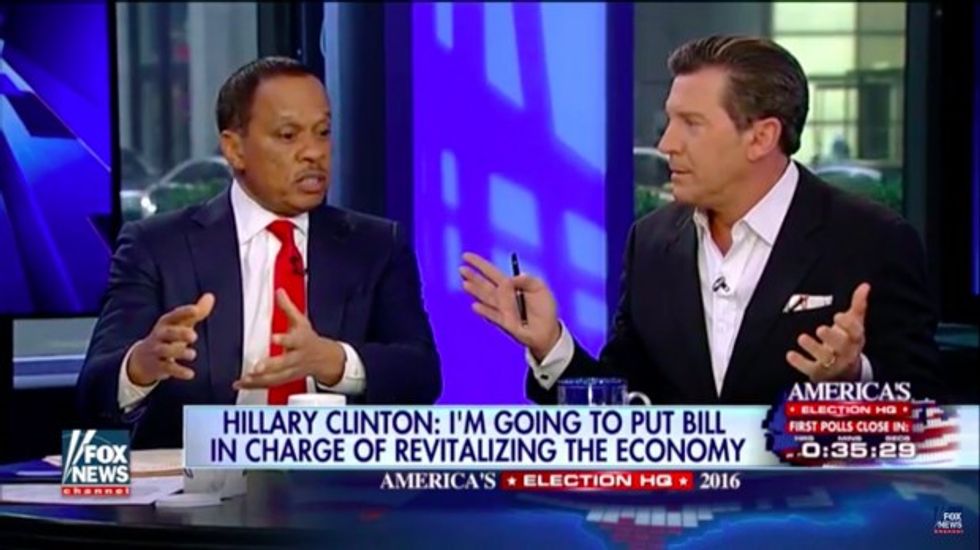 Image source: Fox News/YouTube
Williams stood by, listening to Bolling's assertion that the only reason the economy thrived under Bill Clinton's presidency was because of the success of "Reaganomics" four years before his administration took the reins.
In addition, Bolling claimed that the only reason Hillary Clinton said she will put her husband in charge of the economy is because he "deregulated Wall Street" during his tenure, and she is signaling that she will do the same, if she wins in November.
At that point, Williams asked Bolling if, according to his reasoning, Reagan was only successful because of former President Jimmy Carter.
"This is very curious to me," Williams said." So, according to this theory, Jimmy Carter is the one who is to get responsibility and all the credit for what Ronald Reagan did in the '80s."
"I learn so much on this show every day," he jokingly added.
Bolling told Williams to "stick to your numbers" because "none of that is accurate."
Fox News co-host Greg Gutfeld then sought to redirect the conversation back toward the Clintons, noting that he found it odd Hillary Clinton would put her husband in charge of the economy.
"I just assumed she wouldn't take the backseat to any man, especially Bill," he remarked.
Watch the exchange below (relevant portion begins around 3:15):
—
Follow the author of this story on Twitter: