Former Florida Gov. Jeb Bush (R) has demonstrated that he can be both respectful and critical of Republican presidential candidate Donald Trump. Earlier this month, he congratulated the GOP presumptive nominee in a Facebook post. In that same post, however, Bush made it very clear that he would not vote for Trump or Hillary Clinton come November.
"Donald Trump has not demonstrated that temperament or strength of character," Bush wrote in the May 6 post. "He has not displayed a respect for the Constitution. And, he is not a consistent conservative. These are all reasons why I cannot support his candidacy."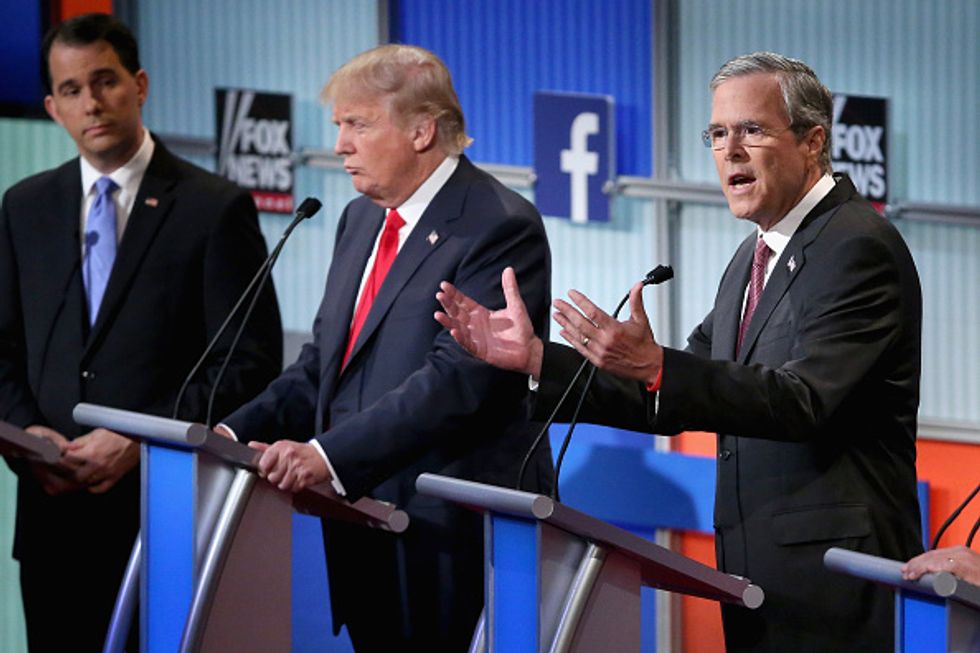 Chip Somodevilla/Getty Images

In a rare sit-down interview since dropping out of the presidential race, Bush spoke with Dutch newspaper NRC Handelsblad about his former rival and the state of the GOP.
"Parties are no longer anything but a vehicle for the ambitions of their leaders," Bush told NRC, according to a Google translation. "Politics is a personality show."
The former governor added that the Republican Party has devolved into virtual irrelevance: "We are no longer the party that stands for principles, or calling for reform. That is dangerous."
He went on to explain that he doesn't resent Trump for his success, though he noted that the candidate received plenty of "free press" for being a controversial, boisterous personality, saying, "The press basically became his partner."
Bush, who has long criticized Trump for not being a consistent conservative, recalled one incident that he believes demonstrates the tragedy of a Trump ticket: the Manhattan businessman's now-famous May 5 tweet featuring a photo of himself posing with a taco bowl for Cinco de Mayo:
Happy #CincoDeMayo! The best taco bowls are made in Trump Tower Grill. I love Hispanics! https://t.co/ufoTeQd8yA https://t.co/k01Mc6CuDI

— Donald J. Trump (@Donald J. Trump) 1462474650.0
"The best taco bowls are made in Trump Tower Grill. I love Hispanics!" the tweet read.
"What Trump did was so insensitive," Bush told NRC. "First, not all Hispanics are Mexican. Secondly, not all Hispanics eat tacos. Thirdly, showing your sensitivity by eating an American dish is the most insensitive thing you can do. Fourthly, to say this, next to all things he already said, is a further insult. It's like eating a watermelon and saying 'I love African-Americans.'"
"This guy," Bush said. "If we lose in November, we Republicans have ourselves to blame."
Bush's interview with NRC came a week before his scheduled trip to Amsterdam. There, he will deliver a lecture on democracy at the Nexus Institute on May 21.