Two months ago, Utah seemed poised to take a risk on a Democrat in the general election, but now it looks like they might be taking a second look at Donald Trump, the presumptive nominee for the Republican Party.
After all, if Utahns voted for Democratic candidates Hillary Clinton or Bernie Sanders in November, it would be the first time the state has gone blue in 52 years — quite the precedent.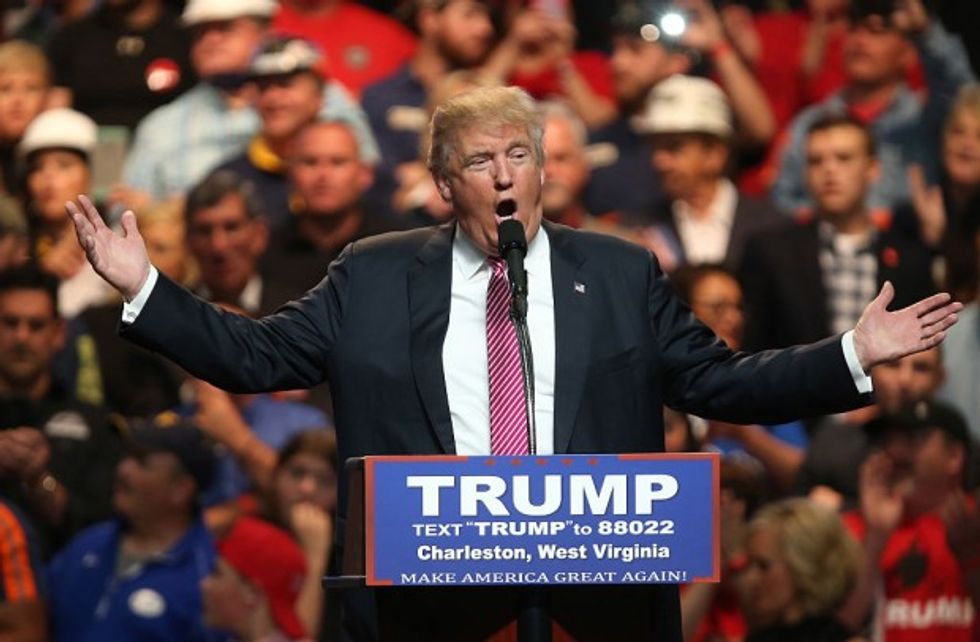 (Photo by Mark Lyons/Getty Images)
According to a new poll released Monday, Trump leads Clinton 43 percent to 30 percent, with 26 percent undecided, and he bests Sanders 43 percent to 37 percent, with 20 percent undecided, according to Deseret News. The poll consisted of 588 registered Utah voters surveyed by Dan Jones and Associates between May 2-10.
The shift from left to right is likely credited to the fact that Trump has virtually eliminated all his competition. Texas Sen. Ted Cruz and Ohio Gov. John Kasich both withdrew their names from the Republican contest earlier this month.
Trump now leading Clinton, Sanders in Utah, new poll showshttps://t.co/uo8SGp7GlF pic.twitter.com/AamGbG2Vjc

— Deseret News (@DeseretNews) May 17, 2016
"I think the reason that they lined up for Hillary before or Bernie was because of what Mitt Romney did to Mr. Trump," Jones said, referring to the 2012 Republican nominee's blistering comments against Trump in March.
Though Romney has not backed away from his scathing remarks about the billionaire businessman, other leading Republicans seem to be falling in line. Utah Sen. Orrin Hatch (R) has insisted he will do whatever he can to get Trump elected in the fall.
"Orrin Hatch is very powerful in Washington, D.C. — he really is — and very respected," Jones explained. "When he speaks out, it has impact, and it sometimes filters on down in Utah."
However, Jones warned, just because the poll favors Trump doesn't mean Utahns will actually come out to cast a ballot for him in November.
Though Clinton held only a marginal lead over Trump, 38 percent to 36 percent, in the March poll, Sanders, a self-titled socialist, held a sizable lead over the New York real estate developer, 48 percent to 37 percent. Perhaps even more troublesome for Trump was the fact that, according to that same survey, 16 percent of voters said they would stay home if Trump and Clinton were on the ballot and 9 percent said they would skip the election if it was a Trump-Sanders matchup.
But, though there may be great dissatisfaction with their choices, Utahns won't vote for a Democrat and they won't stay home in the general election, according to Utah Republican Party chairman James Evans, who said they will support the GOP nominee because they are better than the alternative.
"A Republican not voting is essentially a vote for Hillary," he claimed. "I think Republicans will reconcile themselves to that reality and step up and do the right thing."
The Utah Democratic Party chairman Peter Corroon conceded that the Beehive State is a very Republican territory, but said it is clear Utah conservatives are very unhappy with a Trump nominee.
"While Trump may reflect the Republican Party nationwide, I don't think he reflects the values of Utahns," he said.
Jones said there is still plenty of time for Trump to get himself into trouble with voters, too.
"Mr. Trump can get in an awful lot of trouble," he said. "Also, Hillary could be indicted. I don't think that'll happen, but that's a possibility."
—
Follow the author of this story on Twitter: