© 2023 Blaze Media LLC. All rights reserved.
5-Year-Old Girl Brings Bubble-Blowing Toy to School — and Because of Its Shape, It's 'Zero-Tolerance' Time
"Zero-tolerance policies often mean zero common sense."
It was just one of those things.
Mom didn't realize her 5-year-old daughter put a bubble-blowing toy gun in her backpack Monday morning — but officials at Southeast Elementary in Brighton, Colorado, sure did.
Soon enough, the kindergartener pulled out her purple-green-yellow contraption encased in clear plastic during recess — and with that, the school called Mom and told her to come pick up her daughter.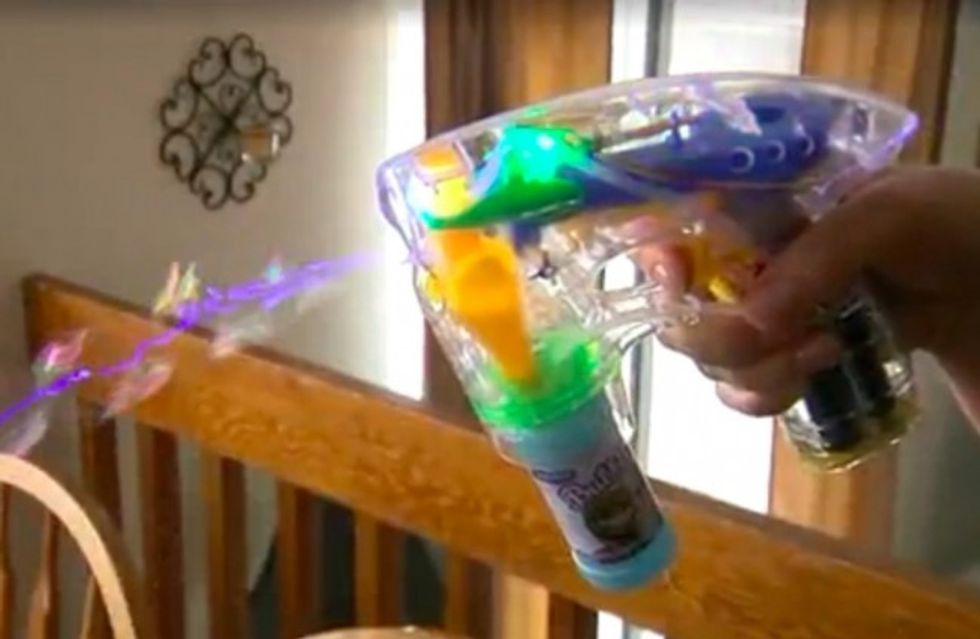 Image source: KMGH-TV
She was suspended for the day, KMGH-TV reported.
"I asked, 'Is it really necessary for me to come get her?'" the mother, who requested anonymity, told the station. "And they said, 'Yes, this is our zero-tolerance policy, and somebody needs to come get her immediately.'"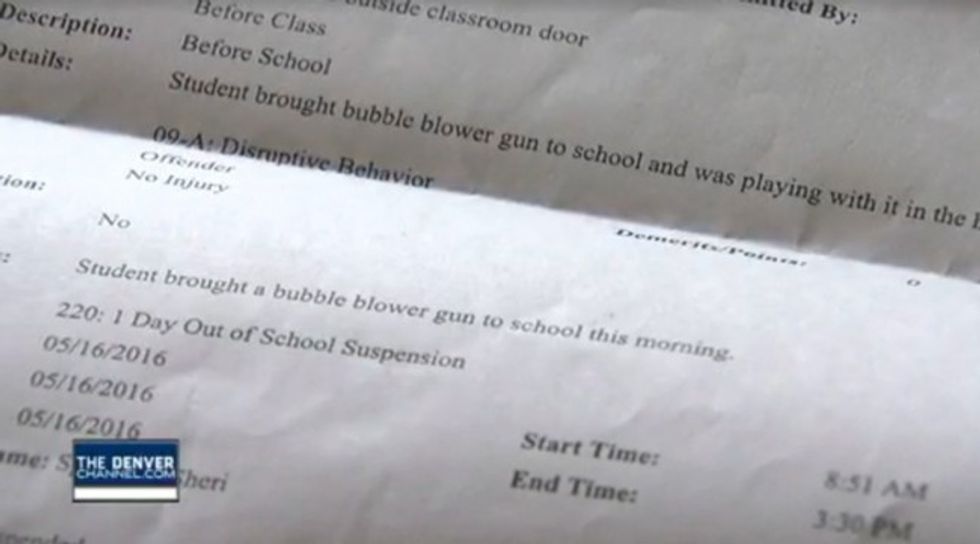 Image source: KMGH-TV
That night, Mom told KMGH, her daughter was so distraught that she asked to stay home and help clean the house instead of going to school.
"It's a shame, because it's the end of the school year, and it's kind of ending on a bad note now," the mother added. "And she didn't deserve that. She didn't deserve a punishment like that."
While a spokesman with Adams County School District 27JA denied KMGH an interview with the elementary school principal and the district superintendent, a statement was released: "This suspension is consistent with our district policy as well as how Southeast has handled similar situations throughout this school year."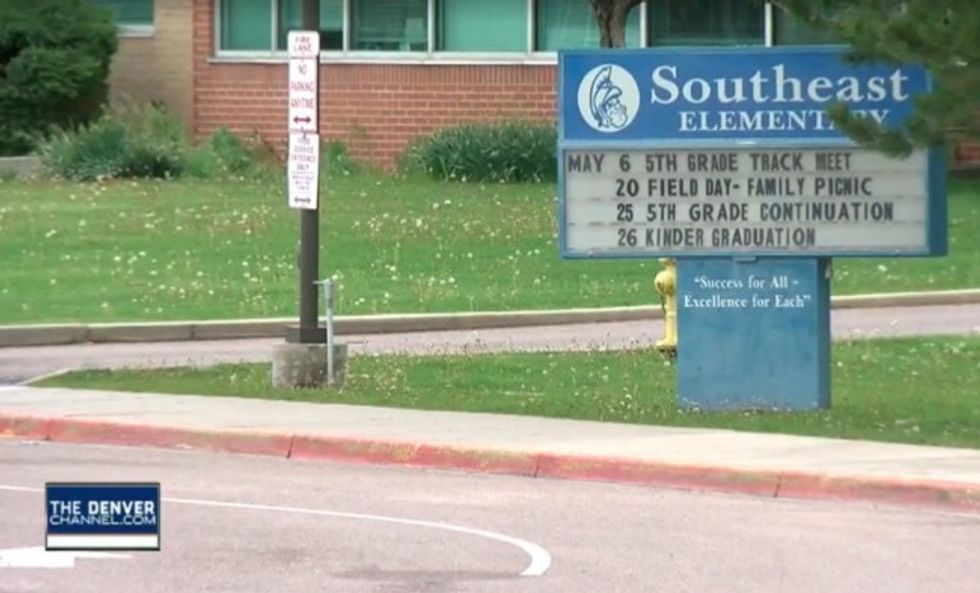 Image source: KMGH-TV
Not that it was much of a consolation to the girl's mother.
"I apologized right away and said that I am so sorry she did that," she told KMGH, adding that her daughter knows she was at fault. "I appreciate that they're trying to keep our kids safe, I really do. But there needs to be some common sense. It blows bubbles."
The station noted that district policy doesn't necessarily call for a suspension in a circumstance such as this one, adding that the weapons policy says discretionary discipline may be used if a student displays "a firearm facsimile that could reasonably be mistaken for an actual firearm."
"It's absurd to send a 5-year-old home for a bubble-maker," Nathan Woodliff-Stanley, executive director of the ACLU of Colorado, told KMGH. "This is a silly example of a very real problem. Zero-tolerance policies often mean zero common sense."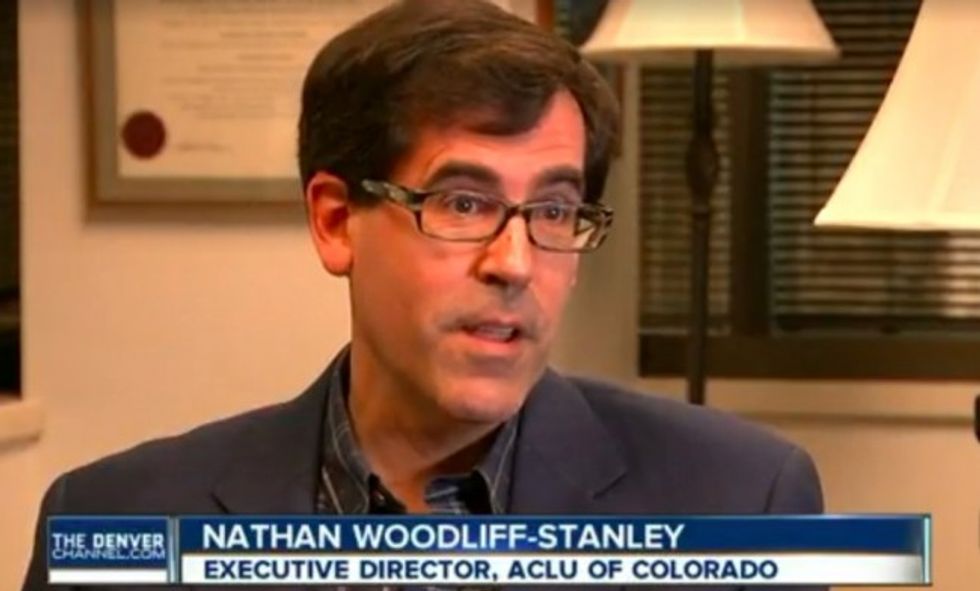 Image source: KMGH-TV
In the wake of the Columbine school massacre, many districts began such zero-tolerance policies — followed by a number of controversial outcomes. To wit: Students getting in trouble for bringing to school pastry guns, Hello Kitty bubble guns, and even pointing fingers at other students to simulate a gun.
"We are given a brain, and we should use it," Tom Mauser, spokesman for Colorado Ceasefire and whose son died in the Columbine massacre, told KMGH.
Colorado Ceasefire pushes for stricter gun control laws, and Mauser initially supported zero-tolerance policies — but he's had a change of heart.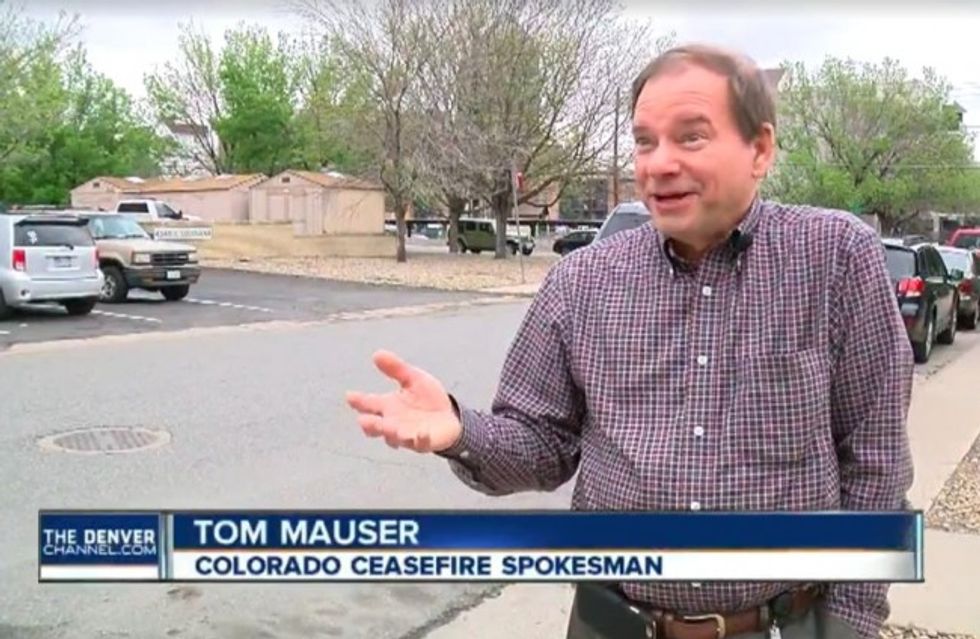 Image source: KMGH-TV
"But the more stories I heard like this, the more I became against zero-tolerance policies," Mauser told the station.
Kevin Denke, a spokesman for the school district, wrote in an email to KMGH that other students at Southeast Elementary have brought in items such as Nerf guns and also received one-day suspensions.
"The bringing of weapons, real or facsimile, to our schools by students can not only create a potential safety concern but also cause a distraction for our students in the learning process," Denke added, the station said. "Our schools, particularly Southeast because of past instances with students bringing fake weapons to school, make a point of asking parents to be partners in making sure students are not bringing these items to school. This includes asking parents to check backpacks."
But Woodliff-Stanley said this latest bubble-gun flap shows that "out-of-proportion punishment" remains a big problem.
"It is counterproductive in a lot of different ways," he told KMGH. "When children are disciplined in ways that don't make sense, they actually lose respect for the school; they don't gain respect."
The ACLU monitors zero-tolerance policies around the country, the station said, and considers them a factor in the "School-to-Prison Pipeline."
"They're part of how we end up criminalizing our children rather than having a better school environment," Woodliff-Stanley told KMGH.
The mother of the suspended 5-year-old girl also told the station she wants others to know that the elementary school's principal seemed unwilling to hear her out.
"It was a very superior attitude," the mother told KMGH. "She made it very clear that she didn't care what I had to say, and that it didn't matter what I said. It was something that she was going to enforce no matter what."
(H/T: Bearing Arms)
Want to leave a tip?
We answer to you. Help keep our content free of advertisers and big tech censorship by leaving a tip today.
Sr. Editor, News
Dave Urbanski is a senior editor for Blaze News.
DaveVUrbanski
more stories
Sign up for the Blaze newsletter
By signing up, you agree to our
Privacy Policy
and
Terms of Use
, and agree to receive content that may sometimes include advertisements. You may opt out at any time.