Time is drawing nigh for those conservatives opposed to Donald Trump to find a third-party alternative, and former Massachusetts Gov. Mitt Romney, a prominent "Never-Trumper," is reportedly giving up on his efforts to recruit an independent candidate.
It started a few weeks ago with Weekly Standard editor Bill Kristol, who met privately with the 2012 Republican nominee, hoping he would either launch his own independent bid or support another yet-to-be-determined candidate. Soon after, news broke that Romney was seeking to recruit either Nebraska Sen. Ben Sasse (R), a leading Trump critic, or Ohio Gov. John Kasich, who suspended his campaign for the GOP nomination earlier this month.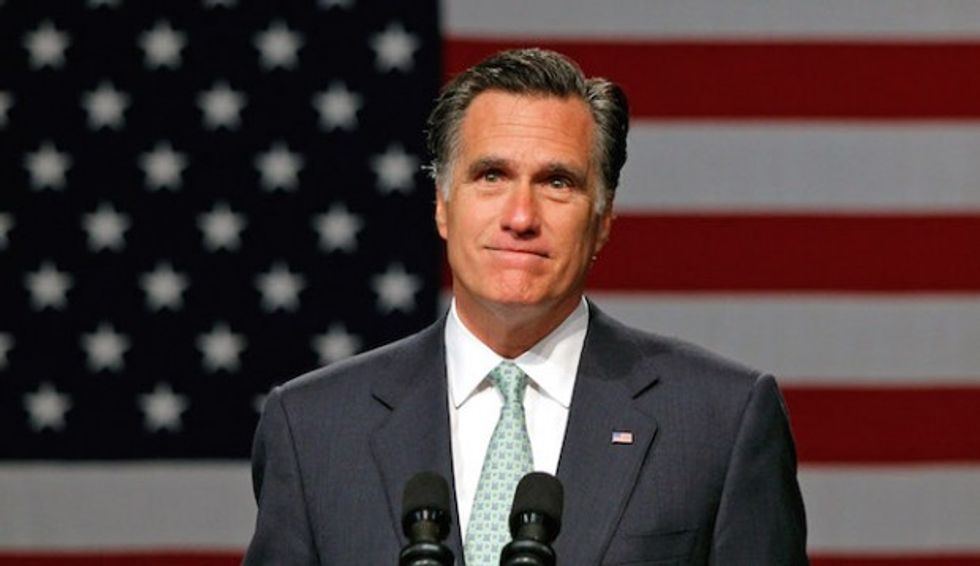 Mitt Romney is shown in Michigan in 2012. (Getty Images)
Both Sasse and Kasich declined Romney's requests, leaving the "Never Trump" movement without a standard-bearer. Dallas Mavericks owner Mark Cuban was also asked to run, but he, too, declined.
But Romney, who is "very distraught" about a Trump presidency, an advisor said, still hopes a candidate will emerge, and RedState contributing editor Ben Howe, a top "Never Trump" movement leader, is hanging on to that same hope.
Though Howe couldn't confirm that Romney has, in fact, given up on finding an independent alternative, he told TheBlaze he isn't surprised by the development because finding a candidate is a "thankless job in this environment."
According to Howe, many are giving up on finding a conservative Trump challenger because they are confident the billionaire businessman will lose to likely Democratic nominee Hillary Clinton in the general election — an assumption he's not convinced is true.
"They've also incorrectly assumed that Trump has no shot at winning the general election, which I think is false," Howe told TheBlaze, adding that he believes many anti-Trump conservatives will stay silent because they don't want to admit "they'd rather see Hillary in office than Trump."
Over the weekend, Republican National Committee chairman Reince Priebus said launching a third party campaign would be a "suicide mission" for conservatives, guaranteeing Clinton wins the White House in the fall.
Though Republican leaders have tried to thwart their efforts and they have been unable to find anyone interesting in running, the "Never Trump" crowd marches on, because, according to Howe, giving up now and counting on Trump losing is a "dangerous game."
"Fighting for the survival of conservatism, even as the party falls apart, is more important than any distaste you may have for the alternatives," Howe said. "Donald Trump cannot be allowed to define conservatism for the next four years."
Howe is so committed to the movement against Trump, he even advocates supporting Clinton in order to deny Trump a victory in November.
"My hope is for a viable third-party candidate, but I do believe that if that doesn't happen, stopping Trump is more important than preventing Hillary," he asserted. "As such, yes, I'd encourage anyone who looks at Trump as being as dangerous as I believe he is to pull the lever for Hillary."
For now, the "Never Trump" movement seems to have reached a point of dissatisfied inaction, but Howe, among others, is certainly hoping it doesn't remain that way.
—
Follow the author of this story on Twitter: