It's "unconscionable" for Republican presidential candidates to oppose raising the minimum wage, according to Labor Secretary Tom Perez.
Perez, a civil rights lawyer tapped for President Barack Obama's Cabinet in 2013, touted the Obama administration's efforts to raise the minimum wage — an issue that he argued used to garner bipartisan support. During an interview with South Carolina Democratic Party Chair Jaime Harrison, Perez said Republican leadership are the only people who haven't gotten the "memo about the importance of increasing the minimum wage."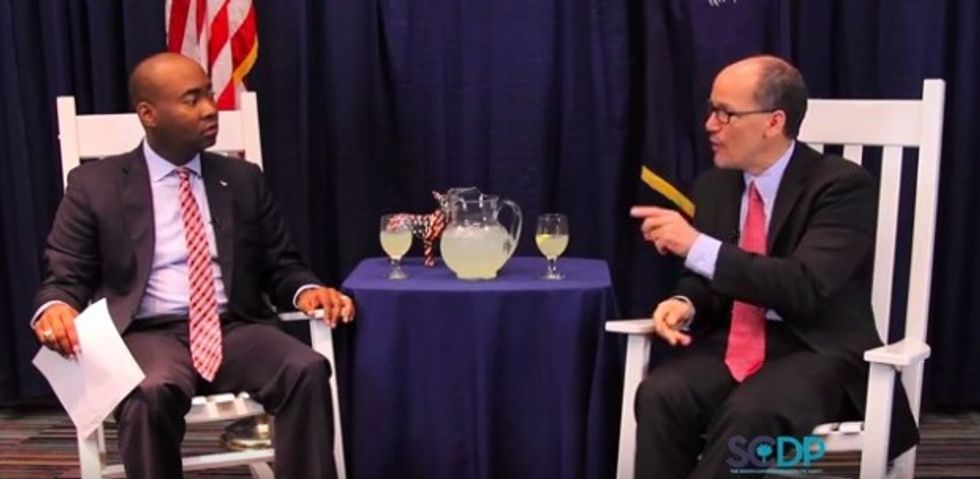 Image source: YouTube
"You have candidates on the Republican side right now saying things like a low minimum wage isn't a bad thing for America, and that's just unconscionable. These are folks who haven't spoken to minimum wage workers," Perez said as he recalled meeting a fast-food worker in Detroit with three kids who slept in her car. "We can do better than that as a nation."
"Whether you're a conservative or a progressive, a fair minimum wage has always been a lynchpin of a thriving economy, but the Tea Party is holding it hostage," he continued.
Perez argued that there are "too few people getting too much" as the economy is out of balance with "wealth concentrated at the top."
"If you want to grow the economy, elect a Democrat," Perez said.
A supporter of Democratic presidential front-runner Hillary Clinton, Perez refused to speculate on whether or not he would accept an offer to be the former secretary or state's running mate but didn't hesitate to boast of her accomplishments.
"I can't imagine someone better situated from day one to govern, because the president has to be the 'multitasker-in-chief,' and she has such a wealth of experience," he said. "But it's not simply her experience; it's her values that I have gotten to know, and her judgement that I so value, and the voters of South Carolina obviously value her judgement as well."
"I have not a single iota of doubt that Barack Obama will go down as one of the most consequential presidents in history, but his legacy will be limited unless we have Hillary Clinton follow him," he continued.
Harrison's entire interview with the labor secretary is below.