Donald Trump responded on Thursday to conservatives critical of his proposal to impose a tariff on imported goods, characterizing them as "dummies" at a New Jersey fundraiser for Gov. Chris Christie.
"These dummies say, 'Oh, that's a trade war.' Trade war? We're losing $500 billion in trade with China. Who the hell cares if there's a trade war?" Trump rhetorically asked the audience.
"Think of it," the presumptive Republican nominee added. "$500 billion and they're telling me about a trade war."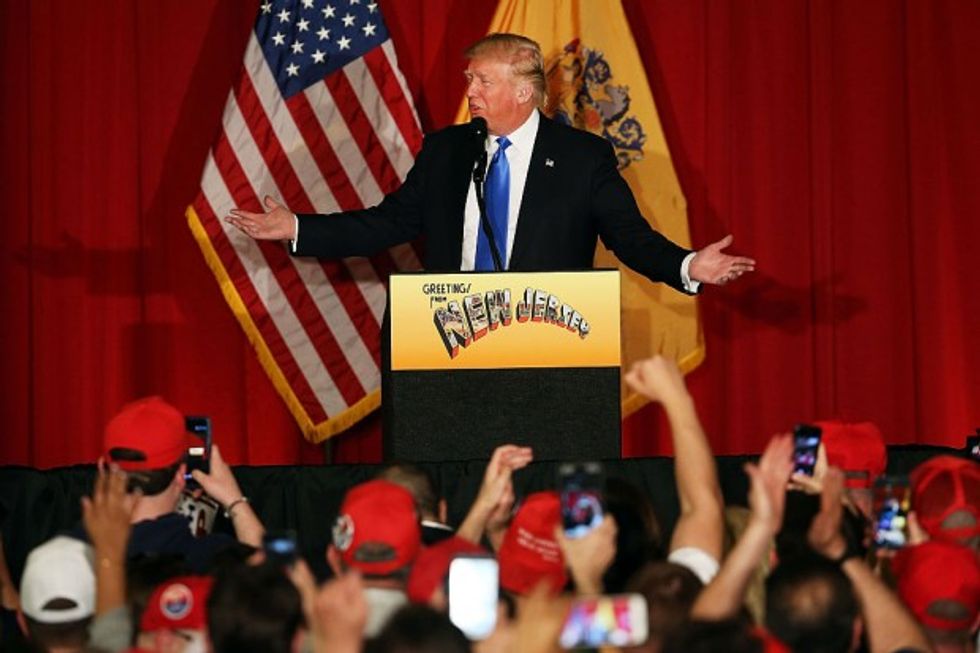 Republican presidential candidate Donald Trump speaks at the Lawrenceville National Guard Armory in what is Trump's first public campaign appearance in New Jersey on May 19, 2016 in Lawrenceville, New Jersey. (Photo by Spencer Platt/Getty Images)
Trump has said he would put a 35 percent tariff into place on goods imported from foreign countries as a way to keep manufacturing jobs in the U.S. He has also repeatedly blasted NAFTA, signed by President Bill Clinton, and argued it was one of the worst deals in American history.
Critics, particularly those on the right, have skewered the billionaire for such rhetoric and characterized him as a protectionist. At Thursday's rally, Trump insisted that he believed in free trade, but only if the deals were good.
"Some conservatives would day, 'That's not free market!' I mean, we're losing our shirts folks! We are losing our jobs. We don't have a choice," Trump said.
"Here's what we're going to do. If I saw Carrier before they move, in other words, I want to get there quickly and call them fast because they haven't moved yet. But before they move, I'd say, 'You move, enjoy yourself. You're going to pay a 35 percent tax.' They're not moving," he added. "They're not going to move. It's very simple. They are not moving. Now if it's too late, they move, I'm charging these companies some tax. Because you know what? We're getting killed. We are losing all of our jobs. We're losing everything."
Despite his dismissal of the ramifications of a possible trade deal, Trump was confident that it would not happen.
"You're not going to have a trade war," he promised. "Two things are going to happen. China devalues their currency, that's how they're killing us, OK? They devalue their currency. They are behaving very, very badly. And, on top of that, they are building fortresses on the South China Sea. And they're doing things. Let me tell you something. China will behave and China will be our friend. We'll do better under China with me and we're also going to do better economically with me. They are going to respect our country again."
"A lot of you don't know the world of economics," Trump later said. "And you shouldn't even bother. Just do me a favor. Leave it to me. Just go enjoy your life."
—
Follow the author of this story on Twitter and Facebook: