Donald Trump sought to make gun control a women's issue Friday afternoon as he addressed a room full of gun rights activists shortly after receiving a huge endorsement from the National Rifle Association.
"I think this is the most basic human right of all, and Hillary Clinton wants to strip it away from women — and others," the presumptive GOP nominee said during a speech at the NRA-ILA Leadership Forum in Louisville, Kentucky.
Trump argued that Clinton wants to "abolish the Second Amendment."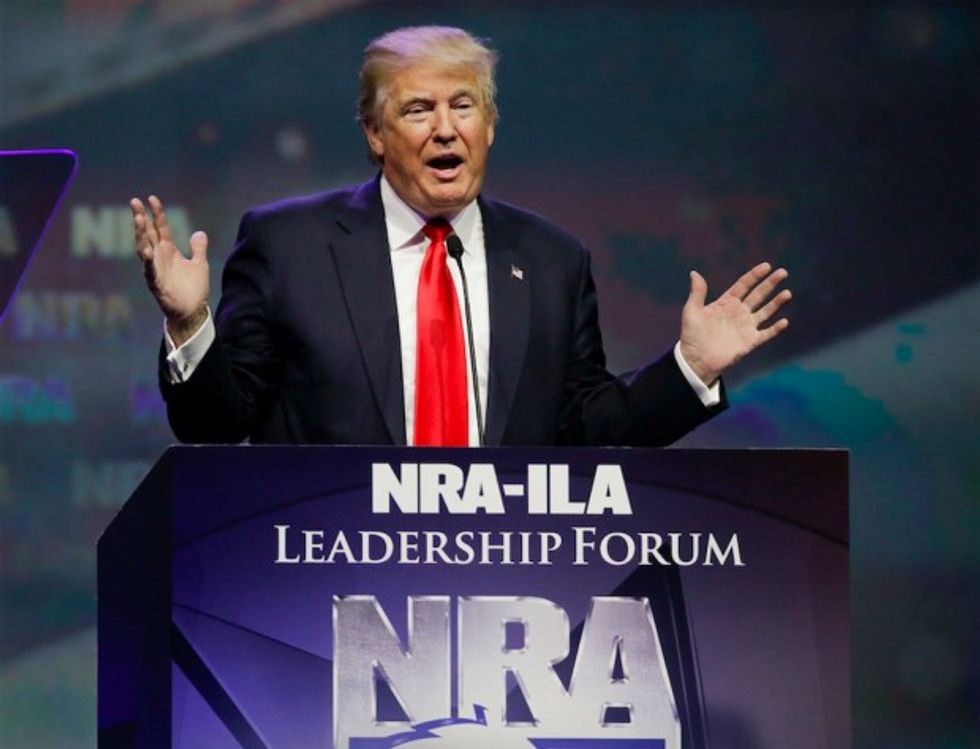 Donald Trump speaks at the National Rifle Association convention Friday in Louisville, Kentucky. (AP Photo/Mark Humphrey)
"We're not going to let that happen," Trump said. "We're going to preserve it. We're going to cherish it."
Trump unveiled a new moniker for Clinton Friday as well, calling her "Heartless Hillary" for supposedly wanting to take guns away from innocent Americans as she releases violent criminals from prison. The Manhattan businessman also declared Clinton "the most anti-gun" presidential candidate to ever run.
"The only way to save the Second Amendment is to vote for a man named Donald Trump," he said.
While Trump promised to eradicate gun-free zones and "make America great again," the majority of his speech, as well as the speeches of two NRA leaders who came before him, focused more on slamming Clinton's gun policies and rhetoric rather than touting Trump's stance on the Second Amendment.
The NRA's endorsement is a huge get for Trump who hasn't always been a champion of gun rights. As the left-leaning Think Progress reported in August, a number of Trump's hotels and facilities do not allow guns on their premises — even for those who have a concealed carry permit.
A tweet from Trump in 2012 after the Newtown Elementary School shooting also circulated social media Friday as Trump received the endorsement.
President Obama spoke for me and every American in his remarks in #Newtown Connecticut.

— Donald J. Trump (@realDonaldTrump) December 17, 2012
Even Friday, Trump joked that his sons have so many guns that "sometimes even I get a little bit concerned" — a joke that seemed to fall flat with the thousands gathered at the NRA conference. He also called for Clinton's bodyguards to "immediately disarm."
"Let's see how good they feel walking around without their guns on their body guards," he said.
But Trump, who has been working hard to sway wary conservatives he can be trusted to protect gun ownership, promised the NRA that he wouldn't let them down after receiving the organization's endorsement.
"I just said to [CEO Wayne LaPierre] and I just said to Chris [Cox], I will not let you down; remember that," Trump said. "I will not let you down."
Since announcing his candidacy, Trump has spoken often on the campaign trail in defense of the Second Amendment — at times promising to eradicate gun-free zones on his very first day in office. He's also cited the terrorist attacks in Paris and San Bernardino, California as he argues that gun control made those areas good targets.
Trump's suggestion Friday that Clinton was disenfranchising women with her gun control stance resonated with at least one female NRA member in attendance at the Kentucky conference.
"He is absolutely correct with that," Antonia Okafor told TheBlaze following Trump's remarks. "Women right now are left vulnerable more than men because not only is there a clear physical difference but to compound that, there are women like Hillary who claim that being pro-gun is anti-women."
"Lies like these keep women away from guns so they are unfamiliar with them and, worst of all, the least trained," she continued. "This is dangerous for women and for those around them."
Okafor said Friday was the first time she saw Trump speak in person, and he succeeded in easing some fears she had of the bombastic candidate — particularly in regards to gun rights. The 26-year-old Texan specifically commended Trump for bringing up the need to abolish gun-free zones, an issue that she works with as she promotes campus carry.
—
Follow Kaitlyn Schallhorn (@K_Schallhorn) on Twitter