WASHINGTON (TheBlaze/AP) — U.S. Park Police say the White House was placed on a security alert Friday afternoon after a shooting on the street outside.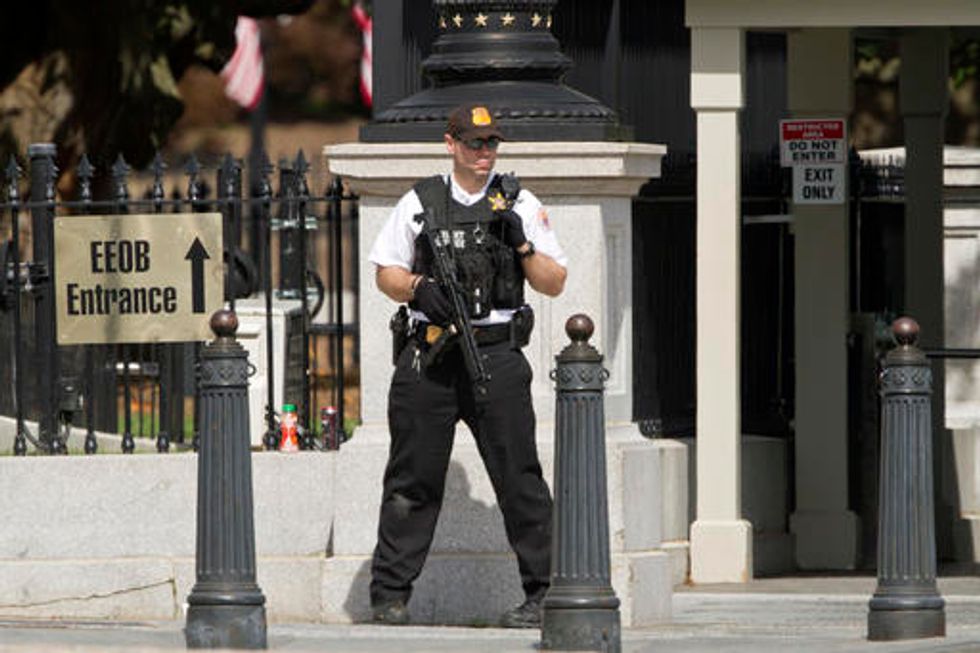 A Secret Service Police Officer works outside of the guard entrance on 17th St Northwest in Washington, on Friday, May 20, 2016, after reports of shots being fired. (AP Photo/Jacquelyn Martin)
CNN reported on air that an unidentified man approached a Secret Service agent around 3:30 p.m. at the nearby intersection of 17th and E streets NW in Washington, D.C., and brandished a weapon.
It was not immediately clear what type of weapon the suspect was carrying. The incident did not occur on what is considered White House grounds.
The suspect was shot in the abdomen by a Secret Service agent and is down. D.C. Fire and EMS tweeted that the suspect was taken to a hospital in critical condition. No other injuries were immediately reported.
UPDATE: Shooting at 17th and E Sts NW - 1pt transported with critical injuries to a local hospital #dctraffic

— DC Fire and EMS (@dcfireems) May 20, 2016
President Barack Obama was at the White House at the time of the incident. Vice President Joe Biden was reportedly either at the White House or nearby, and was secured.
Obama left the White House about 1 p.m. for a golf outing at Joint Base Andrews in Maryland, WRC-TV reported, citing White House reports, and his motorcade arrived there about 1:30 p.m.
Reporters in the White House noted on Twitter they were ordered to shelter in place in the basement of the building.
A gun was later recovered from the scene, CBS News reported.
WATCH: @NBCNews Special Report with @LesterHoltNBC: Shooting near the White House. https://t.co/0Njib2hB0Q

— NBC Nightly News (@NBCNightlyNews) May 20, 2016