Target's stock had tumbled to $68.60 per share as of Saturday. The 52-week low for the stock is $65.50. Target Corp. also announced on Wednesday that it expects sales to be flat or down 2 percent in the second quarter.
The downturn in the company's stock and sales coincides with the recent controversy over Target's transgender bathroom policy of allowing customers to use restrooms based on the gender they currently identify with rather than their biological sex. Some critics have vowed to boycott the store.
Target announced its "stand for inclusivity" on April -- and over the next month, its stock took a dramatic dip.
Here's how Target stock has been trending over the last three months: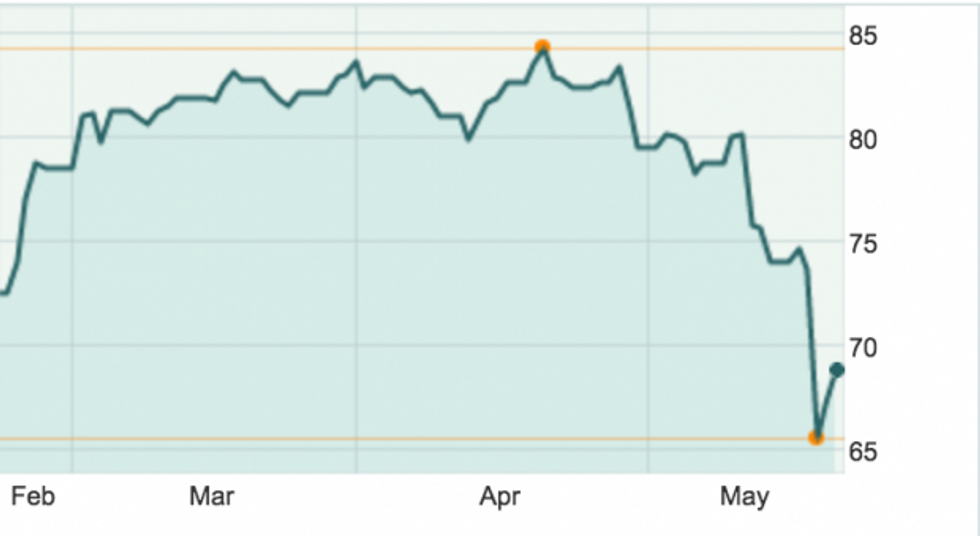 Screengrab via Market Watch
It's unclear how much of an effect the Target boycott movement has actually had on sales, but something is clearly hurting the company's bottom line. The company is blaming its dropping numbers on the weather and "cautious consumers."
"We continue to see consumers spend cautiously," CEO Brian Cornell said. "It's been a very wet and cold start to the year in the Northeast, and it's been reflected in our sales."
More on Target's stock from Market Watch:
Target Corp. (NYSE: TGT) reported its fiscal first-quarter financial results Wednesday morning. Although the numbers were mixed, albeit with better-than-expected earnings, guidance seemingly cratered this stock. Some might attribute this to the Amazon effect, while others are seeing this as a weather-related issue.

The company said it had $1.29 in earnings per share (EPS) on $16.20 billion in revenue. That compares to consensus estimates from Thomson Reuters of $1.19 in EPS on revenue of $16.31 billion. In the same period of last year, Target posted EPS of $1.10 and $17.12 billion in revenue. In terms of guidance for the fiscal second quarter, the company expects comparable sales of flat to down 2% and EPS in the range of $1.00 to $1.20. The consensus estimates call for $1.36 in EPS on $16.68 billion in revenue for the quarter.
Learn more about Target's stock here.
---