Maricopa County Sheriff Joe Arpaio declared there is a "war on cops" after two of his deputies were "ambushed" within a two week period.
The latest shooting occurred on Friday when an unidentified gunman allegedly parked his car outside a sheriff's office substation in Surprise, Arizona, and opened fire. The suspect was allegedly aiming for a deputy, who escaped death by taking cover behind a bulletproof door.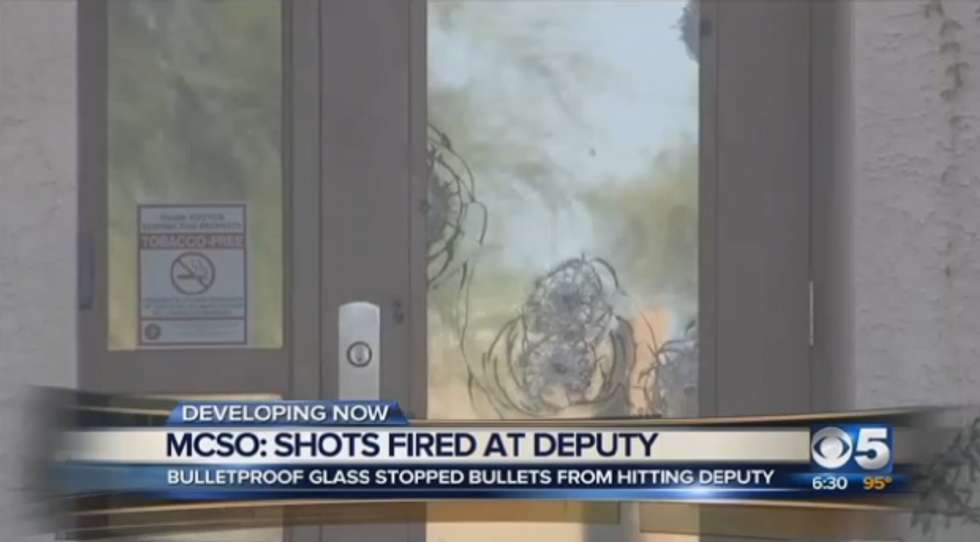 Screengrab via KHPO-TV
A second deputy was able to disarm and arrest the suspect following the initial burst of gunfire. Police recovered two weapons on the suspect, who has yet to be identified.
The motive for the unprovoked shooting is still a mystery.
"I'm not happy with people shooting at my deputies," a furious Arpaio told KPHO-TV. "It's the second time — and this is an ambush."
CNN has more details on the previous shooting involving a Maricopa County sheriff's deputy:
On May 7, Maricopa County sheriff's Deputy Bryan Wisda suffered non-threatening injuries after a gunman in a passing car opened fire on him, according to Deputy Joaquin Enriquez.

Wisda made a DUI enforcement traffic stop in Tempe when someone in a silver Cadillac sprayed him and his patrol car with gunfire, Enriquez said. The suspect then fled.
The motive in the May shooting is also unclear.
---