NEW YORK — Chirlane McCray, wife of New York City Mayor Bill de Blasio, said she was truly shocked when she learned that her own daughter, someone she described as a "high-achiever," suffered from depression, anxiety and an addiction.
Speaking from the pulpit of Riverside Church near Columbia University, the first lady of New York City described her desire to love her daughter, Chiara de Blasio, "into wellness." As a mother, McCray said she researched ways to help her daughter as she struggled to learn more about cognitive behavioral therapy and just who she could trust to have her daughter's best interests at heart.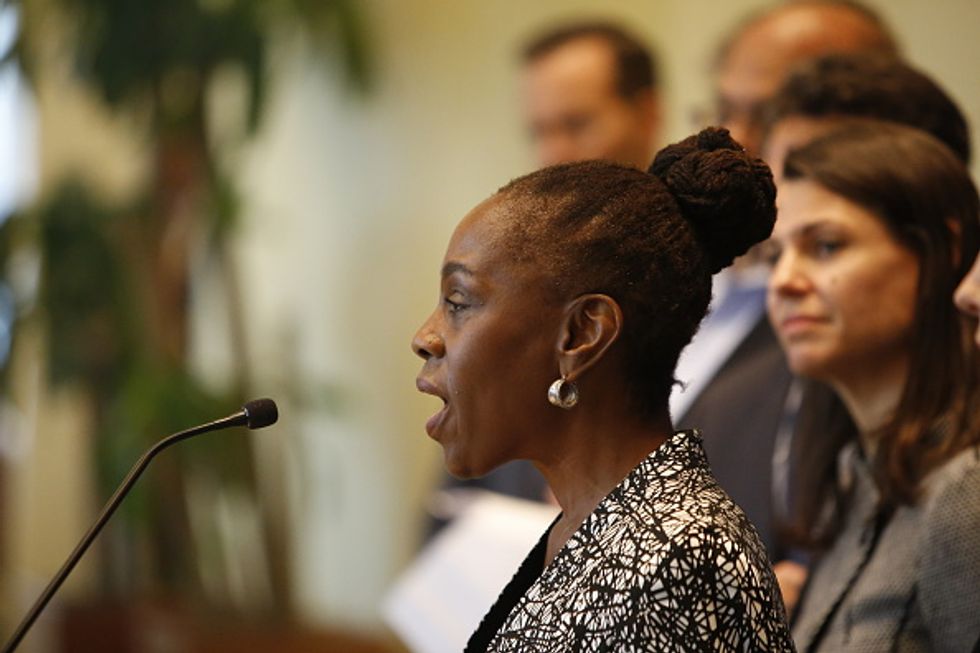 NYC first lady Chirlane McCray (Getty Images/Andy Katz)
McCray told her personal story to a variety of different pulpits around New York City over the weekend as part of a push to promote ThriveNYC, the "mental health roadmap" for the $850 million overhaul of the city's mental health programs. In what was deemed the "Weekend of Faith for Mental Health," she and other city officials took the city's message to a few dozen of the 1,000 participating churches, including a Jewish center in Brooklyn, a mosque in Manhattan and a Baptist church in Queens.
During the development of ThriveNYC, the de Blasio administration consulted with several clergy members, a source in the mayor's office told TheBlaze. Those clergy members expressed the desire for training on how better to assist their congregations when it comes to mental health issues — a service that will be provided through ThriveNYC.
"This idea really came out of our conversations with clergy," a source told TheBlaze. "They are hungry for opportunities to spotlight mental health and break down stigma around mental illness because they recognize it's a problem in their communities."
While at the progressive Riverside Church Sunday morning, McCray implored the church leaders to host these free first aid mental health classes, which received a thumbs up from Rev. Dr. Amy Butler, the church's senior minister, seated behind McCray's podium.
NYC First Lady McCray addressing mental health issues at Riverside Church @riversidenyc https://t.co/GfhS9IhnRZ

— Kaitlyn Schallhorn (@Kaitlyn Schallhorn)1463929401.0
"I believe there's no better place to have that conversation than right here in this place of solace, right here in this place of good will, this place of peace, and there is no better time to have this conversation than now," McCray said Sunday morning.
Clergy who took part in the weekend event were provided with a resource kit, complete with talking points regarding mental health issues.
McCray also advocated for the congregation at Riverside Church to reach out to their elected officials, including New York Democratic Sens. Chuck Schumer and Kirsten Gilibrand, to express their support for legislation that would help those addicted to opioids as well as easily provide mental health resources to those who need it.
"I hope you will join us in urging Congress to make mental health a priority," she said.
Besides providing tools and resources for clergy in order to provide for their congregations, ThriveNYC will also screen all pregnant women and new mothers for postpartum depression.
"Too many women are not able to function well at during what is supposed to be one of life's most joyous moments," McCray announced, adding that approximately one in 10 women in New York suffer from it. "So in partnership with our medical community, we're going to talk to every pregnant woman and new mother, and if they need help, we will connect them to appropriate care."
The city also plans to launch NYC Support in the fall as a "single access point" for New Yorkers who wish to connect with any kind of mental health service with the help of real people who will also follow up.
—
Follow Kaitlyn Schallhorn (@K_Schallhorn) on Twitter