A new smartphone app promises to "educate" sexually active individuals by providing a virtual platform through which partners can establish consent "in as little as 25 seconds." On Tuesday, YES to SEX EDU, which launched May 18, debuted a new feature geared specifically toward college students.
It's completely legal, and it's not a hookup app, its founders assure.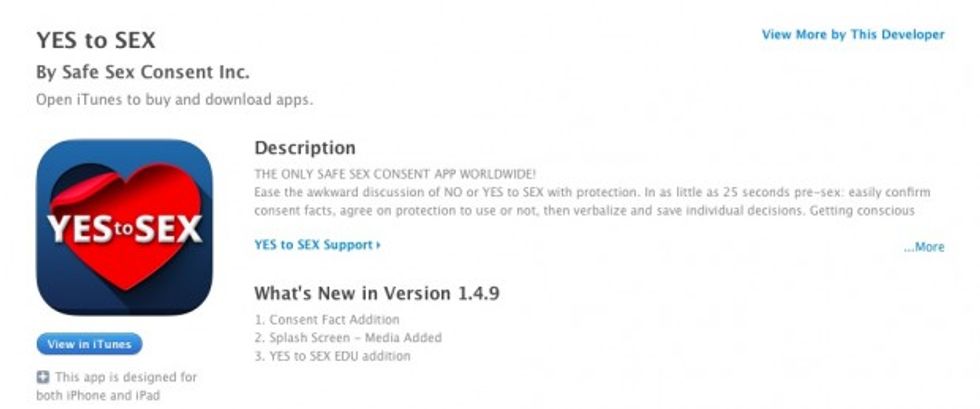 Image source: iTunes
"This is not Tinder at all," YES to SEX founder Wendy Mandell-Geller told TheBlaze in an email. "It's not a dating app — It is used to supplement any dating relationship: new, occurring, or re-occurring."
The app is about consent — facilitating pre-sex conversations about sexual consent, sexually transmitted infections and safe sex.
Mandell-Geller explained that the original YES to SEX app drew the attention of college and university leaders, student advocate groups and Greek organizations, who expressed interest in a feature specifically designed for colleges and universities across the country.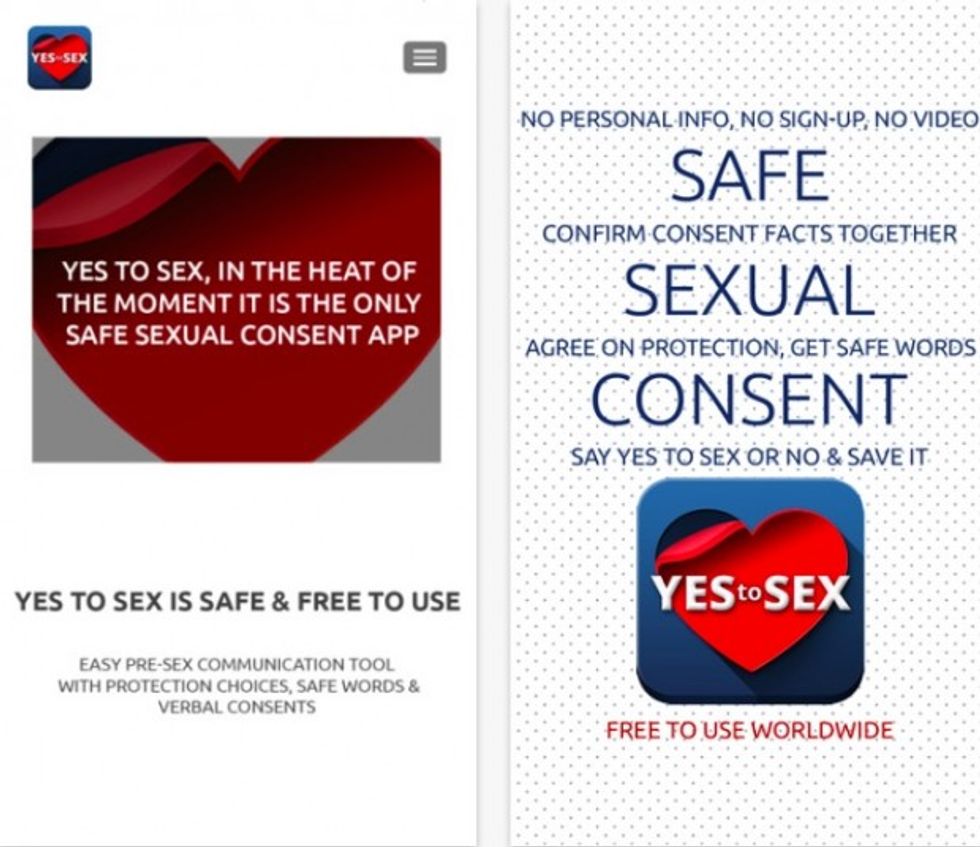 Image source: iTunes
The new YES to SEX EDU feature, which costs $5 a year, was created in response to this demand for a consent platform compliant with Title IX, the federal civil rights law that prohibits sex discrimination, harassment and assault in federally funded institutions of higher education.
Mandell-Geller, who has three sons of her own, explained that, while the app is not meant to encourage hookups, "every parent knows their child will eventually 'get with' someone," so "why not educate them on safety?"
"I can't tell you some of the stories [my boys] have told me, but a number of them ended with friends having to get the [morning after] pill or STD tests," Mandell-Geller told TheBlaze. "This is why I created the app. At first it was educating my boys and their friends, but now it is bigger than that."
When asked if she thought YES to SEX EDU might perpetuate campus "hookup culture," the mother of three claimed hookups are "inevitable."
"Like I said before, teens and adults alike are going to hookup. Why not educate people on what to look for and remind them to be safe? Think of every person from your high school or college that had an unplanned pregnancy, if someone had warned/reminded them where would they be now—" she wrote.
But not everyone is likely to embrace the concept behind YES to SEX EDU, and Mandell-Geller shared that she is well aware of that.
"We expect to receive tons of backlash of all different types," but, she explained, "that should be expected when trying to change any type of social norm."
She compared her sexual consent app to Uber, Venmo and Snapchat, three of the fastest growing apps on the market.
"The difference between most companies and the culture we encourage at YES to SEX EDU is that to us, backlash is viable customer feedback," she wrote. "We use this feedback to continuously grow and better the app and take care of bugs/problems that as a company we are too close to the app to see ourselves."
She offered no further comments on the potential backlash the company may encounter from some parents and religious groups.
Mandell-Geller, who has been married to her husband for 30 years, shared that she has no real need for the app, but, she shared, "all my sons and their friends use it!"