Pastor Saeed Abedini, the American citizen who was was detained for more than three years in Iran before being released in a prisoner swap between the U.S.and Iran earlier this year, penned a Facebook post on Sunday that called for Christians to "take a stand with Israel."
"We are living in a sobering moment in history that calls us, as believers in Jesus Christ, to take a stand with Israel," Abedini wrote. "We could be people of the last hour. We are not to be passive in the face of prophecy."
The pastor called for believers to passionately pray, intercede and minister, following the example of Jesus "who said it is not our task to speculate when the end will be." Abedini also said that those who are looking forward to Christ's second coming will want to take a stand for the Jewish state.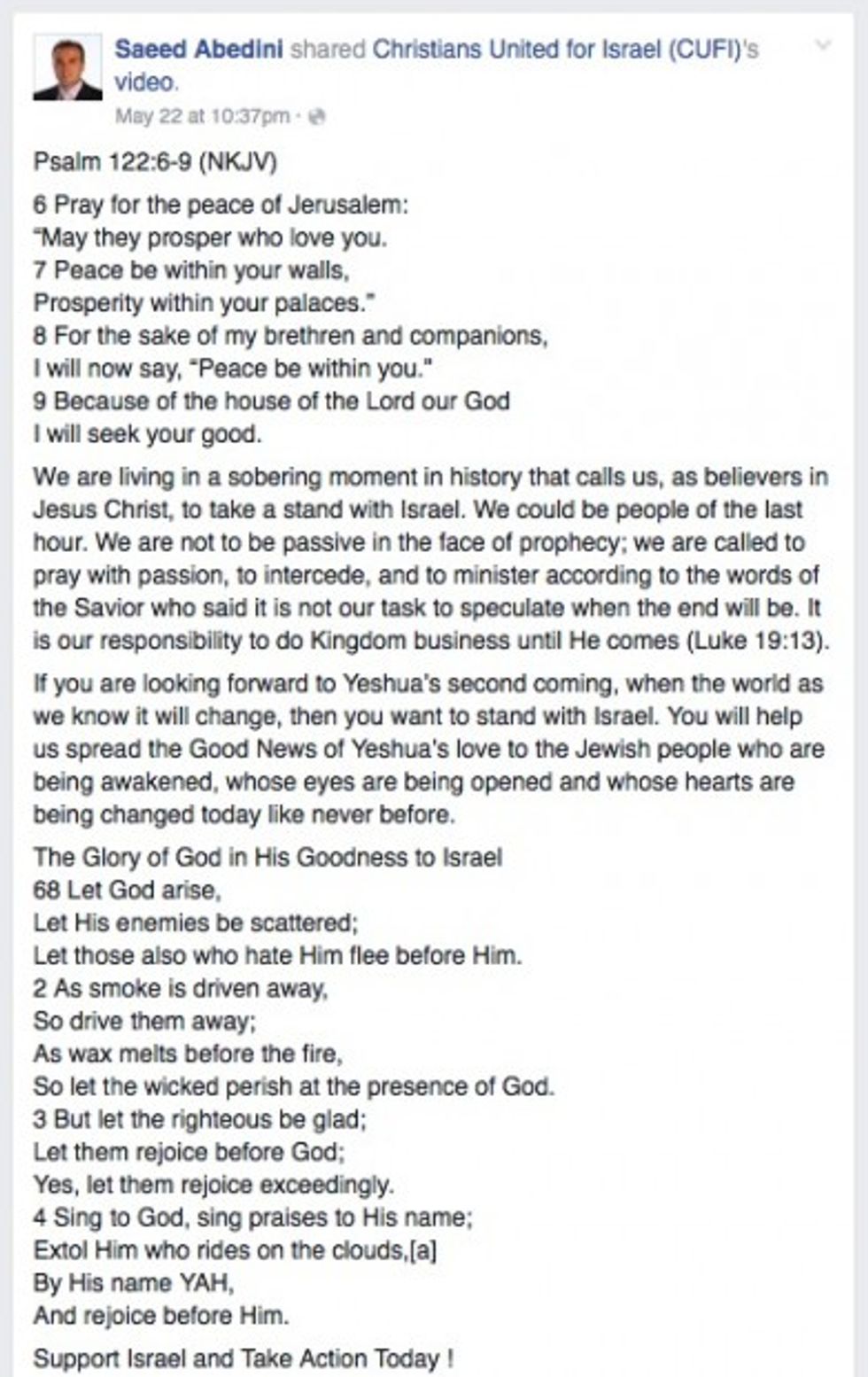 A screen shot from the post (Facebook)
"If you are looking forward to Yeshua's second coming, when the world as we know it will change, then you want to stand with Israel," Abedini continued. "You will help us spread the Good News of Yeshua's love to the Jewish people who are being awakened, whose eyes are being opened and whose hearts are being changed today like never before."
In a separate post, the pastor responded to a recent Times of Israel article that quoted Ahmad Karimpour, senior adviser to the Iranian Revolutionary Guards' al-Quds Force, as saying that Iran's military could quickly destroying Israel if given the orders to do so.
"If the Supreme Leader's orders [are] to be executed, with the abilities and the equipment at our disposal, we will raze the Zionist regime in less than eight minutes," Karimpour reportedly said.
Abedini responded to this threat by citing Ezekiel 38:1-7, which discusses "Gog" of "Magog," which are believed by some prophecy gurus to be a world leader and a nation that will one day rise against Israel.
Abedini added, "Another Bible prophecy is happening."
"The battle Gog and Magog is war in the latter part xxdays (Last days) when a confederacy of nations attack Israel, which has been restored in the last days," he wrote. "These nations, which attack Israel in Ezekiel chapters 38 and 39, include nations, which are Muslim (such as IRAN) and have a clear animosity to Israel."
Abedini continued, detailing the beliefs that many futurist Christians hold — ideals that are explored in-depth in my new book, "The Armageddon Code": "Along with these Muslims nations, a northern kingdom, called Gog and Magog, which many identify, as the land Russia, will ally itself with Muslim nations, to oppose Israel in the last days."
(H/T: Christian Post)
--
Follow the author of this story on Twitter and Facebook and check out his new book "The Armageddon Code: One Journalist's Quest for End-Times Answers":