After residents of Beech Grove, Indiana, hit their pillows Monday night and turned off their lights, their collective shuteye was over and done just after midnight when explosions, gunfire and low-flying helicopters were heard nearby.
Of course 911 calls flooded police dispatch lines, but some folks took to social media as well:
Anyone know what's going on in the sky above Beech Grove right now? Did we go to war and no one mention it?

— Mary @ Trusty Chucks (@Mary @ Trusty Chucks) 1464062894.0
"Whole neighborhood was out bc we thought the world was ending," one resident tweeted.
Some reported seeing people rappelling from helicopters.
Turns out U.S. Army Special Operations Command was conducting urban military training involving about 100 individuals at the old St. Francis Hospital, Beech Grove Police told WRTV-TV.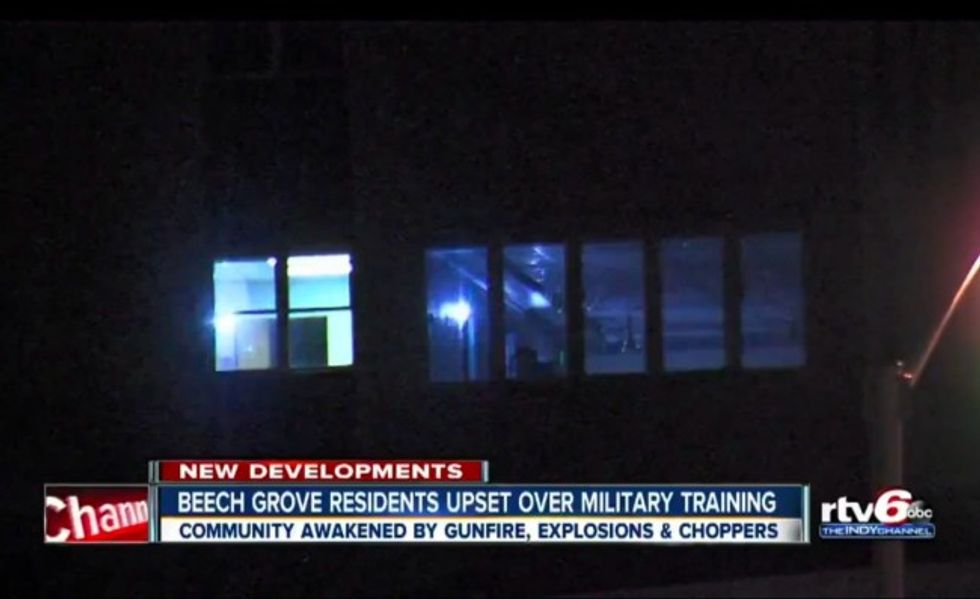 Image source: WRTV-TV
And while police said officials went door-to-door to warn folks, apparently not every resident got word, the IndyStar reported.
Holly Tolle wrote on WRTV's Facebook page that at least three young kids she knows well were "completely terrified," the station said.
"I live directly behind the hospital with three young children who were completely terrified," Tolle wrote. "Now they are going to have trouble going back to sleep. I was informed by BGPD that all residents around the area were warned, but everybody I talked to said they were not."
Lisa Davis lives about a mile away from the hospital and told WTRV that her neighbors were calling each other to make sure everybody was OK.
"A lot of people did not feel safe at all," she added to the station.
Beech Grove Police Capt. Robert Mercuri said, "We're sorry people were startled. We hope they understand that the city of Beech Grove was trying to help the people who protect us every day."
Police added to the station that too much notice about the middle-of-the-night noises may have compromised the exercise, WRTV said, adding that more exercises may be coming this week.