In a particularly tense — and, at times, awkward — press briefing Wednesday, State Department spokesman Mark Toner seemed to be doing all he could to avoid directly answering questions about a leaked audit report on former Secretary of State Hillary Clinton.
The audit by the State Department inspector general was leaked to members of the press ahead of its public release, which is slated for Thursday, leaving Toner in what he described as "a bit of a disadvantage," making him "somewhat limited" in the answers he could offer.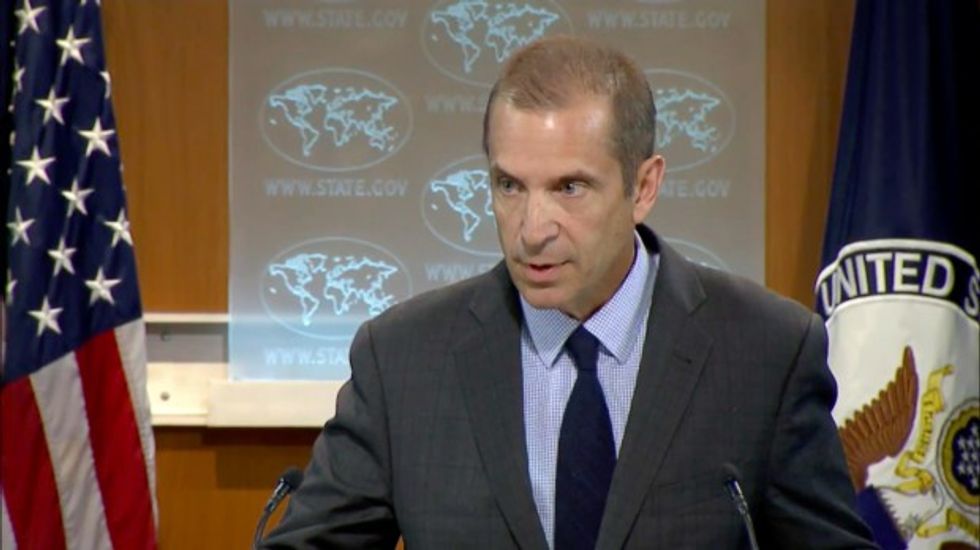 Image source: YouTube/State Department
Frustrated by Toner's unwillingness to discuss the details of the audit, one reporter knocked an earlier conference call briefing reporters on background as "anonymous spin" — an allegation Toner did not like.
"I take objection to your allegation that it was some kind of spin effort," Toner told the reporter. "We were simply trying to get out there on background some of the allegations, or findings, rather, of the report, since it was out in public."
A few minutes later, another reporter called out Toner for nodding instead of giving a direct "yes or no" answer to his question. "People can't see your nod," the reporter informed Toner.
Responding to questions about the legitimacy of Clinton's decision to use a private email account and server during her tenure at the State Department, Toner said, "The only requirement is that — and regulations do state this — is that records need to be preserved, and I would say, looking back with 20/20 hindsight, we do now have […] policies that would make it hard to approve this kind of outside system to replace your official email."
He also said that, though using a personal server is "not necessarily encouraged," "there was no prohibition" on doing so.
Another reporter took also took a shot at Toner, asserting that the background briefing occurred under a "cloak of anonymity," hiding some important details about the audit.
"There's not any effort to spin this. There's not any effort to hide or obfuscate what the information is," Toner claimed. "One of the reasons we did this on background is acknowledging the fact that other people who were privy to this report before it was publicly released chose to leak it to members of the media."
Toner then voiced frustration at the fact that the report was leaked ahead of its scheduled release time, telling the press pool "we had no choice" but to hold a press briefing on background in order to provide context.
"It is always our preference that this stuff is released publicly and we can address it publicly," he said.
Watch the tense exchanges below (relevant portion begins around 2:00):
—
Follow the author of this story on Twitter: