The FBI is investigating after police in Texas say an armed man who claimed to be affiliated with the Islamic State terrorist group assaulted and spit on an officer.
Sadek Hamed, 22, was arrested shortly after 3 p.m. Tuesday and now faces charges of aggravated assault with a deadly weapon and assaulting a public servant. Police said Hamed was armed with an AK-47, a shotgun, a handgun and 200 rounds of ammunition, KTVT-TV reported.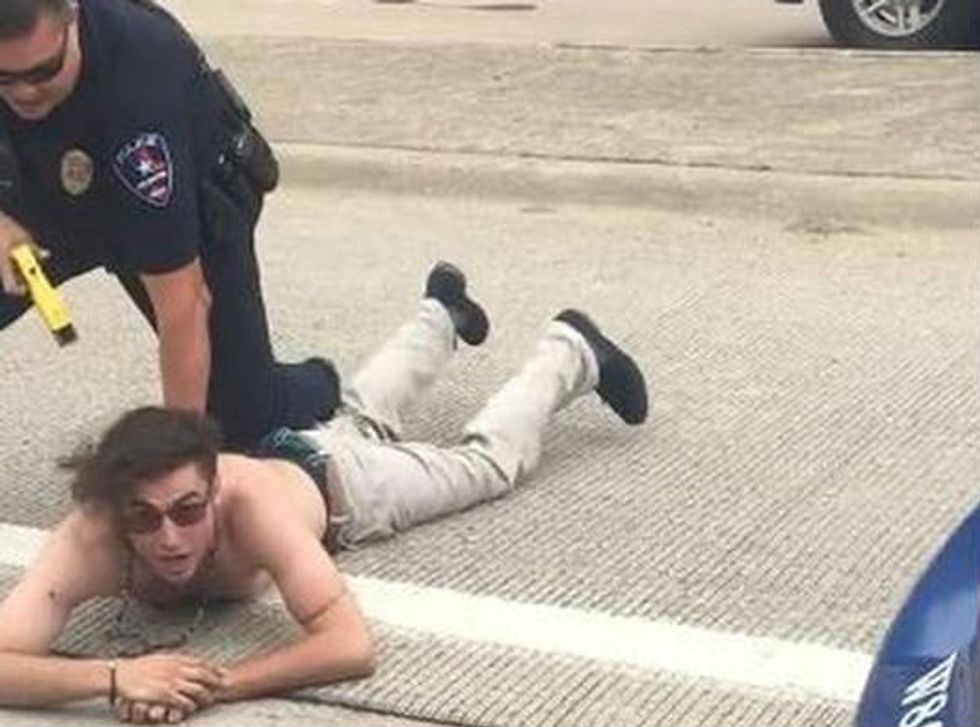 Image source: WFAA-TV
A school law enforcement resource officer for the Arlington School District was driving to the police station when he was reportedly flagged down by two people claiming to have knowledge of a possible assault. WFAA-TV reported the individuals told the officer that Hamed had threatened a woman with a knife.
The officer eventually caught up with Hamed at a traffic light. That's when things got tense.
Hamed and the officer engaged in a physical fight as two bystanders rushed over to help the officer. Since the officer didn't see Hamed brandishing a weapon at the time, he holstered his firearm and took out his Taser.
That's when Mohammad Omar Ileiwat, a local business owner, says he started to record the incident. Ileiwat said the suspect started moving "aggressively" toward the officer, so the officer acted quickly.
"The suspect got out, turned away, and the officer tased him," Ileiwat said, according to WFAA-TV.
The officer tased the Hamed a second time, causing him to fall to the ground. Meanwhile, strangers reportedly rushed over to help the officer arrest him. Hamed is in custody at the Arlington jail.
At some point during the altercation, Arlington Police Lt. Chris Cook said Hamed made "strange remarks" about having ties to terrorists. Police have notified the FBI and ATF.
A spokesman for the FBI did not immediately return a request for comment from TheBlaze.
(H/T: KTVT-TV)
–
Follow the author of this story on Twitter and Facebook: