Graduating high school seniors are often called upon to lend their favorite quotations for inclusion in cherished yearbooks, as senior photos mix with sage words to capture a special moment in time.
But after yearbooks were distributed Monday at one Pennsylvania high school, officials were forced to admit that while "the content of the quotes was reviewed thoroughly, the attributions clearly were not."
Meaning that a few regrettable quotations slipped into the graduating class section of the Quaker Valley High School yearbook — specifically ones attributed to Nazi dictator Adolf Hitler, Soviet dictator Joseph Stalin and Islamic State leader Abu Bakr al-Baghdadi.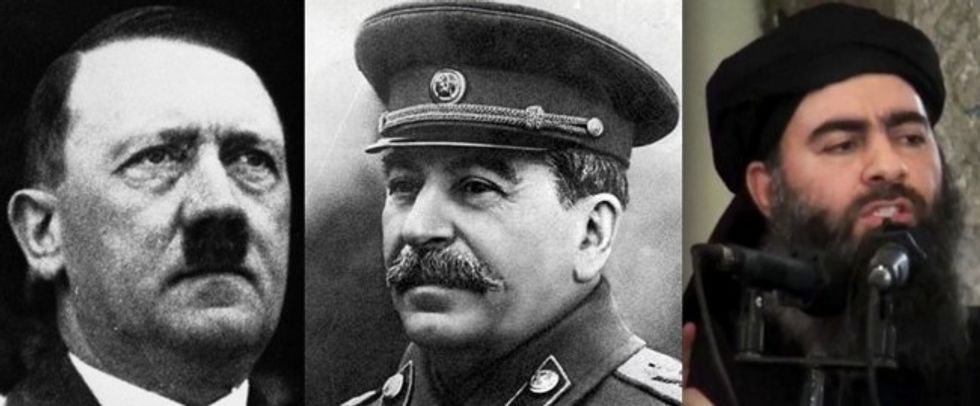 L to R: Adolf Hitler, Joseph Stalin, Abu Bakr al-Baghdadi (Image sources: AP; Stalin via Wikimedia)
According to the Pittsburgh Tribune-Review, the quotations in this camp include: "Words build bridges into unexplored regions," which is attributed to Hitler; "Ideas are more powerful than guns. We would not let our enemies have guns, so why would we let them have ideas?" which is attributed to Stalin; and "Be just: the unjust never prosper. Be valiant. Keep your word, even to your enemies," which is attributed to al-Baghdadi.
Hitler, Stalin and Islamic State terrorist group leader quoted in Quaker Valley yearbook https://t.co/zBOAOf5s5h https://t.co/brN6SnKNpv

— Bobby Cherry (@Bobby Cherry) 1464267024.0
Now district leaders are apologizing and offering refunds to families, the Tribune-Review reported.
"This is a regrettable mistake, as the school district would never knowingly condone this messaging in a school-sponsored publication," read an emailed statement signed by superintendent Heidi Ondek, high school principal Deborah Riccobelli and yearbook sponsor and English teacher Tamra Rosa, the Tribune-Review said. "We are well aware of the emotions this has conjured in many of our students and their families, and for that we are sorry."
District spokeswoman Angela Yingling told the paper that students offer quotes for approval and that "publishing the quotes is a shared responsibility of the yearbook staff, sponsor and administration." But Yingling didn't say if students at the Leetsdale school or the yearbook sponsor would face punishment, the Tribune-Review said.
Senior Dominique Cagliuso told the paper she was disheartened after seeing the quotes her classmates offered and also questioned why they ever made it to print.
"It makes the entire senior class look badly," she told the Tribune-Review. "It's also confusing how nobody caught it before it went out. It's one thing to have a silly quote from your favorite TV show, but to have a quote from dictators is disrespectful."
Yingling told the paper yearbook costs can be greater than $100 if students opt to get their names engraved on the front cover. Now the district is offering refunds or stickers to cover "any offensive quotations," the district's statement read, the Tribune-Review reported.
Cagliuso told the paper she probably would go for stickers — and prior to her graduation party: "When I'm passing it around with my family, I don't want them to see that part of it."
(H/T: New York Daily News)