America is an overwhelmingly faithful county, with the vast majority of citizens embracing the existence of a higher power — and it's no secret that religious perspectives hold monumental sway over what adherents believe about a variety of social and political issues.
But a recent Gallup analysis of data collected from 2001-2016 shows that the faithful are anything but homogeneous in their perspectives, with stark differences emerging between Jews, Catholics, Protestants, Mormons and those with no affiliated religion on an array of issues.
Take, for instance, the ever-contentious issue of abortion. While 76 percent of American Jews believe that the procedure is "morally acceptable," only 18 percent of Mormons, 38 percent of Catholics and 33 percent of Protestants agree. The Jewish population is actually closest to those with no religion (73 percent) when it comes to the morality of the abortion procedure.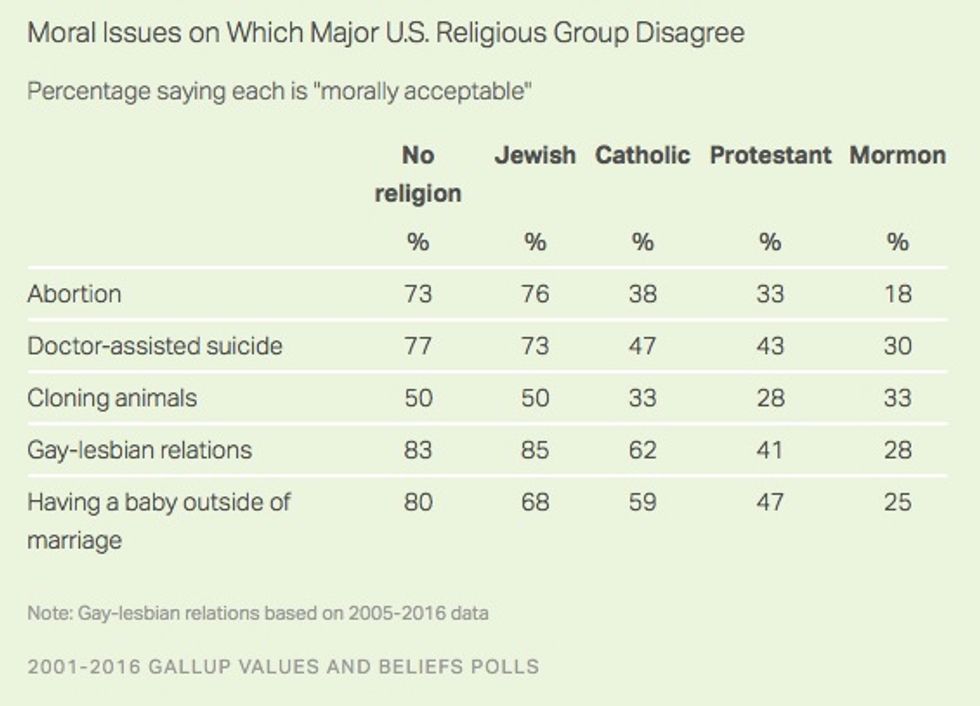 Gallup
A similar dynamic was observed on the issue of doctor-assisted suicide, with 73 percent of Jews and 77 percent of those with no religion believing that it is morally permissible. Meanwhile, only 47 percent of Catholics, 43 percent of Protestants and 30 percent of Mormons agreed.
Gay and lesbian relations showed a wide disparity as well, with 83 percent of those with no religion and 85 percent of Jewish individuals agreeing that it is morally acceptable. A majority of Catholics (62 percent) also agreed, though just 41 percent of Protestants and 28 percent of Mormons embraced such a notion.
But while there was a great deal of disagreement over morality in America between various religious adherents, there was also a great deal of majority agreement on issues like divorce and the death penalty, as well as a majority disagreement with issues like suicide and polygamy.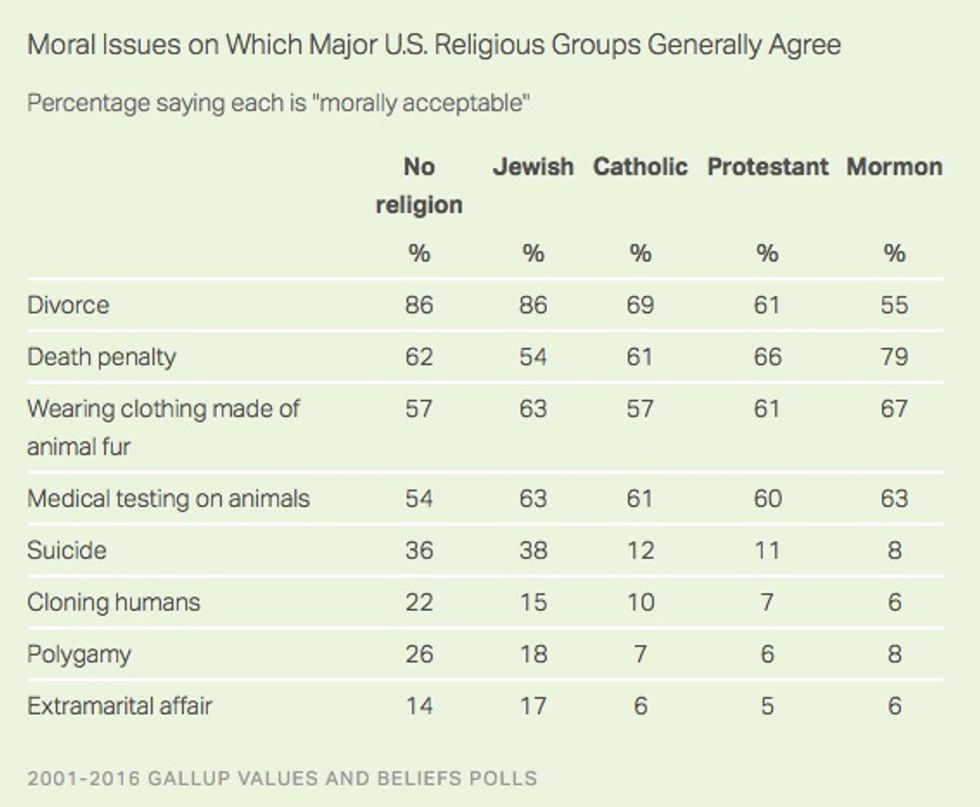 Gallup
Majorities of those with no religion (62 percent), Jews (54 percent), Catholics (61 percent), Protestants (66 percent) and Mormons (79 percent) said that the death penalty is morally acceptable.
Meanwhile, only 12 percent of Catholics, 11 percent of Protestants and 8 percent of Mormons said that suicide is morally permissible. Those proportions were starkly different from the the 36 percent of those with no religion and the 38 percent of Jews who said the same, though those proportions, while higher, also constituted the minority perspective on the issue.
It should be noted that the proportions for each religious group were the average of opinion collected by Gallup between 2001 and 2016; during that timeframe, there were some widespread shifts in Americans' moral views.
"On most of these moral issues, Americans' views have shifted in a more liberal direction over the last 15 years, with the greatest change in views of the morality of gay-lesbian relations, premarital sex and having a baby outside of marriage," reads Gallup's analysis. "As a result, the 2001-2016 estimates show a slightly lower percentage believing certain issues are morally acceptable than is the case today."
Read the results in their entirety here.
--
Follow the author of this story on Twitter and Facebook and check out his new book "The Armageddon Code: One Journalist's Quest for End-Times Answers":