Former Texas Gov. Rick Perry penned a Fox News op-ed blasting a recent report that Chris Kyle — the late Navy SEAL known as the "American Sniper" — embellished his military record by claiming he was awarded more medals than he actually received.
Chris Kyle (AP Photo)
Perry called the Intercept, which ran the article on Kyle, a "click-hungry website" and a "leftwing publication whose only knowledge of the military was likely acquired while Googling derogatory slogans to scrawl on protest signs." He added that the Intercept's research was "inadequate" and produced a "slanted interpretation of valid data and some overly dramatic language."
More from Perry's Memorial Day opinion piece:
The guiding premise of the article was that Chris Kyle, known to a grateful nation as its best-ever sniper in multiple combat zones, was a liar. The writer's assertion is that Kyle laid claim to more medals than the military had awarded him for his valor in combat. At issue was a disparity between Kyle's account in his book, "American Sniper," records obtained from a seemingly indifferent Navy through a Freedom of Information Act request and Kyle's official DD-214. The first mentioned two Silver Stars and five Bronze Stars, the Navy recalled one Silver Star and 3 Bronze Stars and the DD-214 credited him with TWO Silver Stars and SIX Bronze Stars.

If there is any inaccuracy in Kyle's account it's that he didn't take ENOUGH credit for his awards.

As any veteran will tell you, a DD-214 is THE definitive record of a person's time in the military, used to prove the authenticity, duration and character of said service. The official name for the form is Certificate of Release or Discharge from Active Duty and veterans learn early on to keep a copy handy. In separation briefings, service members are carefully coached to review it thoroughly because, once it's filed, it's filed.
According to the Intercept's piece, the Navy had this to say about "authoritative sources" for service members.
"The Navy considers the individual service member's official military personnel file and our central official awards records to be the authoritative sources for verifying entitlement to decorations and awards," according to Cullen James, a spokesperson for the Navy Personnel Command, in a statement the Intercept said it received via email. "The form DD214 is generated locally at the command where the service member is separated. Although the information on the DD214 should match the official records, the process involves people and inevitably some errors may occur."
The Intercept's report included apparent quotes from Navy officials and retired SEALs — none of them named — who indicated Kyle embellished his record. It added that Kyle's widow, Taya Kyle, "through a representative, declined to comment about her husband's service record."
Perry, in his op-ed, wondered if articles like the Intercept's are "a byproduct of nearly eight years of an arch-liberal in the Oval Office combined with an American population increasingly disconnected from the men and women who serve in the military."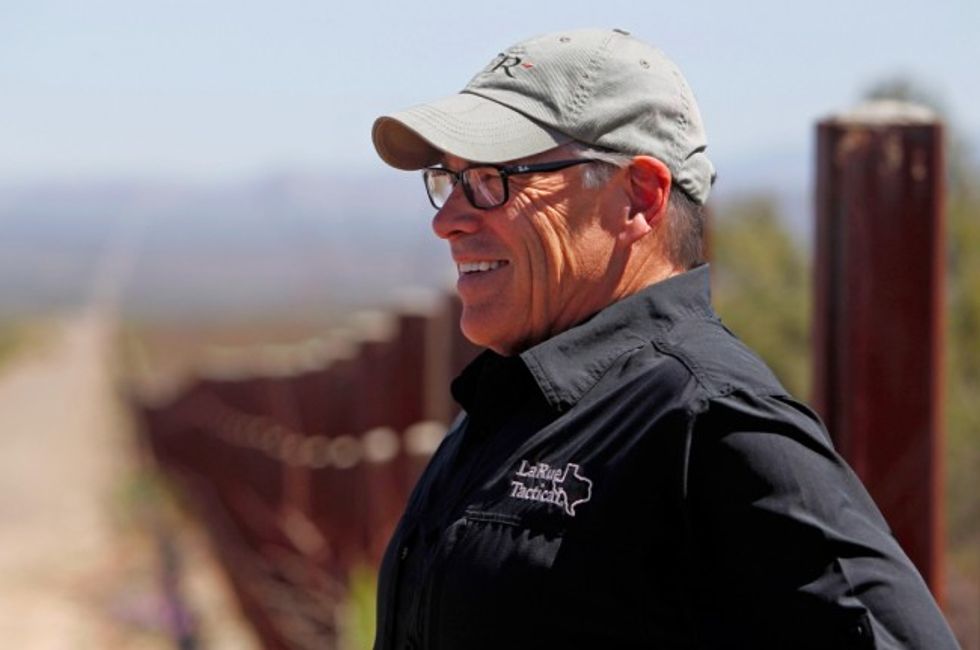 Former Texas Gov. Rick Perry watches during a visit to the Arizona border with Mexico in Douglas, Arizona. (AP Photo/Ricardo Arduengo)
Concluding his piece, Perry called for the "retraction and deletion of the offending article and reprimand of the Navy personnel who have fed this misperception with their lackadaisical handling of the original information request. Both also owe an apology to Taya, Chris Kyle's loving widow, and to service members, past and present, for disparaging one of their own."