JERUSALEM (TheBlaze/AP) — The international movement calling for a boycott against Israel on Thursday said its website was repeatedly attacked earlier this year and raised suspicions that Israel was behind the attacks.
The BDS movement — Boycott, Divestment and Sanctions — released a report Thursday showing that its main website suffered six attacks in February and March. The denial of service attacks, which work by flooding a target website with bogus traffic, knocked out the BDS website for several hours at a time.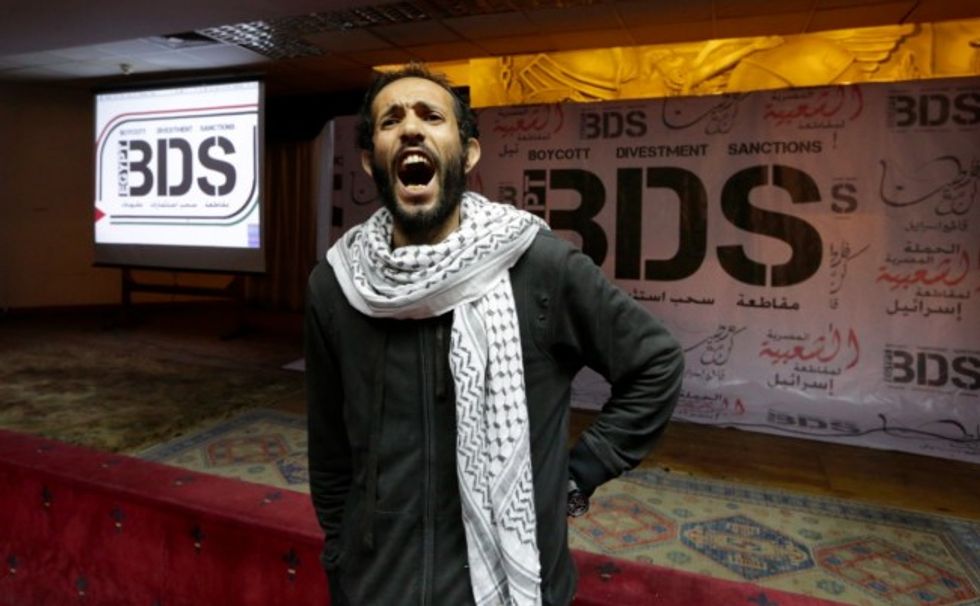 An Egyptian shouts anti-Israeli slogans in front of banners with the Boycott, Divestment and Sanctions (BDS) logo during the launch of the Egyptian campaign that urges boycott, divestment and sanctions against Israel and Israeli-made goods, at the Egyptian Journalists' Syndicate in Cairo, Egypt, Monday, April 20, 2015. BDS is a global movement initiated by Palestinian civil society activists in 2005 that organizers say will continue until Israel complies with international law and respects Palestinian rights. (AP Photo/Amr Nabil)
The report, compiled by nonprofit online security service eQualit.ie, said the attacks had a level of "sophistication and commitment" it normally does not see. It also noted that an unidentified Israeli human rights group had been attacked at the same time, indicating there was a "common adversary."
Assigning responsibility for cyberattacks is notoriously difficult and the report didn't speculate on who might be behind the rogue traffic.
In a statement, the BDS movement said the "advanced technology used in the attacks and the size of the botnets involved may show that Israel was directly involved" but it offered no hard evidence.
Israeli cybersecurity expert Gilad Yoshi said such attacks do not cause serious damage, adding it was unlikely a government was behind them.
"These are not high-level attacks," said Yoshi, an expert at the electronic defense training company CyberGym.
BDS calls for boycotts, sanctions and divestment from Israel in what it calls a nonviolent struggle against occupation. Israel says BDS' goal is to destroy the country, and it has identified the movement as a serious threat.
The Israeli government has earmarked funds for Israeli tech companies for digital initiatives aimed at gathering intelligence on activist groups and countering their efforts.
Initiatives are largely being kept covert. Participants at one recent invite-only forum, held on the sidelines of a cyber technology conference, repeatedly stood up to remind people that journalists were in the room.
Israel's Ministry for Strategic Affairs, which is spearheading the government's battle against BDS, was reviewing Thursday's report and had no immediate comment.