House Speaker Paul Ryan (R-Wis.) has officially endorsed Donald Trump for president.
In a column for his hometown paper, the Janesville Gazette, Ryan said that despite his differences with the billionaire, he will vote for Trump in November. Ryan stressed that his decision to endorse came after multiple talks with the presumptive Republican nominee.
"Through these conversations, I feel confident he would help us turn the ideas in this agenda into laws to help improve people's lives," Ryan said. "That's why I'll be voting for him this fall."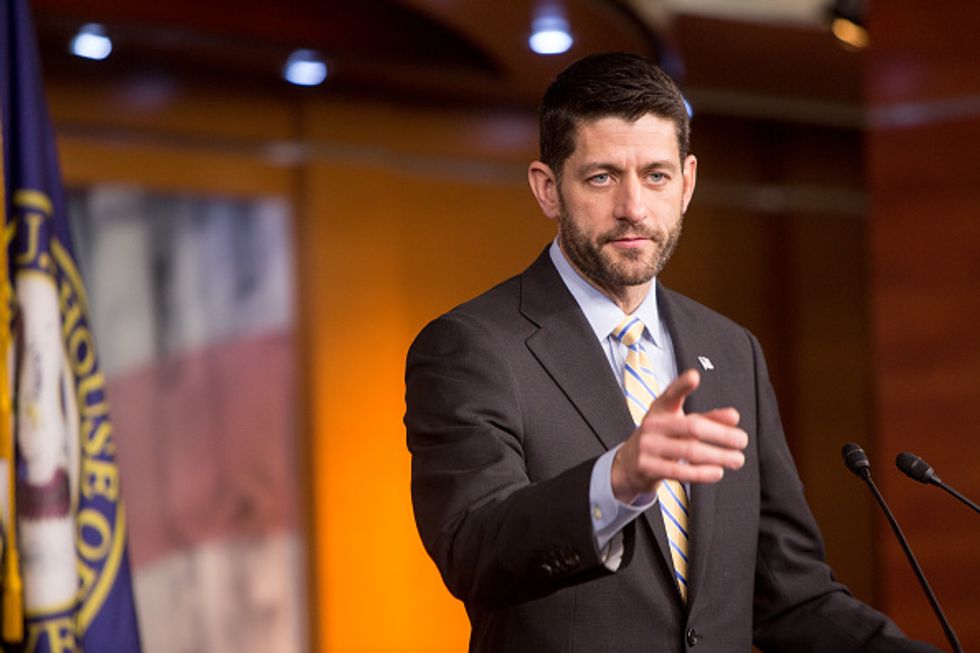 House Speaker Paul Ryan (R-Wis.) speaks to reporters on Capitol Hill. (Getty Images/Allison Shelley)
"To enact these ideas, we need a Republican president willing to sign them into law," Ryan said. "That's why, when he sealed the nomination, I could not offer my support for Donald Trump before discussing policies and basic principles."
"As I said from the start, my goal has been to unite the party so we can win in the fall," he continued. "And if we're going to unite, it has to be over ideas."
Ryan also announced the upcoming introduction of new policy proposals that are the result of the House Republicans' work over the past several months. These proposals include improving the tax code, repealing and replacing Obamacare, restoring the Constitution and lifting Americans out of poverty.
Ryan wrote:
It will be a positive, optimistic vision for a more confident America.

It's short of all that's required to save the country, but the goal was to focus on issues that unite Republicans. It's a bold agenda but one that can bring together all wings of the Republican Party as well as appeal to most Americans.

One person who we know won't support it is Hillary Clinton. A Clinton White House would mean four more years of liberal cronyism and a government more out for itself than the people it serves. Quite simply, she represents all that our agenda aims to fix.
Ryan wrote that he has spoken to Trump "at great length about things such as the proper role of the executive and fundamental principles such as the protection of life" and commended Trump on his "encouraging" list of potential Supreme Court nominees that was released after the two met last month.
"For me, it's a question of how to move ahead on the ideas that I — and my House colleagues — have invested so much in through the years. It's not just a choice of two people, but of two visions for America," he added. "And House Republicans are helping shape that Republican vision by offering a bold policy agenda, by offering a better way ahead."
"Donald Trump can help us make it a reality," Ryan concluded.
Read more of Ryan's column here.
—
Follow Kaitlyn Schallhorn (@K_Schallhorn) on Twitter