Former Secretary of State Madeleine Albright defended one of her successors, Democratic presidential candidate Hillary Clinton, on Friday, saying that "nobody is gonna die" because of Clinton's use of an unsecured private email server while she was the nation's top diplomat, a point on which many of her critics disagree.
Albright, who is supporting Clinton for president, made the statement to CNN anchor Chris Cuomo as she was asked about the candidate's legacy.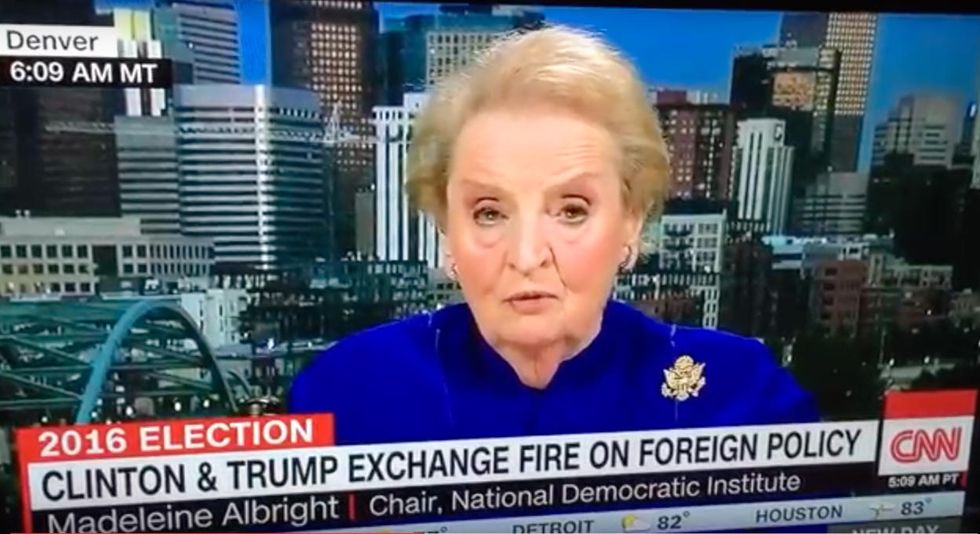 Image source: YouTube-TV
"To those who are supporting Trump or are worried about Clinton, they say her legacy policy-wise is a Russian reset that did not work, an Iran deal that she participated in that gave the worst state actors in the world $100 [billion] and an email scandal that showed she can't be trusted," Cuomo said.
Albright disagreed, saying, "Well, first of all, the email issue she has said she made a mistake and nobody is gonna die as a result of anything that happened on emails."
She went on to call out presumptive Republican nominee Donald Trump on his "temperament," echoing a speech Clinton gave on Thursday about the Manhattan businessman being "temperamentally unfit" to be president.
But Albright's assumption is in direct contrast with what many of Clinton's critics have said about her unsecured private email server, which contained now-classified materials.
One government official, who asked to remain anonymous, told Fox News in February that the presence of 22 "top secret" emails on Clinton's private server — since determined to have contained "operational intelligence" — potentially jeopardized "sources, methods and lives."
The nearly two dozen emails from Clinton's private server were turned over to the State Department for public release but were withheld because of their sensitivity. The Clinton campaign disputed that the emails were highly sensitive and called for them to be released.
—
Follow the author of this story on Twitter and Facebook: