Prosthetic legs can make it difficult for some children to find dolls that truly represent them, but for one Texas girl, what seemed so unlikely became a reality — and it brought her to tears.
Courtney Fletcher Bennett gifted her daughter, Emma, with a new American Girl doll custom-fitted with a prosthetic right leg — just like Emma.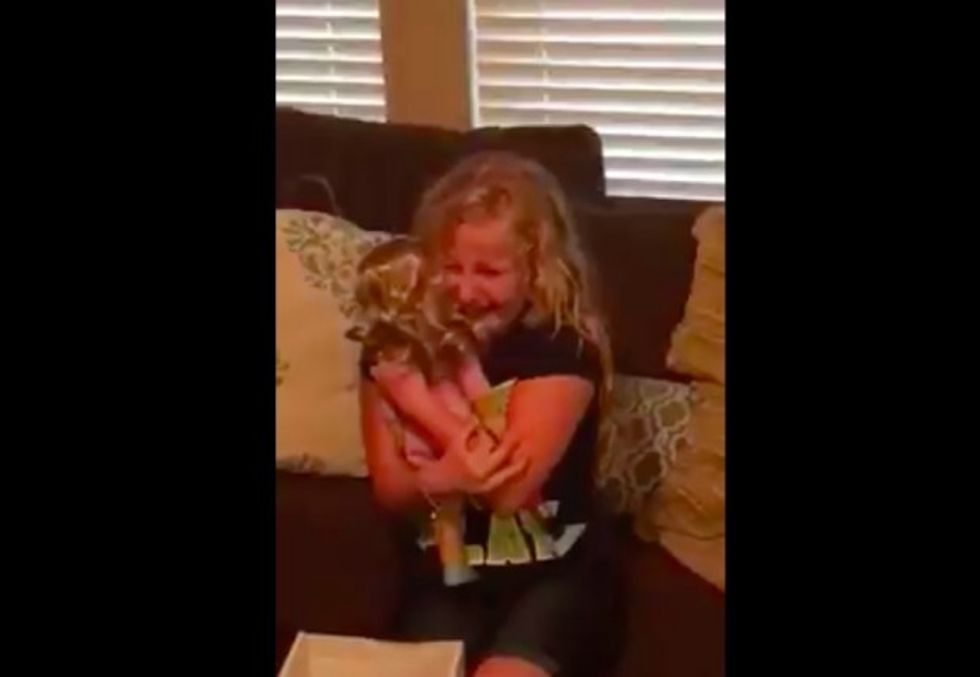 Image source: Facebook screen grab
In the video, posted to Facebook Wednesday, Emma's little sister can be seen carrying a box over to Emma, who immediately began looking into the package. Her mom told her to read the enclosed letter.
But Emma, whose last name was not disclosed, couldn't contain her excitement — so she went straight for the box, lifting the bottom flap of the package and immediately noticing the pink prosthetic right leg.
"You gotta be kidding me!" the blonde-haired girl shouted excitedly as she dropped the flap of the box, before picking up the doll and hugging it tightly.
As tears streamed down Emma's face, her mother asked, "Do you love her?" Emma replied: "I love you."
The letter, which Bennett later read to Emma, is from A Step Ahead Prosthetics, the company that added the prosthesis, and chronicles the journey the American Girl doll took as she learned to walk and even run with her new leg.
"She is ready to go home and live her life without limitations with you," Emma's mother read from the letter.
A Step Ahead Prosthetics, based in Boston and New York, doesn't charge customers to customize the dolls, according to its website.
"We feel that it is absolutely crucial to boost self-confidence, self-esteem, and feelings of inclusion for little girls with limb loss," the company said in a statement to Fox News, "and that something as small as a doll that resembles them can have a profound effect on their mental and physical well-being."
Anyone with a child facing the prospect of amputation is invited to send an American Girl doll to A Step Ahead Prosthetics. The company will custom-fit the doll with a hand-painted prosthetic limb.
At the close of the 2-minute video, Emma had one simply message for the charitable organization: "Thank you for making a doll like me."
—
Follow the author of this story on Twitter: