A pair of Texas high school students were arrested this week after allegedly confessing to killing two llamas earlier this year. According to police, the teens beheaded one llama and shot another.
Harris County Pct. 1 Constable Alan Rosen told KTRK-TV that the two 16-year-old boys, whose names have not been made public because they are minors, were arrested and charged Thursday with one count each of animal cruelty, a felony and two counts each of misdemeanor criminal mischief.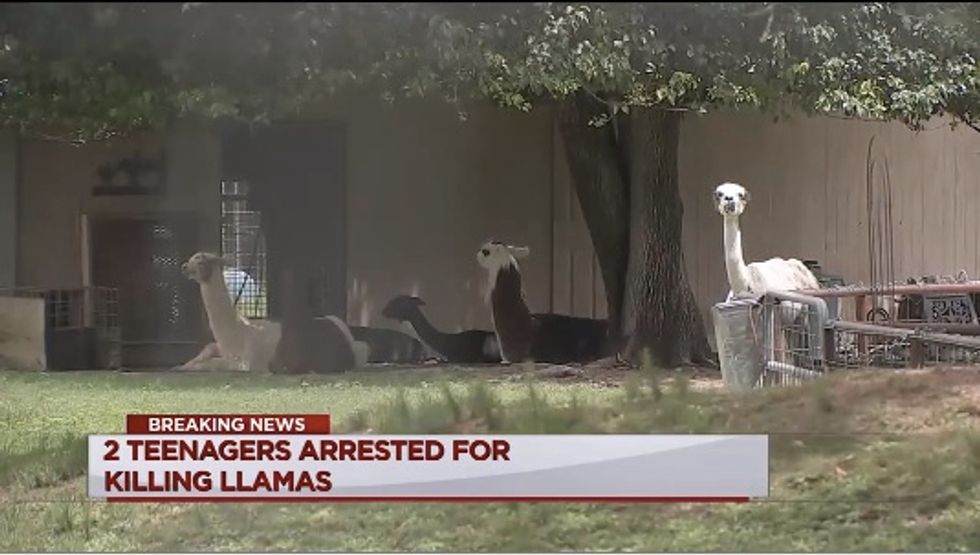 Image source: KTRK-TV
"Just when you think you've heard it all, along comes a bizarre case that makes you wonder what goes through people's minds, especially young people," Rosen said.
According to KTRK, the teens allegedly went to Figment Ranch in Cypress, Texas on March 6 and attacked the animals, named Lorenzo and La Tida.
Lorenzo, the llama that was shot twice, survived the attack, ranch co-owner Ruby Herron told ABC News.
"He was trying to protect [La Tida]," Herron said. "He was the best guard in the world."
Herron told ABC that a bullet is still lodged next to Lorenzo's spine. Doctors warned the llama's caretakers that trying to remove it could be deadly.
The llamas, whom KRTK reported were "show-quality" animals, can sell for around $20,000 each.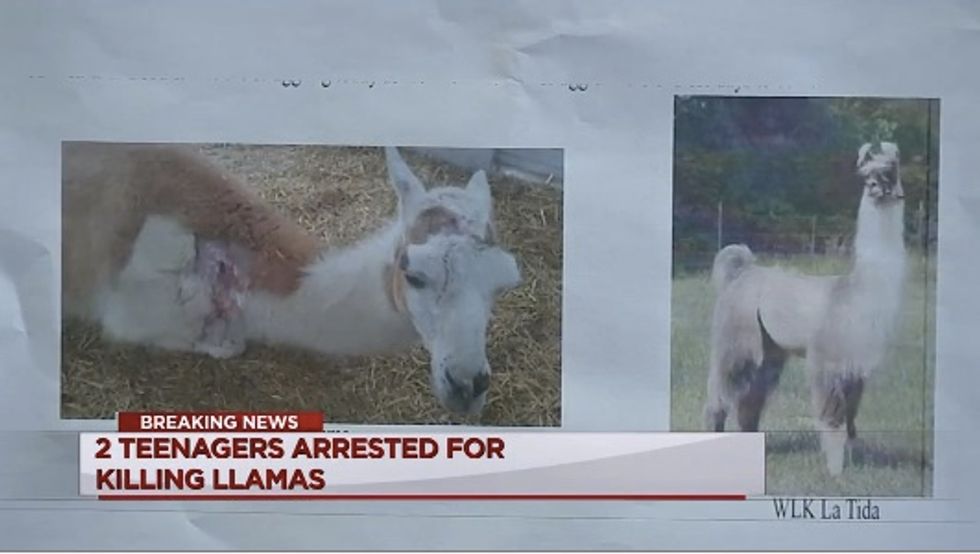 Image source: KTRK-TV
Herron, who discovered La Tida after the attack, said she had never seen anything like that before in her more than 30 years of raising llamas on the ranch.
"It's a feeling that you never want to have," she said. "These kids need help. I don't know what would even possess them."
No one was at the ranch at the time the boys allegedly entered the property, Herron told ABC, adding that she and ranch co-owner Robin H. Turell grew increasingly anxious during the two months that the case went cold.
"We've been scared to death to leave," co-owner Turell told ABC, "and every day you wake up, you count the animals."
Rosen said the teens confessed, and at this point, there is no motive. The investigation into the March 6 incident continues.
Watch: