North Carolina Rep. Renee Ellmers (R) was presumptive GOP nominee Donald Trump's first congressional endorsement, but it in the end, it didn't seem to matter.
Ellmers lost her reelection race in North Carolina's 2nd Congressional District to Rep. George Holding (R) who was pitted against Ellmers due to redistricting in the state. The congresswoman was first elected to office in 2010.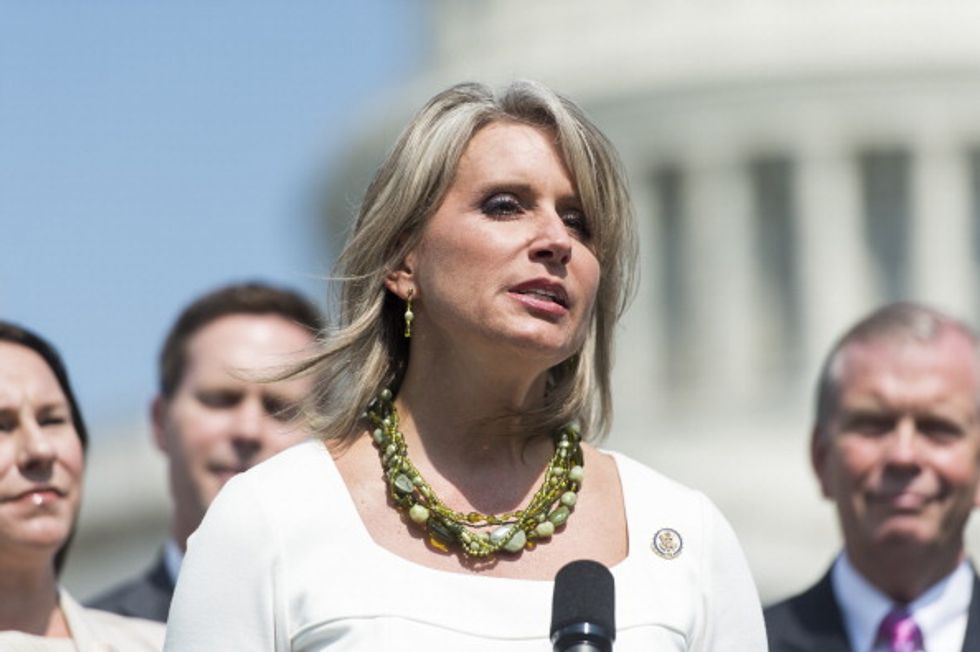 Rep. Renee Ellmers, R-N.C., speaks during the House Republicans' news conference on 'Solutions to Empower Women At Work & At Home.' (Getty Images/Bill Clark)
Trump officially backed Ellmers over the weekend in what was his first congressional endorsement.
"I need her help in Washington so we can work together to defeat ISIS, secure our border and bring back jobs and frankly, so many other things," Trump said then. "Renee knows how to do it. She gets it. And together, we will make America great again."
While Ellmers first won her seat during a Tea Party takeover of the House, she had been hit hard by conservative groups leading up to North Carolina's primary.
"We were all optimistic about Renee Ellmers when she talked about fighting Washington's special interests and cutting wasteful spending," Americans for Prosperity NC State Director Donald Bryson said in May. "Unfortunately she decided that she wanted to play a different game when she arrived in D.C."
"As Rep. Ellmers said, AFP has a position and we stick to it — regardless of what politicians do," he continued. "While we have continued fighting special interest handouts and wasteful spending, she has decided to go a different direction. So long, Renee."
Ahead of Tuesday's primary, Ellmers made headlines when she noted that a woman who she greeted by name "gained some weight."
"You're eating a little bit too much pork barbecue. Whoo," Ellmers said as she got out of her car to vote, WNCN-TV reported.
The woman was reportedly Maggie Sandrock, a supporter of Holding, who told WNCN that Ellmer's behavior was just "typical Renee."
"She has become a mean girl on steroids in my view," Sandrock said.  
"I would consider her a friend, but certainly not a good one," Sandrock also said. "Good friends don't tell you you're fat or you're getting fat. They may say, 'Everything going well Maggie? You look a little stressed out.'"
Greg Brannon, a conservative challenger, also lost during Tuesday night's primary.
—
Follow Kaitlyn Schallhorn (@K_Schallhorn) on Twitter