Trappers in Lakeland, Florida, have the gruesome task of determining if an alligator they pulled from a lake Tuesday is the same creature that was spotted with a man's body in its mouth.
Lakeland police spokesman Gary Gross told WFTV-TV that officers responded to a call about the gator from Lake Hunter Tuesday afternoon.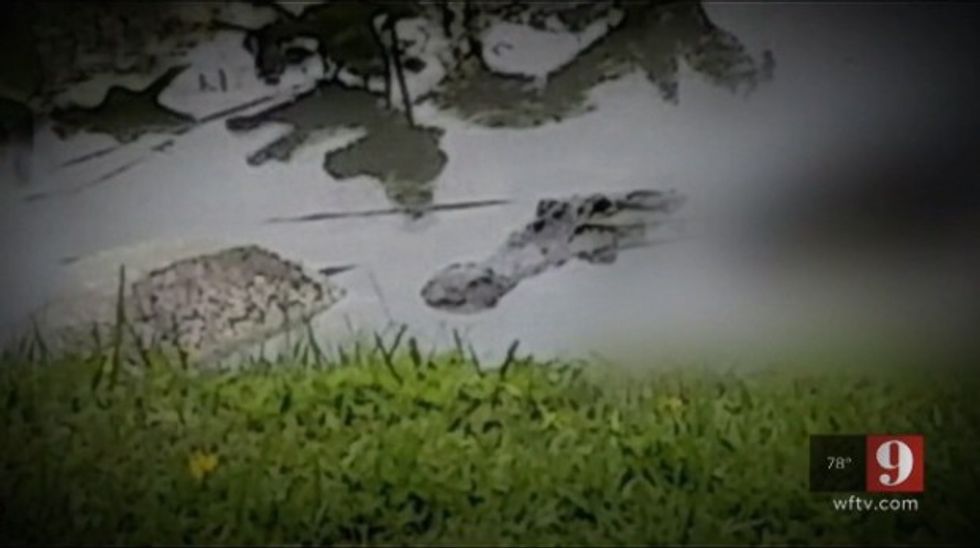 Image source: WFTV-TV
"The first officer on the scene saw that alligator with what appeared to be a body in its mouth, turning and thrashing in the water," Gross told the local station.
Officers were eventually able to retrieve the body, after which Gross said a trapper was called to capture the 8-foot gator. Gross told WFTV that the unidentified body is that of an adult male.
LPD Detectives still on the scene. Unk if this person was attacked. Trappers on scene trying to catch gator. pic.twitter.com/TuaIuIcJ9c

— LakelandPD (@LakelandPD) June 7, 2016
Trappers with Florida Fish and Wildlife Conservation Commission managed to stun what they believe to be the same reptile and drag it out of Lake Hunter and onto a boat. Their next task will be to take a look inside the alligator's stomach to determine if it's the same animal officers witnessed swimming with the body in its mouth.
As of Tuesday, it was unknown if the alligator killed the man or simply found an already dead body. Investigators told WFTV the challenge moving forward will be identifying the man and determining the cause of death.
"It could have been something else, and then the alligator later found that body in the water," Gross said. "We don't know at this point in time."
Officers were called to Lake Hunter twice last weekend to deal with gator concerns, according to WFTV.
On Saturday, someone reportedly saw clothing floating in the water and an aggressive-looking alligator lingering near the boat dock.
The next call came Sunday, when another person informed officers there was an alligator circling something in the water.
Police told WFTV that there are no open missing persons' cases to help them identify the body.
Lakeland residents told the station they'll be paying close attention to where their children play until detectives are able to determine if the alligator that was captured Tuesday is the man's killer.
All residents of a nearby retirement community are accounted for, police told WFTV.
Watch: