© 2023 Blaze Media LLC. All rights reserved.
Clinton Goes After Trump in Excoriating New Interview, Calls His Behavior 'Dangerous
"Very unfortunate and divisive tendency to attack all kind of Americans."
WASHINGTON (AP) — Hillary Clinton opened her general election campaign against Donald Trump on Wednesday by accusing him of behaving like a "demagogue," likening his attacks on judges, the media, his opponents and their families to dark moments in world history.
"It's classic behavior by a demagogue," she said in an telephone interview with The Associated Press. "We've seen it many, many places and times in the world, and that's why I think it's so dangerous."
The presumptive Democratic nominee, who declared victory in her race against Vermont Sen. Bernie Sanders on Tuesday, a day after reaching the number of delegates needed to claim the nomination, seemed to wonder during the interview whether Trump's candidacy was little more than an elaborate political stunt.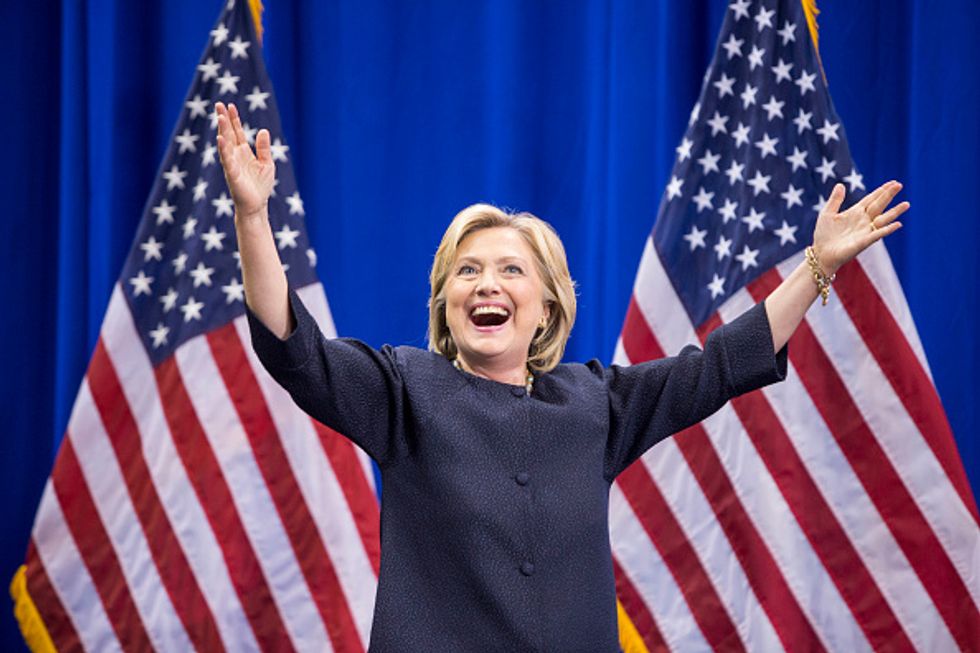 Democratic presidential candidate Hillary Clinton raises her arms stands on stage during the New Hampshire Democratic Party Convention at the Verizon Wireless Center on September 19, 2015 in Manchester, New Hampshire. (Scott Eisen/Getty Images)
"I don't know if this is just, you know, political gamesmanship that he thinks plays to the lowest common denominator, but whatever the reason for it is, it's wrong and it should not be tolerated by anybody," she said.
But even as she questioned the sincerity of the real estate mogul's rhetoric, Clinton said voters need to take his words seriously and called them evidence that he is untrustworthy, unqualified and unprepared for the rigors of the White House.
While the two candidates have never been personally close, their political and financial circles have occasionally overlapped over the years — especially during Clinton's time as a senator from New York, Trump's home state. Clinton and her husband, former president Bill Clinton, attended Trump's third wedding in 2005, and she said later that she thought Trump was "always entertaining."
But Clinton expressed surprise at what she described as the billionaire's descent into "conspiracy theories" in recent years.
"He always had opinions which he freely expressed," she said.
"I never really ever had any information about him engaging in bigotry and prejudice until he took up the cause of the birthers against President Obama, which is really so bizarre," she added, with an incredulous laugh.
Clinton and Democrats supporting her campaign are attempting to cast Trump as a ruthless con artist who is tricking voters in the same way he duped prospective students into enrolling into his now-defunct Trump University, a business that offered real estate seminars.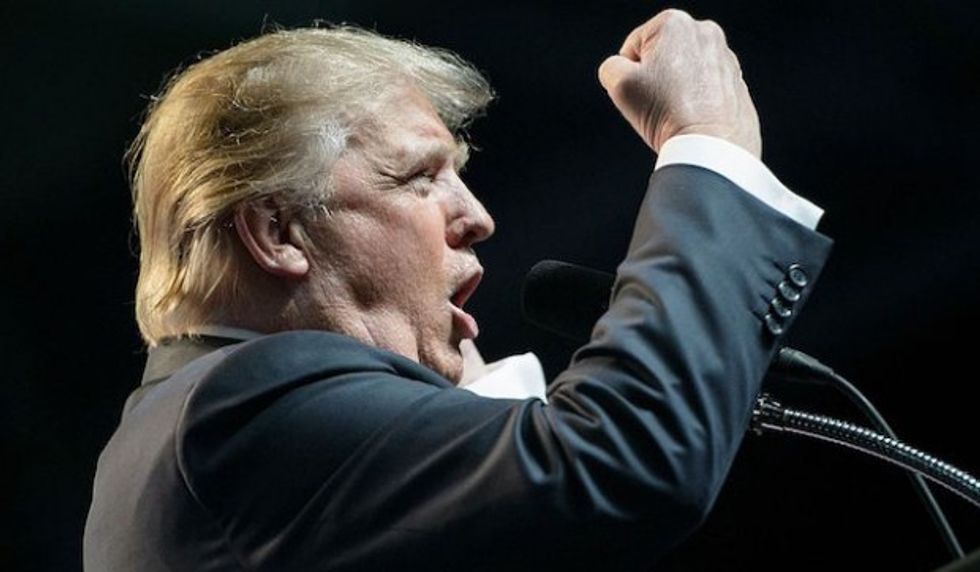 Presumptive Republican presidential candidate Donald Trump speaks during a rally May 5, 2016 in Charleston, West Virginia. (Brendan Smialowski/AFP/Getty Images)
It's an argument Clinton and her aides believe will appeal not only to Democrats, but independent voters and even some Republicans worried about how Trump would manage the nation's economy and foreign affairs.
While stopping short of calling Trump a racist for his recent comments about the federal judge overseeing a class-action lawsuit against Trump University, Clinton said her rival has a "very unfortunate and divisive tendency to attack all kind of Americans."
While Clinton seeks to paint Trump as a dangerous huckster, he has spent the past several weeks since claiming the Republican nomination working to define her candidacy. Trump calls Clinton by the nickname "Crooked Hillary" and often says she belongs behind bars for her use of a private email account and server during her time as secretary of state.
"The Clintons have turned the politics of personal enrichment into an art form for themselves," Trump said Tuesday as he won the final five GOP primary elections. "They've made hundreds of millions of dollars selling access, selling favors, selling government contracts, and I mean hundreds of millions of dollars."
Trump promised to deliver a speech next week focusing on "the Clintons." He's also tried to re-ignite past scandals that dogged Bill Clinton's administration, including his impeachment trial and the Whitewater land deal in his native Arkansas.
Trump has met with Ed Klein, one of Clinton's most strident critics and the author of books spreading discredited rumors about her marriage. Another influence, GOP consultant Roger Stone, is known for peddling conspiracy theories about the Clintons. There is speculation that political strategist Dick Morris, a former Clinton adviser turned adversary, may also join his campaign.
Clinton said she is unconcerned with all of it.
"I really don't pay a lot of attention to his efforts to attack me personally," she said. "I don't intend to respond to them because this is his, this is his modus operandi."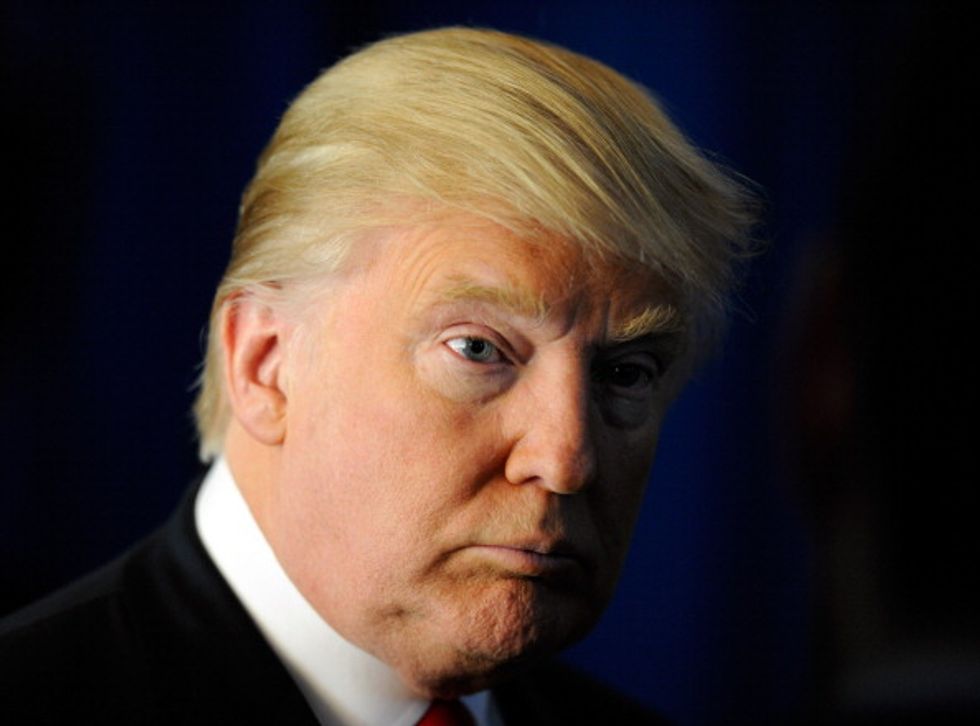 Presumptive Republican presidential candidate Donald Trump (Ethan Miller/Getty Images)
Instead, Clinton said she is banking on voters turning to her because of her comparative policy depth, arguing that a frustrated electorate is seeking "specific policies" more than "catchy soundbites" and "throwing slogans around."
For example, when asked Wednesday about the upcoming Summer Olympics in Brazil, she offered a lengthy assessment of the public health crisis caused by the Zika virus.
While Clinton said it was probably too late to cancel the Rio de Janeiro Games, as some public health officials have urged, she described the situation as "deeply distressing."
"It's really a serious public threat health and I don't know that we've heard the last word about the advice about whether people or certain kinds of people should go to Rio or not," she said. "This is not just about Rio and the Olympics, this is about a potential outbreak and epidemic."
After calling on Democrats to unify around her candidacy, Clinton said she had no regrets about her campaign against Sanders. She wouldn't offer any hints of what kinds of concessions her campaign might be willing to give the Vermont senator in the party platform.
The two campaigns and the Democratic National Committee are beginning the process of drafting the policy on which Democrats are to rally around in the fall election.
"I feel very good about the campaign we ran," she said. "It's time that we move forward and unite the party."
Want to leave a tip?
We answer to you. Help keep our content free of advertisers and big tech censorship by leaving a tip today.
more stories
Sign up for the Blaze newsletter
By signing up, you agree to our
Privacy Policy
and
Terms of Use
, and agree to receive content that may sometimes include advertisements. You may opt out at any time.