Rapper Snoop Dogg's ceremonial "first pitch" before Wednesday's game between the San Diego Padres and Atlanta Braves may have bumped another rapper from the top of the "Worst First Pitch" charts.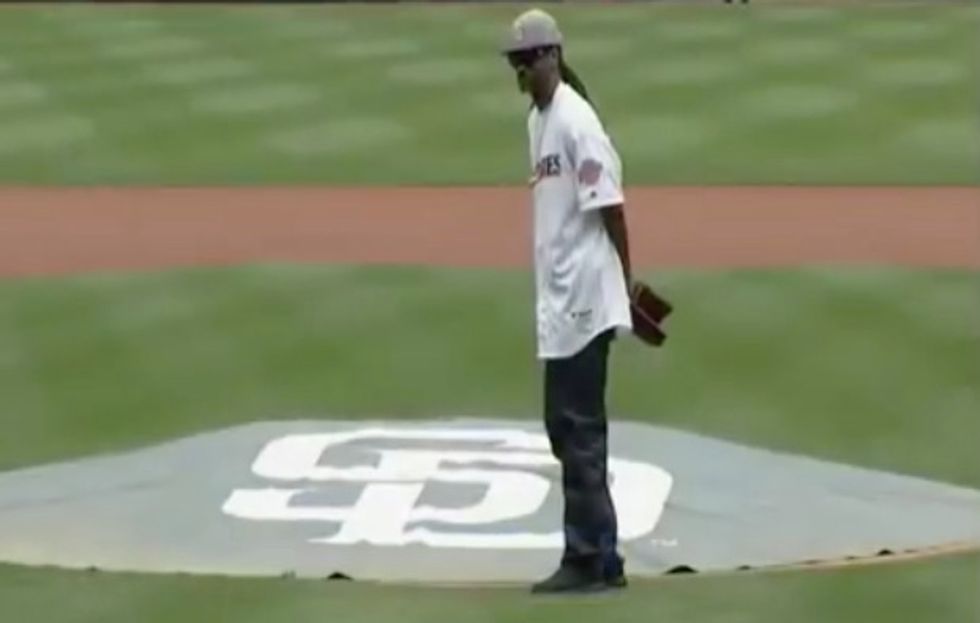 Image source: YouTube
The announcers were concerned about the cameraman who was forced to dance around Snoop's very wild pitch. Watch:
Within minutes of the clip hitting the internet, comparisons to rapper 50 Cent's horrible first pitch from May 2014 started trending on social media.
Snoop Dogg's First Pitch May Be Worse Than 50 Cent's (Video) https://t.co/W9RctjOlwm via @CurlsAndSports pic.twitter.com/u4rszcz1lF

— BlackSportsOnline (@BSO) June 8, 2016
Snoop Dogg gave us a reason to watch THAT 50 Cent first pitch again: https://t.co/NONq5uKcsP pic.twitter.com/8wK9Yy7aZB

— Jack Holmes (@jackholmes0) June 8, 2016
Was Snoop Dogg's pitch worse than 50 Cent's errant toss?
Watch the clip from May 27, 2014, and decide for yourself.
—
Follow the author of this story on Twitter and Facebook: