It's no secret that conservative pundit and "Louder with Crowder" host Steven Crowder can't stand liberal feminism. In a new video, the comedian unleashes on longtime feminist foe, actress and producer, Lena Dunham.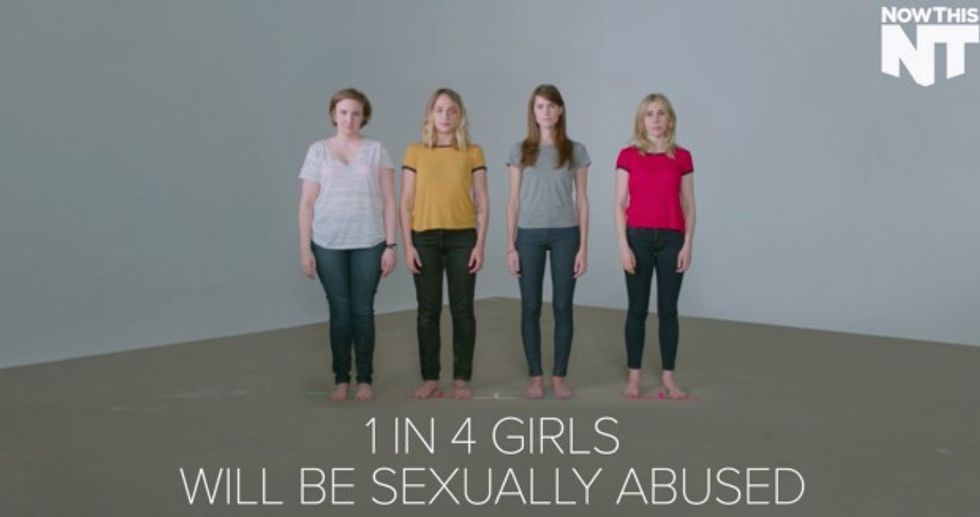 Image via Twitter/Lena Dunham
Crowder's video comes after Dunham and her "Girls" costars released another video Wednesday to spread awareness of the problem of sexual attacks on women. In the video, released by Now This Media, the actresses cite a CDC report that claims one in five women will be sexually assaulted in her lifetime, and one in four girls will be sexually abused before the age of 18.
I dedicate this to the brave survivor in the Stanford case who has given so much to change the conversation. https://t.co/KMOJUxvPu0

— Lena Dunham (@lenadunham) June 8, 2016
Crowder accused the "Girls" cast of "piggy-backing" off the Stanford rape scandal and "standing on the backs on rape victims to try and champion their cause." In his video, released Friday, Crowder notes that though there is nothing wrong with speaking out against sexual assault, "there is something wrong with lying about it blatantly, as they've done for a while."
He proceeds to dissect the video. When he gets to the claim about one in four girls being sexually abused before age 18, Crowder pauses.
"That's not true," the conservative talk show host says, noting that the study cited in the video does not match up with data on sexual abuse nationwide. He even cites a Huffington Post article that admits the "one in four" statistic is based on a single survey conducted by the Association of American Universities (AAU) and was deemed "overly simplistic, if not misleading."
Crowder adds that Dunham and her co-stars also employed the term "sexual assault," which, according to the survey, broadly means "nonconsensual sexual contact or touching."
He goes on to criticize the HBO stars for "releasing a PSA where you spout some false statistics about rape and tell everyone that it's their duty to speak out."
He accuses Dunham of crying wolf in the arena of sexual assault by urging people to "take action" while doing nothing to address the real problem of rape.
To the claim Dunham and others have made that most rape victims are afraid to come forward and take legal action against their attackers, Crowder noted that "all you do is come forward."
"In the public eye, more women are 'coming forward' than doing anything about rape," Crowder says.
Watch: