PARIS (AP) — The Latest from soccer's European Championship (all times local):
___
2:25 p.m.
FIFA has criticized "idiotic troublemakers" for causing "shameful scenes" of violence in Marseille in recent days.
FIFA issued a statement Sunday soon after UEFA opened a disciplinary case against the Russian soccer federation for disorder and racist chants by fans at Stade Velodrome, where Russia drew 1-1 against England on Saturday. UEFA will judge the case on Tuesday.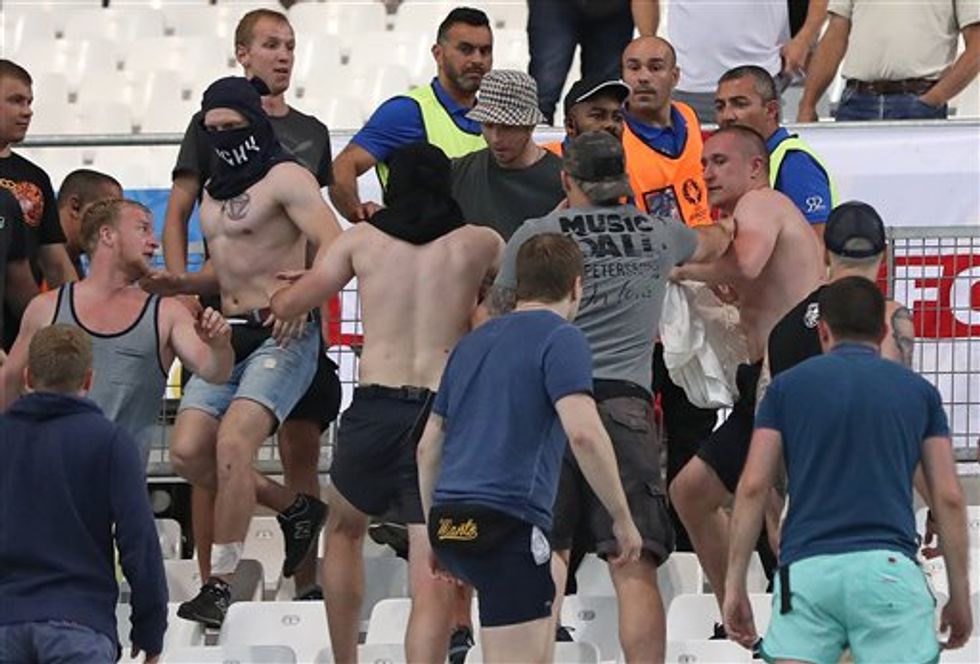 Stewards speak to Russian supporters after clashes broke out in the stands during the Euro 2016 Group B soccer match between England and Russia, at the Velodrome stadium in Marseille, France, Saturday, June 11, 2016. (AP Photo/Thanassis Stavrakis)
The match followed three days of clashes between fans and police in the city.
FIFA says it "strongly condemns any form of violence and finds it wholly unacceptable to see such shameful scenes around football matches."
The world soccer body blames "a minority of idiotic troublemakers, who have nothing to do with football and its true fans."
In the next two summers, Russia will host the FIFA-organized Confederations Cup in four cities and the 2018 World Cup in 11 cities.
___
2:00 p.m.
A French government spokesman says it is "unacceptable" that fans managed to smuggle flares into the Marseille stadium for England's match against Russia that was marred by crowd violence.
Pierre-Henry Brandet, a spokesman for the Interior Ministry, told France Info radio that tournament organizers "must clamp down very quickly" to prevent a repeat of such problems and that his ministry "will be intractable on this subject."
"It is unacceptable that banned objects could be brought into a stadium," he said.
He said that most of the hooligans involved in three days of fighting in Marseille were previously unknown to British and Russian police services and were not among 3,000 people who have been banned from France for the tournament.
___
1:40 p.m.
Russia's sports minister has condemned crowd disturbances by Russian fans during a European Championship game against England in Marseille on Saturday.
Vitaly Mutko told the Tass news agency on Sunday that "some people went there not to watch football, that's for sure" and that such behavior was "a disgrace for this country."
UEFA said on Sunday it has opened disciplinary proceedings against the Russian Football Federation for crowd disturbances and racist behavior inside the Stade Velodrome, where the game finished 1-1.
Asked if Russia would appeal if the ruling went against the federation, Mutko said it was possible but admitted that Russia fans "have disturbed public order."
___
1:15 p.m.
German police have stopped 18 hooligans who were apparently headed for Germany's opening European Championship match.
Federal police said the group was stopped near Trier in western Germany on Sunday and prevented from leaving the country, news agency dpa reported.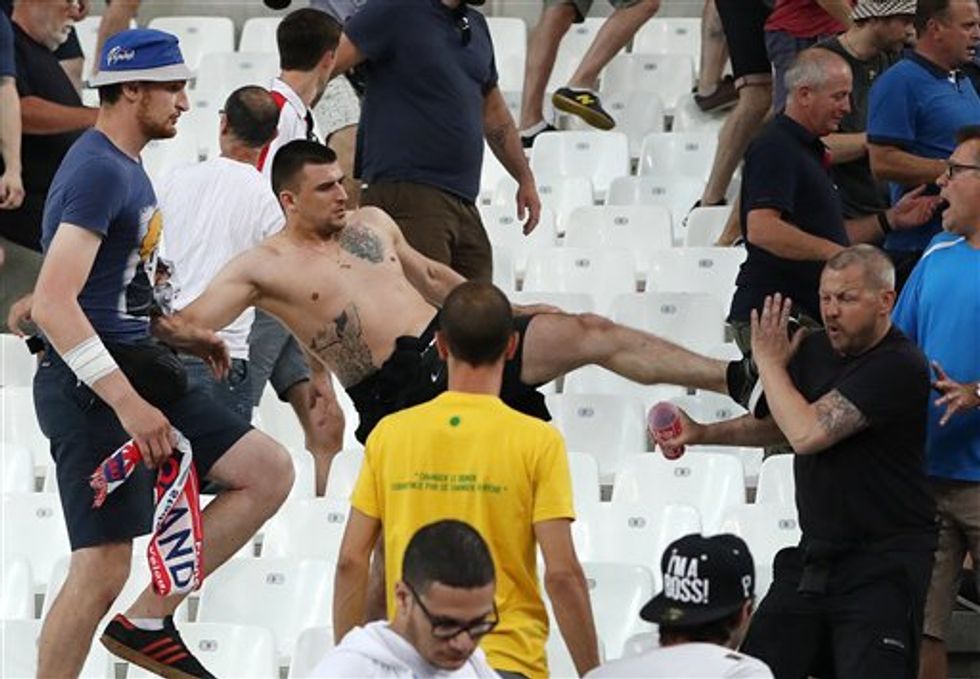 AP Photo/Thanassis Stavrakis
The hooligans, who came from the eastern city of Dresden and were known to authorities as violent hooligans, were traveling in three vans. Officials found balaclavas in the vehicles.
Police are carrying out extra checks in the area, on the border with Belgium and Luxembourg, ahead of Germany's opening match Sunday in the northern French city of Lille.
___
12:35 p.m.
UEFA says it will implement "corrective measures" to strengthen security at European Championship stadiums after "segregation issues" at the Marseille stadium where Russian fans attacked their English counterparts.
UEFA has opened disciplinary proceedings against the Russian federation for crowd disturbances and racist behavior by its fans at the Stade Velodrome, where the game finished 1-1.
UEFA says it "acknowledges that there were segregation issues at Stade Velodrome and will implement corrective measures to strengthen the deployment of security personnel at stadiums, in close collaboration with local authorities."
In its statement, UEFA said it also "expresses its utter disgust for the violent clashes that occurred in the city center of Marseille, and its serious concern for the incidents at the end of the match inside Stade Velodrome. This kind of behavior is totally unacceptable and has no place in football."
UEFA's control, ethics and disciplinary body will judge the Russia case on Tuesday.
UEFA says "a decision on the sanctions to be imposed will be made within the next few days, once the RFU has been able to submit written statements and evidence."
___
12:03 p.m.
France coach Didier Deschamps has condemned the hooligan violence in Marseille.
During three days of violence in the southern French seaport, locals fought with English fans and then fighting erupted between Russian and English supporters, including Russian fans attacking their English counterparts in the stadium.
"It's sad to see this," Deschamps said on television channel TF1. "It sends chills down your spine.
"These people are not fans," Deschamps added. "They use football to do acts of barbarism, violence."
___
12 p.m.
Germany's top security official says French authorities were given details of 2,500 known German hooligans ahead of the European Championship.
Interior Minister Thomas de Maiziere said in an interview with the Bild am Sonntag newspaper published Sunday: "We set up an exchange of information with France on German hooligans who are known to police and violent, and gave them the names and data of about 2,500 people."
De Maiziere says French authorities can work with that information during border controls, where they are being supported by German officers.
Germany kicks off its Group C campaign against Ukraine in Lille on Sunday.
___
11:50 a.m.
UEFA has opened disciplinary proceedings against Russia for crowd disturbances, racist behavior by fans and fireworks being set off during the European Championship game against England on Saturday.
UEFA has not opened any case against the English Football Association.
UEFA says its control, ethics and disciplinary body will judge the Russia case on Tuesday ahead of its second Euro 2016 game against Slovakia on Wednesday.
___
10:42 a.m.
Police say 35 people have been wounded in clashes that erupted between England and Russia soccer fans before and after a match at the European Championship.
Regional police chief Laurent Nunez said in a text message that most of the injuries were minor. He did not immediately reply to a question about a British victim who was reported to be in serious condition.
French authorities have been on the defensive after media broadcast live scenes of brutal fighting at the Old Port in Marseille and surrounding side streets ahead of Saturday's game.
Speaking to Europe 1 radio, French Socialist leader Jean-Christophe Cambadelis defended his country's law enforcement, blaming the violence on "drunken cretins."