In the wake of the Orlando terrorist attack, the Libertarian Party called for the elimination of gun-free zones.
Nicholas Sarwark, chairman of the Libertarian National Committee, warned Monday that the U.S. is at risk of "more mass shootings" as he criticized both President Barack Obama and presumptive Republican nominee Donald Trump for "recycling their calls for more failed and deadly policies."  Sarwark also asserted that the Libertarian Party is the only political party that is "calling for sensible, serious policy change that would reduce the frequency of mass shootings as well as minimize the damage they do."
"Virtually all mass shootings happen in 'gun-free' zones," Sarwark said. "Regardless of the ideology of the shooter or the type of weapons used, the common link is that the event occurs where responsible gun owners are prohibited from carrying arms for self-defense."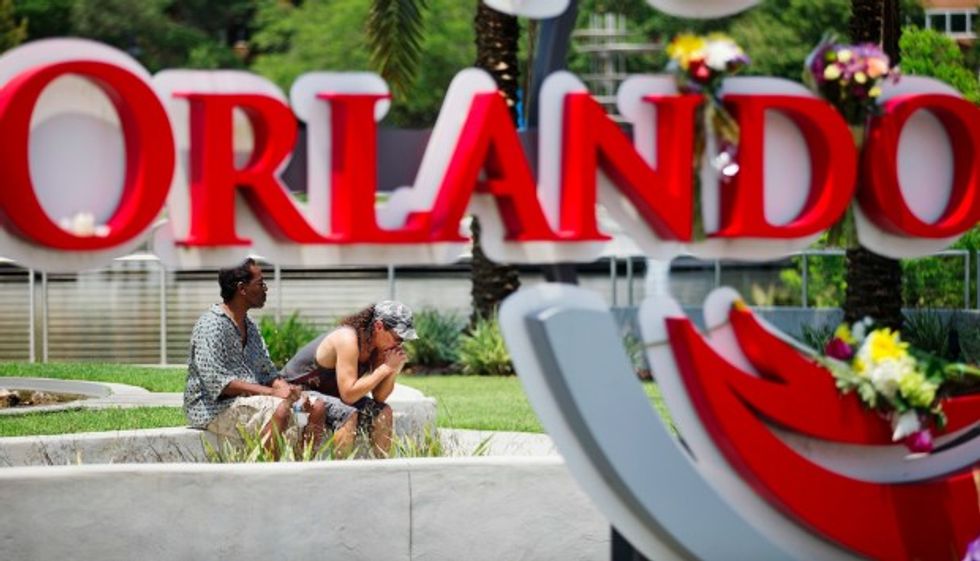 Brett Crowe, right, sits with friend Myron McCullough down the street from the scene of the fatal shooting at a nightclub in Orlando, Florida. Crowe was supposed to go the club the night of the shooting but decided at the last minute he didn't want to drive. (AP Photo/David Goldman)
"Self-defense is a fundamental human right," he continued. "Every person has a right to defend herself and her loved ones against someone who would do them harm. When government takes away the right of self-defense, it is violating a fundamental human right and endangering its citizens."
According to the Crime Prevention Research Center, only a little more than 1 percent of mass public shootings since 1950 have occurred in places that were not considered to be a gun-free zone. In fact, as Crime Prevention Research Center President John Lott Jr. noted in October 2015, only two mass shootings in the U.S. since 1950 have occurred in an area where citizens were not prohibited from carrying a gun.
Pulse, the popular gay nightclub in Orlando where a 29-year-old terrorist fatally killed at least 49 people and wounded 53 early Sunday morning, was reportedly a gun-free zone.
"In each of these mass killings, the government prohibited people from exercising their life-saving right to self-defense. Government-mandated 'gun-free' zones disarm those who want to defend themselves and their loved ones," Sarwark said. "'Gun-free' zones create killing fields for mass murders who, by definition, do not care what the law says."
"The choice of whether and how to defend oneself is a profoundly personal one," he said. "The government should not mandate that every American carry a gun for personal self-defense, nor should it mandate that every American must rely on police for protection."
"How many more mass shootings will occur before we demand that our government stop violating our fundamental human right to self-defense?" Sarwark asked.
While the Libertarian Party criticized Trump for his reaction to the Orlando terrorist attack — specifically his rhetoric regarding Muslims — the Manhattan real estate tycoon recently called for the elimination of gun-free zones when he addressed the National Rifle Association in May. The NRA endorsed the GOP candidate at their annual convention.
Darrell Castle, the Constitution Party's nominee, also highlighted the need to protect gun rights in a statement released in the wake of the Orlando shooting:
Let me point out to you that each of us has our personal responsibility to protect our own lives and the lives of our families. The local police are brave men and women who are more than happy to come and risk their lives and even give their lives to clean up the bodies after the attack occurred. But they cannot be there when the attack happens to prevent it. That is up to us. It is up to each one of us to defend ourselves and our families, so take that for what it is worth, folks, but defend your lives.
"Be prepared because this government will not defend you so be prepared to defend yourself and others," Castle added.
—
Follow Kaitlyn Schallhorn (@K_Schallhorn) on Twitter