A man who survived the terror attack that took place at Orlando's Pulse nightclub Sunday spoke to ABC's "20/20" about the horror he witnessed.
The shooter has been identified by officials as Omar Mateen, a resident of St. Lucie County, Florida, who was born in the United States to Afghani parents. After initiating the attack, Mateen called 911 to pledge his allegiance to ISIS, law enforcement officials said.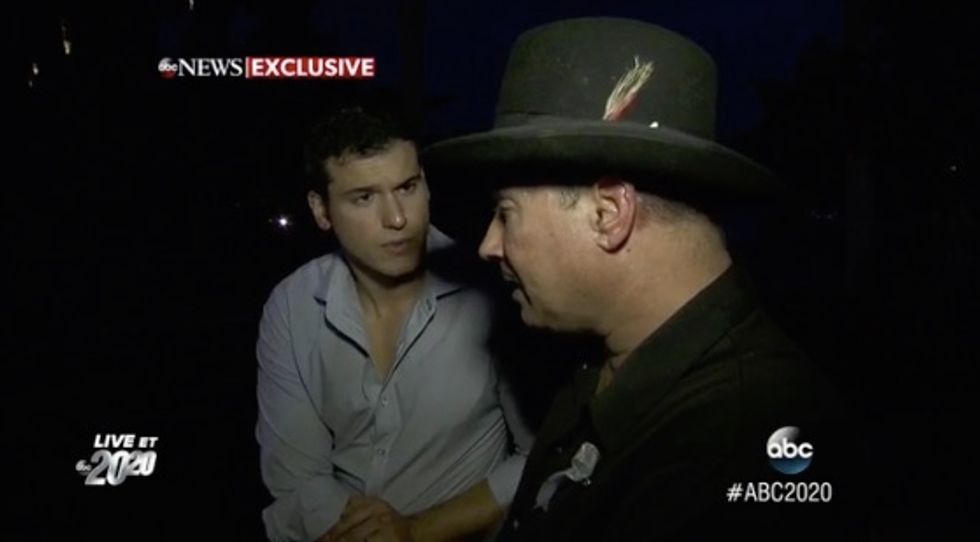 Image via Twitter/ABC
The man who spoke to ABC offered insight into what happened inside the nightclub-turned-execution chamber. According to him, the shooter asked the club-goers, whom he was holding hostage, to not call or text.
But when some didn't listen, Mateen allegedly asked for everyone's phone. Then he did something strange, according to the witness.
"Then he asked, 'Are you guys black?' And a couple of them said 'Yes,'" the victim recalled. "And he said, 'I don't have an issue with the blacks.'"
The man said that after this, Mateen got on the phone with either a news station or law enforcement and announced, "America needs to stop bombing ISIS."
"Then he called someone he knew," the man continued, "and he mentioned that he was the fourth shooter, and there were three others."
The witness said he recalled hearing Mateen mention a female who was playing dead and allegedly had a "bombing vest" like the one he reportedly wore during the attack. The other two people Mateen allegedly mentioned were two snipers, whom he said were waiting for police to arrive so they could shoot.
When asked what he was doing during all of this, the witness said he "stood quiet" and told some friends who were hiding with him in the bathroom, "I don't think he [Mateen] knows we're in here."
Shortly after this, however, Mateen entered the bathroom and fired shots.
"One black boy came crawling underneath the stall, grasping our legs and having me and my friend drop the the floor," the man recalled.
Then, he said, Mateen went to "wash his hands" and use the hand dryer. "And then I felt something poke the back of my pocket … It was like one quick touch or poke … . And he was probably thinking I'm dead."
The man said he and his friend played dead for three hours until they were rescued from the nightclub. He said that during this time, he heard what sounded like the attacker cleaning his gun and "shells dropping on the floor."
"And he was happy that he got it fixed and he said, 'Oh, I got plenty of bullets.'"
Orlando police Chief John Mina told CNN Monday that police crisis negotiators tried to negotiate with Mateen during the attack, but the killer was not interested in making a deal.
"He was cool and calm when he was making those phone calls to us," Mina said. "We had a team of crisis negotiators that did talk to the suspect just trying to get as much information as possible. ... He really wasn't asking for a whole lot. We were doing most of the asking."
Watch:
WATCH: Orlando shooting victim says he played dead for 3 hours to stay alive: https://t.co/WfKHrBtqeZ https://t.co/onfLYKhQiy

— Good Morning America (@GMA) June 13, 2016